My garden, or what's been planted in it so far, is chugging right along. I've got lettuces, spinach, radishes, carrots, beets and some chard and kale in the ground in the backyard beds, but these are mixed in terms of success.
The backyard beds get less sun than the front yard, so this year I tried planting some items I thought would be less picky about sun (last year the beds were installed a bit late in the season so I put some of my extra tomato plants back there, and the only ones to produce fruit were the cherry varieties). The lettuces and spinach are all doing very well, if not a little patchy here and there. The radishes and kale also seem to be enjoying themselves. But the beets, chard and carrots, not so much.
Also a likely factor in the mixed success may be the age of my seed. I have this habit of overbuying seed, and then a few years goes by before I get to use it. Not a good practice. Some types of seeds can remain viable for years but other types are quite sensitive to age, and I was far too busy/lazy to do any germination testing. I also tried to plant less seed so that I didn't overcrowd things, but it appears that was a bad gamble. But I knew it was a test, to see what would grow in the conditions back there, and so far, it appears those beds will likely be best for salad greens, radishes, and probably they'll be great for using with a cold frame in the winter (an experiment I'd like to try next fall/winter). Once the leaves are off the trees those beds get good light, so I think the backyard will be great for winter veggies.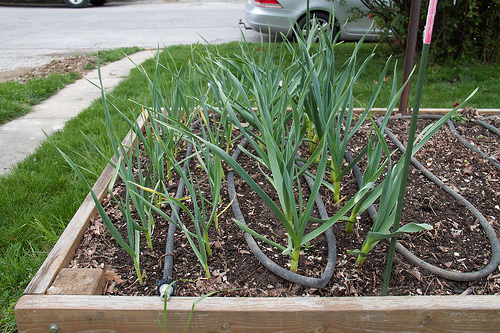 My garlic is doing super awesome. Finally this week we've had a proper spring drenching, and I can practically hear the leaves coming out on the trees and the grass growing. Same with my garlic — I planted two varieties last fall and they are vastly different in their appearance. I recall planting them in a hurry because the fall was getting away from me (you know, with the wedding and all) and I didn't mark which was which, but I'm 80% sure that the garlic on the left in the photo above is Music, and the garlic on the right, the much bigger garlic, is Purple Glazer. Even since this photo was taken the larger garlic is dwarfing the smaller one.
I've been hardening off my tomato and nasturtium seedlings all week, and I may try to plant a few of them this weekend, using my frost jacket cloches (the ones that hold water). I only have a half dozen of these so I can't plant everything. My chile and pepper seedlings are unfortunately still tiny, too small to transplant still. I might have to move them outdoors too just so they get the sun they need to jump up.