Chris has recently taken up brewing again. He used to do it back before I met him, but he stopped because of how much work it is, and especially when you're bottling it. Now he's able to brew and keg the beer, and since we have a keg fridge, it's a lot less headache.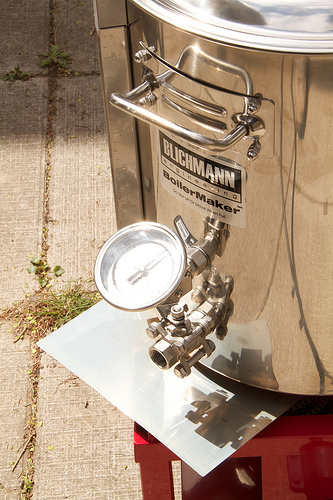 Our friend Bruce is really the one to get him inspired again — Bruce has been brewing at home ever since he and Youngja moved into their new house last year. Chris gifted a brewing kit to Cass for his best man gift at the wedding last fall, and finally over Family Day weekend they got down to brewing their Pumpkin Spice and Christmas beers (a little out of season but oh well).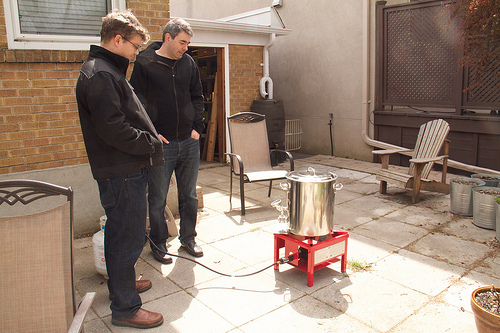 This past weekend they made a witbier, which was a hybrid kit and included brewing with grain (rather than concentrate).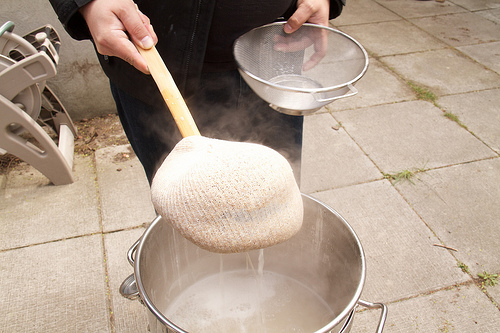 I had just happened by chance to come across Love and Olive Oil's post for spent grain applesauce muffins, which led me to Brooklyn Brew Shop's Spent Grain Chef blog.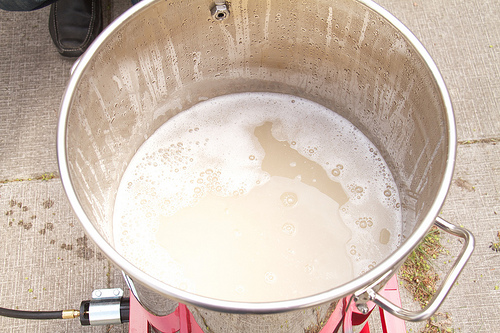 The site has recipes that use the grain while it's still wet, as well as recipes using the spent grain after it's been dried. Their spent grain pizza dough recipe looked especially interesting.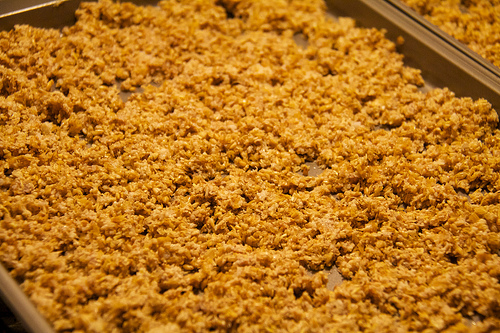 So I gave it a try — it was late and I was too lazy to make the pizza dough from scratch so I popped it into my (new!) bread maker and put it on the dough setting (this is the first time I tried this machine's dough setting). It was overly wet so I had to add extra flour, and I think I should have pulled it from the machine earlier (it was very spongy when I pulled out the machine at the end of the dough cycle, like it had risen too long).
But I divided it up (I'd made a double batch) and wrapped each piece of dough, put one in the fridge and the other in the freezer. On Monday night we had Hawaiian pizza with the dough, and it was awesome!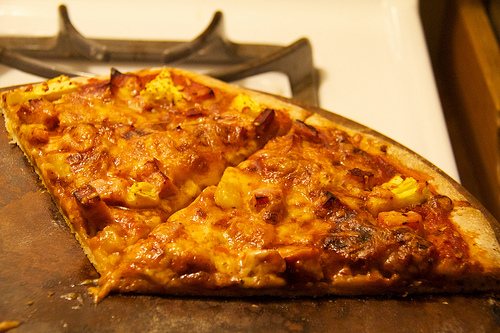 I used some leftover ham I'd frozen from Easter weekend, and while the pizza was a bit salty, I can't tell whether it was just the ham (which was salty, for sure) or the crust (the recipe seemed like it had too much salt) or both, but regardless, the crust was beautiful. If I make it again I'll try it from scratch, and try modifying the salt content.
In the meantime, I've dried the remaining spent grain and hope to try those muffins soon. If I can't drink the beer I might as well make use of the byproducts somehow!