So now that we're working on trying to hire a contractor in preparation to do some renovation work on our new house, as well as getting ready to move, we're pretty busy. Often lately we're heading to work super early in the morning to make room in our day for site visits and other errands. I've switched into must-clean-out-freezer-and-have-easy-meals-ready-to-cook mode, which, I hope will have the added benefit of helping me improve my meal planning skills.
While I'm definitely working at cleaning out the freezer (all those zucchini muffins and soup I made back in the summer), I've also been making things to put in it. I have this habit of filling my freezer with raw ingredients, but not planning ahead what to make by taking stuff out the night before. So when I make certain kinds of meals, like Smitten Kitchen's [awesome!!] chicken pot pie, I like to make a double or even triple batch and freeze up a few containers for future easy, no-planning-required meals.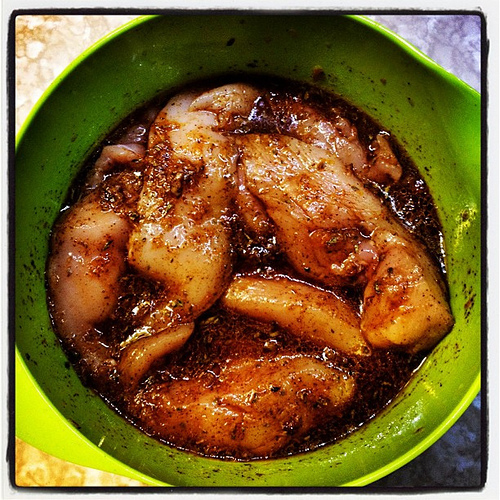 On the weekend I picked up a large package of chicken breasts (I was all out), and decided to marinate them before I put them in the freezer, so that when I pull them out for a meal, all I have to do is cook them — not first decide how to use them.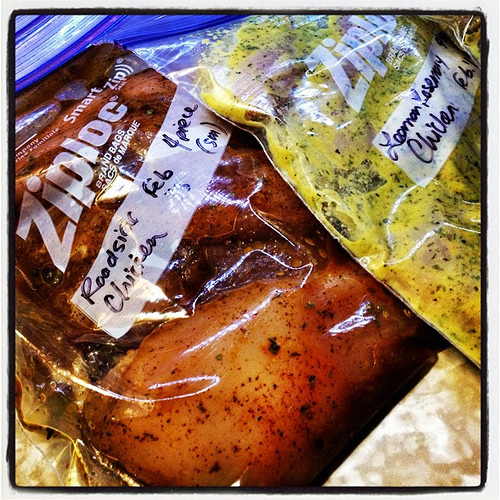 One of my favourite marinades is one made simply with rosemary, mustard and lemon juice, with some garlic (fresh or powdered, whatever's handy), pepper and olive oil, so I made some of that. I also love Rick Bayless's grilled 'roadside' chicken however, which is made using a delicious marinade featuring orange juice, ancho chile powder and a unique blend of other Mexican flavours.
Usually I use this on a whole, spatchcocked chicken, but I'm sure it's going to be great with regular boneless skinless breasts. For both of these I just mixed up the marinade in a bowl, coated the chicken and then bagged up the pieces with the leftover sauce and popped them in the freezer (tossing the chicken in the sauce before bagging made it easier to ensure everything was well coated before being bagged).
Recipe: Roadside Chicken Marinade
Summary: Excellent for use on whole, spatchcocked chicken and chicken pieces
Ingredients
1 1/2 tbsp ancho chile powder
1 tsp dried oregano (preferably Mexican)
Pinch of cloves
1/4 tsp cinnamon (preferably Mexican)
2 garlic cloves, minced or crushed through a garlic press
3 tbsp apple cider vinegar
1/4 cup orange juice
1 tsp salt
Instructions
Combine the ingredients in a bowl. Place chicken or chicken parts in a bag and add marinade, closing bag and turning to coat. Allow to marinate several hours or overnight (or, in my case, freeze chicken and cook when you want to). Grill chicken until thickest parts reach 160 degrees F (about 45 minutes for a whole chicken).
Quick notes
Adapted from the book Mexican Everyday by Rick Bayless.