You know I just had to get right on top of the canning once I got back to the city this week. I noted as part of my grocery restocking when we got back from Wabakimi that we were out of relish. I was about to add it to my shopping list when I thought, hold on a second. It's cucumber season! Screw that sugary store bought stuff!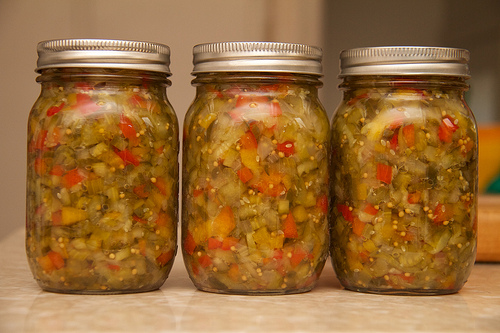 For the last few years actually, as I've cut my canning chops, I've considered making my own relish, but never got around to it. It's not like we go through it very fast, although we eat our fair share of burgers and sausages all summer long, especially at the cottage. I didn't want to make a huge batch because knowing us, these three jars themselves might carry us over the next year or two, easily. So I made a 3/4 portion recipe of the cucumber relish recipe in the Bernardin Guide to Home Preserving.
This recipe is definitely more vinegary than sugary, and that is just perfect in my opinion. I'm not going to reproduce the recipe here because I really made almost no real changes to it except I used celery salt instead of celery seed (it's what I had in the house, and I was careful to taste to ensure I wasn't overdoing the salt) and I used red and orange sweet peppers instead of red and green; again, it's what I had. Oh and I used the large grater attachment for my food processor to make chopping the cucumbers go a lot faster.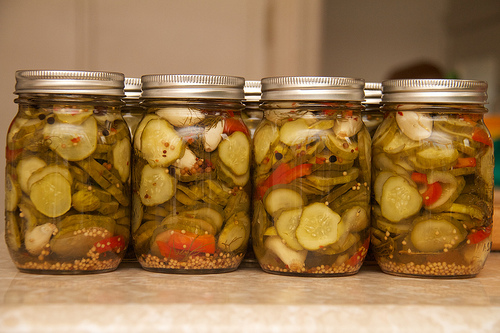 Since I'd bought two large baskets of cucumbers from the farmers' market I also got busy making some sliced garlic dills, because I have just one small jar of them left from last year and were they ever a hit! This year I made 500 ml jars instead of 250 ml because I'd been told in no uncertain terms that the 250 ml jars were just WAY TOO SMALL (thanks Matt!).
Again, this recipe is from the Bernardin book, and really no tweaks here either except I added about 3/4 of a finely sliced red pepper, because it was sitting there all lonely in the fridge and it added a nice splash of colour to the jars. Also, I don't bother tying my pickling spices in a bouquet garni; I like they way the spices look floating in the jars. I had just shy of the 4lbs of cucumbers the recipe calls for and I ended up with 7 500 ml jars of pickles. Oh and a mandoline makes slicing these babies easy as pie. Last year I sliced by hand and they were much chunkier pickles. My food processor only has an attachment that makes for paper-thin slices, far too thin for pickles, so I'm glad I had a mandoline kicking around just for this purpose (actually, it was originally Chris's; I never owned one before I met him).
Next up… I have a lot of beets in my garden this year and I think Chris is already sick of them (he's not nearly as big of a fan of them as I am). I think pickling them is really the only way I can use them up easily, although I might consider if there is a way I can root cellar them (not having a real root cellar might be a problem). Good thing a lot of my girlfriends love pickled beets!