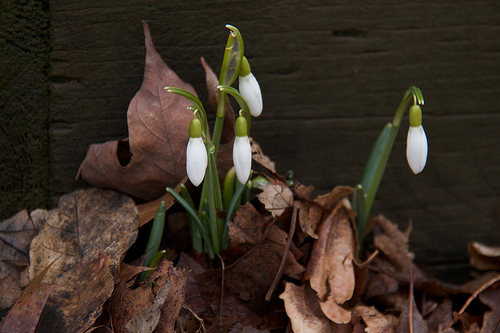 There have been snowdrops going strong in my garden since last weekend, when we got that gorgeous warm sunny weather. This weekend has been a bit of write off weather-wise, and according to tonight's forecast next weekend will be too although all week is supposed to be beautiful (what is with that? Seriously Mother Nature, you have some esplainen' to do).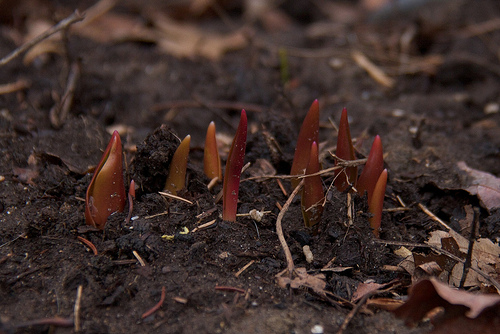 The hyacinths and even the tulips are poking through. The grape hyacinths are kind of always there, with their green foliage that likes to sprout in the fall and live happily under the snow until it melts away. The very first leaves of the Star of Bethlehem flowers are also coming up.
In my raised beds I see that my garlic is greening up again. This is the first time I've grown it and I kind of wish in hind sight I'd planted some last October. I expect this crop should be ready in June. If I'd done an October planting I could probably have had a couple crops come ready.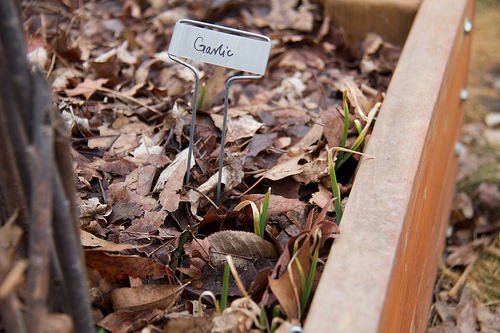 My sorrel has some burgundy tipped leaves unfurling as well. I want to move it this spring though; it really took over last year in the raised beds and I want to move it to my herb garden where it can have a more permanent home. I want to reserve my raised beds for annual veggies. I just sort of stuck it in a free spot last year without giving it much thought.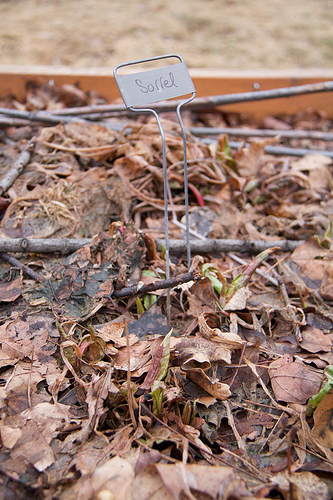 Surprisingly for me, I haven't done a lot of garden planning yet. Last spring that was about all I did. Guess I've been a little preoccupied this year (read: Luna). We took a trip to Lee Valley over the weekend and I picked up a PotMaker, and I've made a few dozen pots with it out of old newspapers. Haven't planted anything yet though. I always feel I have to hold myself back on starting my seedlings; I've been trying to overcome my tendency to start seedlings in early February, and then I end up with huge plants that I don't have room for. Even last year I started them around this weekend and my tomato plants were ginormous by planting time. Not to mention we had some serious frosts and some major hail last spring. So I think I'll wait at least one more week to start them. I don't have any cold frames or tunnels set up, so I have to be careful about my timing.
I've ordered a few more seeds, this time from Greta's Organic Gardens, located in Gloucester, Ontario: Aunt Ruby's Yellow Cherry Tomato, Des Andes Plum Tomato, Borettana Yellow Onion (Cipollini), Ruby Streaks Mustard Green, Purple Mizuna, Dwarf Blue Curled Kale, Dragon Tongue wax bean and San Marzano Plum Tomato. I have gazillions of seeds now, and I'll probably have less room to plant this year due to some major house repairs. I was kind of hoping maybe I could convert the flat garage roof into a veggie garden but Chris says no, that the membrane up there isn't designed to withstand a lot of foot traffic, not to mention he questions the ability for the roof to support a lot of extra weight. I would have wanted at least one or two rain barrels up there with my pots if I was to do something like this, but it sounds like its not in the cards. Too bad – it's a perfect sunny flat spot on our property I could take big advantage of. We'll just have to build that into the reno plans!