Whew… it's been a heck of a weekend. We got back from our crazy 8+ hr drive from Quebec City on Friday around dinnertime, and then rushed about trying to get the lawn cut and the copious tomato bounty harvested before the rain started. I have to admit that I was a bit disappointed to see that there seemed to be an awful lot of very ripe tomatoes on the vines. I had hoped the folks that were stopping in to visit the cat would have helped me keep up with the crop, as I invited them to, but it doesn't really look like that happened. I had a full bucket of rotten tomatoes to throw in the composter.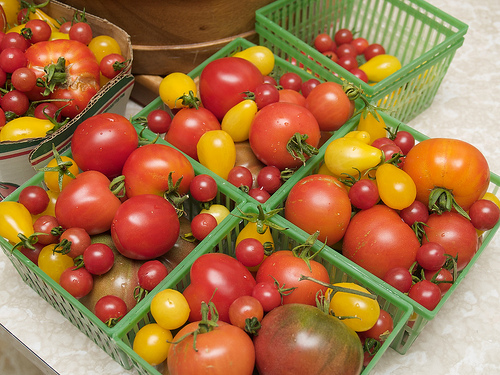 But I guess that's only a fraction of what I did harvest, and what is yet to come, as there are still many many green fruits out there. I won't have time until later this week to start doing any canning, so I had to find homes for these babies. As it happened I visited the fam today to celebrate my nephew's first birthday, so I pawned several baskets off on the family, who seemed more than happy to accept.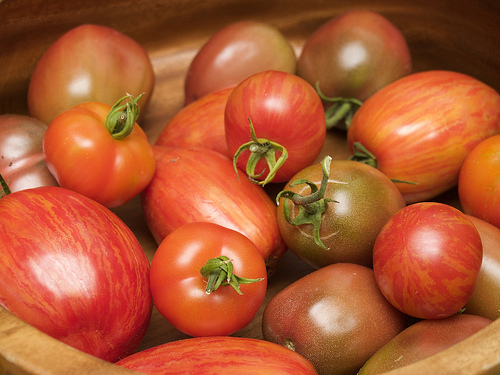 The garden is in a bit of a shambles however, and so I need to find some time to get control over that mess. I definitely need to set up a better trellis system for supporting the tomatoes next year. My bamboo stakes are snapping in half because of the weight of some of the bigger beefsteak varieties, and even if they don't break, they still fall over.
I also think I've now grown enough varieties of heirlooms that I feel I know which ones are my favourites. Stupice are lovely for being the first ones to ripen, and they're perfectly sized for salads. Money Maker is also a winner for salad tomatoes. They're perfectly shaped, smooth and juicy, in a way that Stupice is not. Oxheart – meh. They're meaty and obviously very well known, but I'm not really sold. Black Sea Man are definitely unusual and have a lovely flavour, and are perfect for sandwiches and burgers. But they don't turn everyone on, because they're a darker colour, green on top. The Red Striped Romans are fantastic – wonderful flavour and funky colouring, and they'll be great for salsas and canning. Tigerella are also lovely salad-sized and stripey. Goldie and Hillbilly are yet to ripen.
I think however, I won't do the Red Currant Cherry tomatoes again. They taste great but they don't "pick" well. By that I mean they tend to split open when you pick them; the stem tears away instead of letting go easily. That and the vines are just out of control. The single plant I have in the raised bed is incredibly aggressive, and no matter how much I trim it back it just keeps sprouting new shoots, dominating everything around it. So I think for my cherries I'm going to stick to the Sweet 100's I grew last year, because they were perfect. The Yellow Pear tomatoes are also bad for taking over, and I don't love their flavour but they make for nice variety in shape and colour. Very pretty for salads, and they're just fine for salsas and sauces.
I vow (again?) next year I'll plant fewer tomatoes, better support them, and only plant the varieties that are my favourite. Ha! Yeah right. I can't help myself.