I really have to stop now. NO MORE SEEDS. This weekend I need to get the seedlings started and I have no idea where I'll be putting them all. I have a terrific southern facing bay window but only a tiny table in front of it. Perhaps I'll have to temporarily pull out the 6 foot folding table. I wonder how that will go over!
In the meantime, here's an inventory of what I've got on hand:
Salad Greens:
McKenzie Seeds: Gardener's Choice Salad Garden Collection with spinach, mesclun, and lettuce (Gabriella and Buttercrunch)
Berton Seeds: Rocket (arugula)
McKenzie Seeds: Spinach (King of Denmark)
McKenzie Seeds: Lettuce (Early Curled Simpson), (Grand Rapids)
McKenzie Seeds: Heirloom Lettuce (Red Oakleaf)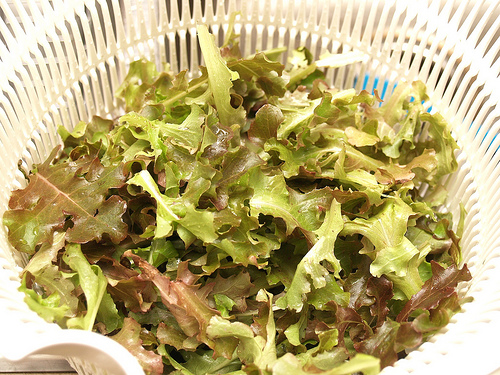 Tomatoes (all heirloom, from Terra Edibles, except where noted):
Black Krim
Goldie
Hillbilly
Harbinger
Moneymaker
Oxheart
Purple Russian
Red Currant
Red Striped Roman
Tigerella
Mr. Stripey
Deuzba
Red Brandywine
Black Sea Man (grown last year)
Stupice (grown last year)
Yellow Pear (grown last year)
McKenzie Seeds: Sweet 100 Hybrid (grown last year)
McKenzie Seeds: Sweet Cherry Hybrid (grown last year)
Vegetables:
Botanical Interests: Kale (Italian Lacinato Nero Toscana)
Botanical Interests: Okra (Clemson Spineless)
Botanical Interests: Pumpkin (Little October)
Terra Edibles: Pea (Blue Pod Capuchijner)
Terra Edibles: Squash (Yellow Scallop Summer)
Terra Edibles: Beet (Chioggia)
McKenzie Seeds: Beet (Ruby Queen)
McKenzie Seeds: Radish (Cherry Belle)
Richters: Chile Pepper (Ancho Poblano)
Richters: Chile Pepper (Serrano)
Unknown Red Chili – saved from seeds grown over the last few years (affectionately known as Sarah & Chris's Favourite Chile)
Terra Edibles: Carrot (Oxheart) – on order, hopefully to arrive in time for planting!
Herbs:
Livington Seed Co.: Dill (Bouquet)
Terra Edibles: Coriander
Terra Edibles: Sorrel (Garden)
Richters: Epazote
I already have sage, oregano, a few varieties of thyme, garlic and regular chives, and tarragon growing in the front beds. Usually I also buy some sweet basil and Thai basil as well as some rosemary to plant each year. I haven't a clue how on earth I might make room for all of the above, but clearly, I'll have lots of seeds to share with friends. Seeing this list fully written out just illustrates how crazy I really am. That's just between you and me, of course.