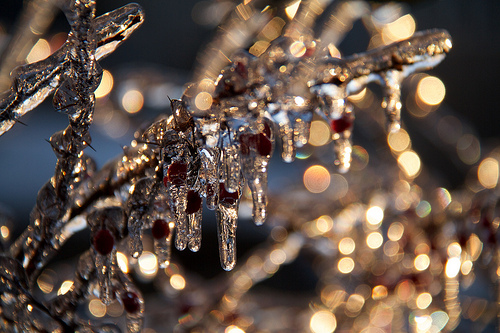 Well hello 2014. I've been a bit tardy on the blog lately as we had one hell of a December. We got moved in, although later than we'd hoped. We had been in for precisely one week when the ice storm hit and cut off our power for three and a half days.
This was an interesting test for the new house. One of our big goals in our renovations was to insulate the house and make it more efficient. And because we're still struggling to get the heating system balanced, we've got thermometers on all floors to monitor. We were very pleased to see the temperature on the main floor stay around 15ºC for the first two days (upstairs, the floor we did not fully insulate, was significantly colder). We kept ourselves warm with lots of hot chocolate and tea since we could cook with our gas stove, also using it to heat up water for bucket baths (Chris still had to work during this stretch, of course).
By Day Three the outside temperature was starting to dive, and inside on the main floor dropped to about 12ºC, so we decided to seriously investigate trying out our gas fireplace. This led to discovering that our battery backed up electric ignition was, well, not backed up. No battery housing to be found. After some phone calls with our contractor and the fireplace installation people Chris managed to MacGyver the ignition using the battery housing from one of our LED camping lanterns. I'm so lucky to live with such a smartypants!
And then all of a sudden we had power again, about an hour before we needed to head out for the Christmas cross-country extravaganza, on Christmas Eve.
It was a difficult holiday for me this year, without my Dad, or my Grama. New Year's was also a time of reflection on the-year-that-was-2013. It was a year of great loss, huge changes, upheaval and challenge, but also filled with plenty of great love. I find it hard to articulate my feelings about everything that's happened — because there has been so much. I'm feeling rather "soft" lately (a wonderful word used by Chris's Uncle Val that seemed to me like the exact right description). Perhaps because life had just so many moving parts since we left our old house, I feel like perhaps I put up some protective barriers. Like maybe I compartmentalized my grieving for a while, as we lived with others and I didn't feel like I had the necessary privacy, just so that I could keep it together while we worked through the roller coaster that is a renovation project such as this one.
We're still dealing with the reno roller coaster, and I'm often very frustrated with the seeming snail's pace at which the final touches (and therefore my ability to unpack and organize my space) seem to be moving. But we're in our own home. Our animals are all here with us now, and we're working away at finding our work-life routine again, learning new transit routes to the office, figuring out how long it takes to get from here to there, and so on. I'm grateful. And hopeful. And trying to be patient.
2014, please be gentle with me.