It's been a bit of a bumpy start but we are home, sweet home!
I say bumpy because when we arrived, the upstairs bedrooms were freezing cold, and the basement was roaring hot; we discovered we didn't have a working shower and had to live without for days, and well, the place was — and still is — very much a work site.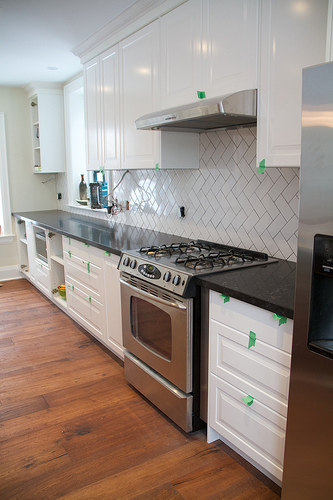 I was able to get permission to work from home this week, so I've been able to keep unpacking and sorting and organizing and cleaning while trades continue to come and go installing, fixing, cleaning and finishing. There are lots of little things yet to be done. Every day there have been at least one but often as many as three different people or crews here, doing something. Monday the plumber came and dealt with our unexpectedly gimpy faucet in the second floor bathroom (one that we had not renovated, but it turns out is going to need some TLC to be up to snuff, including a new vanity and possibly a new shower valve). So we have a functional shower now, but it leaves a lot to be desired, offering a piddle of water pressure so that it takes me two to three times as long to wash my hair. We suspect the shower head has a water saving filter in it that makes it so piss-poor (excuse the pun). This is something we will have to try to "neuter," as Chris puts it. As much as I support conserving and being eco-friendly, I cannot abide how crappy those things are. I'm all for saving water — but I prefer to do it by being quick about my shower, not by standing under a dribble.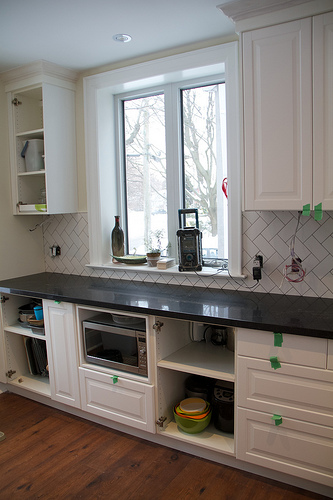 After the shower was fixed the plumber moved on and dealt with hooking up our dishwasher, our fancy new ice-making, water-dispensing fridge, and our powder room faucet. Someone else built a proper attic hatch that is doing a significantly better job keeping the cold out than when we arrived, and the radiant floor team came to figure out what was up with our cookin' basement. Turns out the thermostat was faulty, and the default setting was to send the floor into maximum overdrive, running at its hottest, at 42ºC! This, in turn, was not allowing the furnace to fire and heat the rest of the house. The floor guys were impressed, in that "holy crap I've never seen this before" kind of way, suggesting the floor was hot enough to cook on! I feel bad for the poor painters who must have been sweating their butts off down there all weekend!
The temperature differential between floors is much more moderate now, but we're still getting about 3-4 degrees colder upstairs. The furnace people have yet to come balance the system though, so hopefully they can get a bit more heat going up to the second floor. While we did a lot of spray foam in the attic and around the knee walls, we did not open up the walls to insulate that floor — this is stage two of our reno, destined to take place in about 10 years if we're still up for the challenge! The radiant floor guys will be back at least a few more times to tweak the floor until they find the sweet spot, where the floor is comfortable, but acting as a main heat source for the house, preventing the other system from doing its work.
We're also experiencing some ice-daming issues in the corners of our roof, especially near the master bedroom, so we have some concerns about that. We don't want our brand new roof to be damaged by this. Our contractor is investigating — hopefully we don't have to reopen any walls to rectify the problem. The cause is heat loss, happening somewhere, so this is a concern. We're probably going to have to take a look with an infrared camera to figure it out.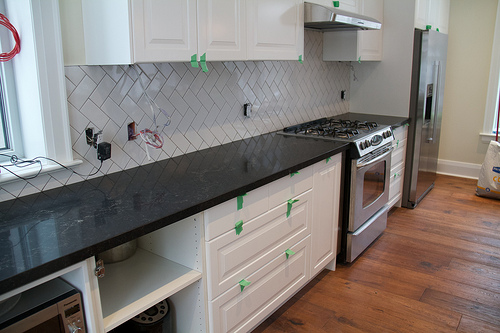 Perhaps the most exciting development this week (for me anyway!) was the installation of the kitchen back splash. I'm so pleased with how it turned out — simple, inexpensive white subway tile, but elegant and luxurious looking in a herringbone pattern and "pewter" coloured grout. As you can see they still need to put kitchen hardware on, install the valances and the over-counter lighting. Oh, and I'm missing a few cabinet doors.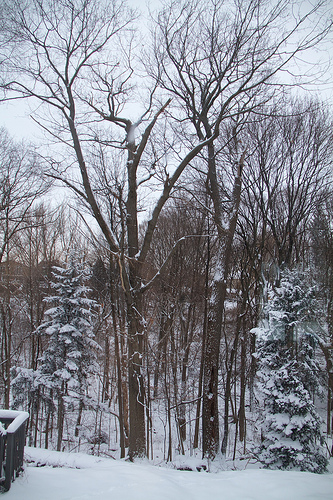 All in all, we're thrilled to finally be in our own home again. It's still a crazy mess, with wires sticking out all over the place. There's "cable barf," as I call it, flowing out of the built-in cabinetry in the living room, out of what will eventually become the network cabinet containing our amplifier, computer, modem, etc. We have nothing to sit on except sofas — no table, no chairs, no counter stools. All this needs to either be bought yet, or brought from the farm, or built! But at least we have our bed to sleep on, a kitchen to cook in, warmth and somewhere to wash up! I'll post better pictures once things are a little more finished looking.