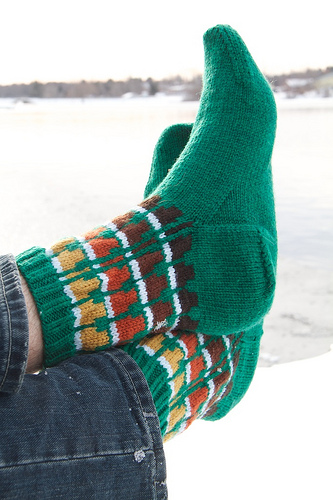 One year after trying to make SpillyJane Knit's Socks with Pints On for Chris the first time, I  attempted them again, this time with lots of mods to try make the damn things fit Chris's weirdly wide feet. The pattern is available here. I would deem my effort mostly successful.
Firstly, I increased the needle size from 2.75 to 3.25, and I increased the yarn from fingering weight to sport weight (which explains the colour variation from the previous pair of socks — while both socks were knit with Knit Picks Stroll, they have very different colours available between those weights).
Next, I cast on 76 stitches per sock, instead of the 64. This added an extra pint of beer to each repeat (i.e. added two pints of beer total) of the colourwork chart. The other major modification was to end the colour work chart before the heel, rather than carrying it through the heel, gusset, and instep/sole of the sock. This was where we were experiencing the most challenge getting the sock over Chris's heel, because colourwork usually tends to not have as much elasticity as regular knitting.
From here the mods get more niggly and I'm not totally thrilled with the resulting looseness of the heel; I don't think I made the best choices here. I haven't quite got the hang of modifying socks in a way that maintains the right ratios between heel and instep, so that the sock fits properly. If anyone out there has some kind of trick for this I'm all ears. BTW I hate math.
Anyway, they turned out wearable and Chris is happy. Me, I just wish I could have a beer.