It's been a month already? What happened?! Oh yeah. A little thing called life.
Chris and I are now married (yay!) and our wedding was a beautiful, blissful love-in with our family and friends. There are some photos floating around out there but I'm waiting to post about all the details until I get the final photos from my dear friend Angie Griffith.
In the meantime, we've just been catching our breath and settling back into a routine. Work has been an incredible challenge for both of us, and some big opportunities sit on the horizon that we're considering. We've also had to say goodbye to Great Aunt Kay recently, who was a dear member of Chris's family and the former owner of our home. So needless to say, life has been keeping us on our toes.
I've been trying to catch up on gardening and finally after two weekends of squeezing in some face time I have finally found the end of my tomato vines. The last batch is slow-roasting overnight in the oven as we speak (my newest favourite way to preserve tomatoes: simply halve, lay on a parchment-lined baking sheet, sprinkle with salt and drizzle with a tiny amount of olive oil and roast at 200 degrees F overnight; then freeze or use to make a thick sauce or salsa and can from there).
The garlic is in, and I've just got a few more house (garden) keeping things to do before I'm ready for fall, including draining and storing the rain barrels, tidying up the backyard gardens and turning the compost really well. One more afternoon of nice weather should do the trick.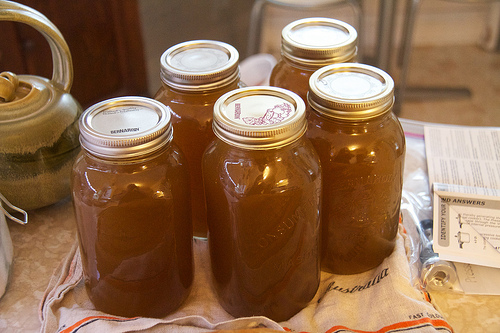 Further getting ready for the cold season I tried out my pressure canner for the second time this weekend to turn out a couple batches of chicken stock. Not having to use up valuable freezer space with stock and not having to thaw it before using it is a real plus. I cranked out 10 one-litre jars of the stuff after brewing up a giant pot using about four carcasses that I'd been storing in the freezer for the purpose. I had some spindly carrots I harvested from the garden that were hardly worth using for anything else, and some shallots that I'd harvested way too late that are now sprouting. I threw all that together with the usual herbs, garlic and dried mushrooms I prefer to use in stock, and it will be the perfect remedy for all sorts of things, not the least of which is a nice fresh chicken soup on a sick day.
You can watch a video of the pressure canner in action — Chris was tickled to see it doing it's thing — he wasn't home the first time I tried it out.
The hardest thing in getting back to real life has been dealing with an ongoing health issue that affects my mobility and dexterity. I'm seeing my doctor and I have an appointment in a month with a specialist but there's little that remedy's the problem right now, and some mornings it's too painful to walk around. It's been going on for months now, but seems to be slowly getting worse. Sleep is often a challenge as the discomfort is often worse overnight and in the mornings. Hopefully soon though I'll be on the mend and back to my old self.
In the meantime, stay tuned for a wedding post!