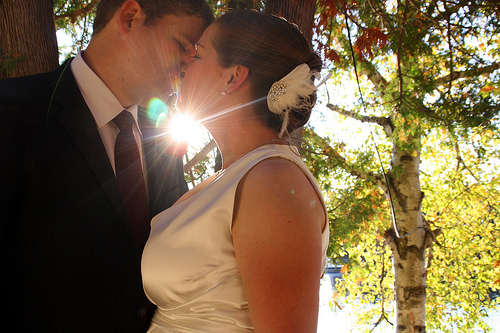 Here it is, finally! We've got our photos back from my friend Angie, who did our photography, and did an amazing job if I do say so myself. I just love looking at these — its been such a busy time since the wedding that its been hard to hold onto that wonderful day. But looking at the photos brings it all back.
I am incredibly happy with everything about the wedding. There were some logistical challenges with holding our wedding at the family cottage, such as very limited parking, not a lot of level ground for setting up a tent, or even accommodations for our guests. We had to find a caterer in an area where there are not very many options. But everyone we hired — everyone — went above and beyond our expectations of service and friendliness.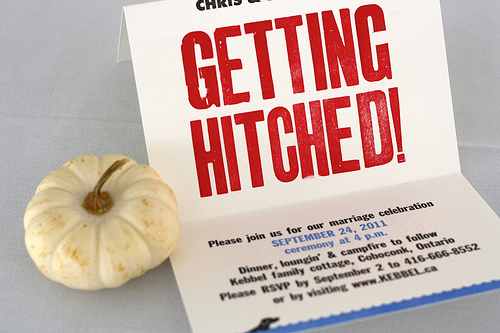 Chris and I love to be outdoors, and one of our shared passions is wilderness camping and canoeing. We also love our time at the cottage, so the wedding was our opportunity to share these things with our family and friends.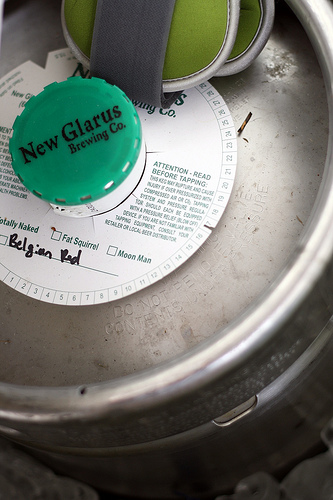 And of course we wanted to share our love of finely crafted beer. I alluded earlier this summer to a very special beer that we imported for the occasion. New Glarus's Belgian Red and Raspberry Tart were the stars of our tap list (these are the beers that saved our lives), a very rare thing for almost anyone outside of Wisconsin to get to try, as New Glarus doesn't sell their beer outside of the state. Even getting your hands on a bottle of this stuff is next to impossible. We rounded out our tap list with Muskoka's Mad Tom IPA and Harvest Ale, and Mill Street's Organic Lager and Tankhouse.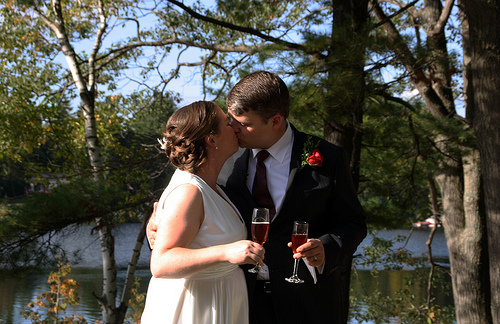 We had the most incredible caterer: Bonnie of BE Catering in Peterborough. Bonnie and her crew had to trek a bit to bring their amazing, locally sourced and seasonal meal to us, but it was so worth it. Not only did Bonnie welcome my additions of my homemade pickles and Uncle Herb's home-smoked Lake Erie trout, but her team genuinely enjoyed themselves, impressing our guests to no end with their generosity and friendliness. I hope I get to work with Bonnie and her team again someday.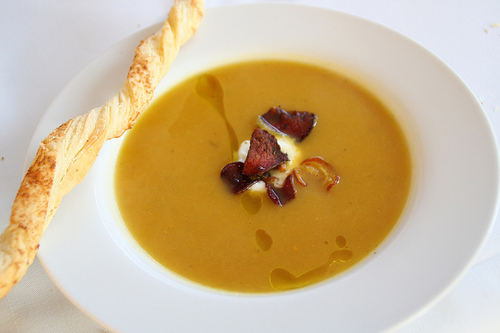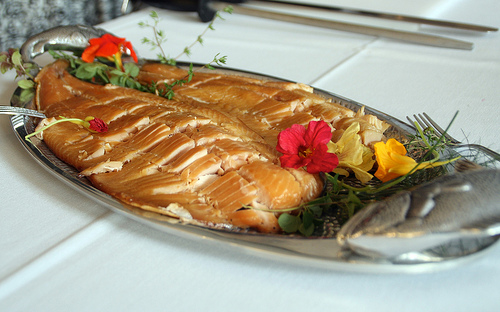 As is my way, I made many of the decor and details myself. We bought a pair of inexpensive canoe paddles from Canadian Tire and some Sharpies in our wedding colours and set those up as an alternative to the traditional guest book. My awesome maid-of-honour Adria and I made ridiculous amounts of tissue paper bunting, which looked spectacular and held up surprisingly well to the damp evenings.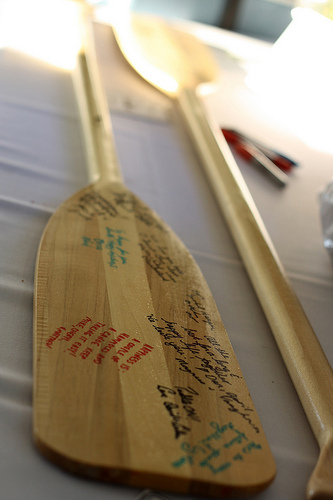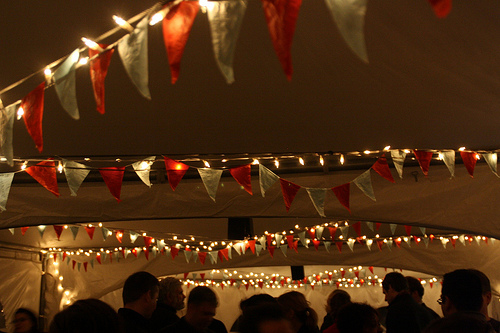 During strawberry season back in June, I canned 40+ jars of strawberry-vanilla jam as our wedding favours, and Amanda Keenan of Silverplate Press made me custom letterpressed labels to make them look extra special (she also did our invitations and custom beer coasters).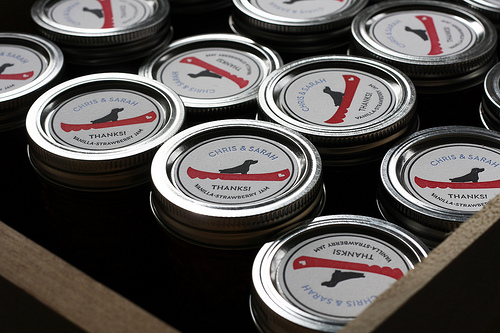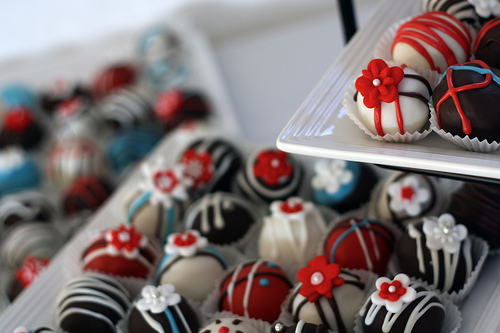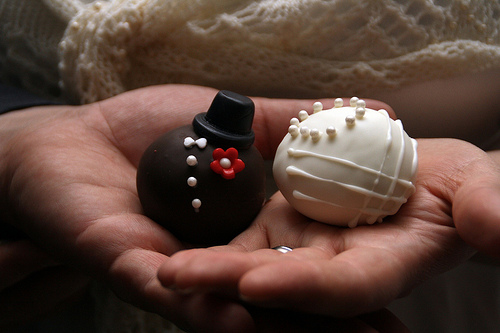 We were blessed to be able to have Chris's Uncle Val officiate our service, and my talented sister-in-law April (with help from my super-awesome brother Dan) made us the most gorgeous cake balls (cake pops without the stick) as an alternative to wedding cake (this resolved problems of trying to travel to the cottage with a delicate cake, and let me tell you, the cake balls had people way more excited than a traditional cake!).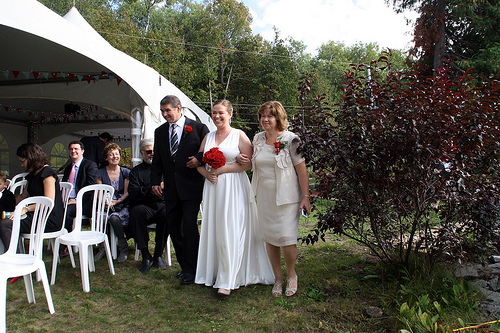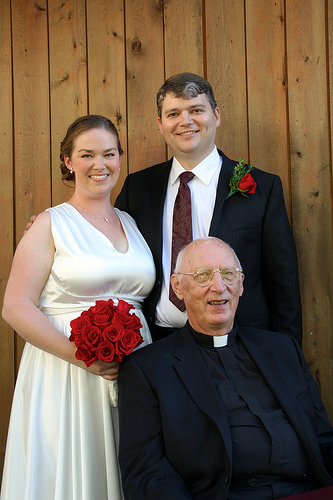 I had my dress made by Ethel, The Dressmaker, here in Toronto, based on a vintage Butterick pattern. Ethel did a fabulous job and had to make numerous modifications to the pattern to make it work — I am so glad I didn't try to sew it myself… yeah I considered it. Briefly!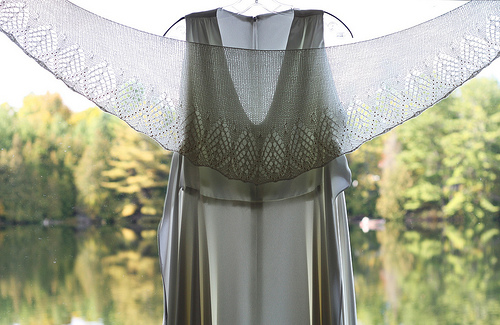 I knitted myself the Abrazo shawl, by Twist Collective, in a natural shade of Knit Pick's Gloss Lace, with glass and crystal beads. I didn't get to wear it for long as it was such a gorgeous day I didn't feel I needed it until later, but I'm not complaining. In fact, I made the shawl twice — once in red — and I gifted that to my maid-of-honour.
Some other little details included wrapping jars with yarn in our wedding colours, which we then filled with water and floating candles, for on the tables. We also kept our floral decor budget in check by using large potted fall mums, and bought red roses and greenery from the flower markets at Avenue Road and Davenport in Toronto and did all the corsages, boutonnieres and bouquets ourselves (gotta love the Interweb!).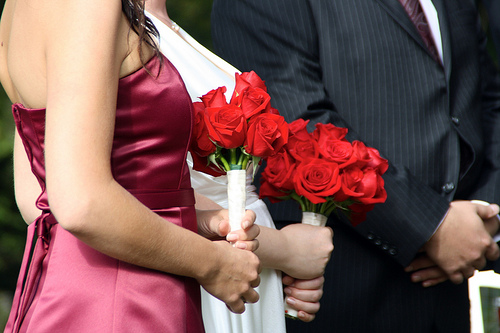 Finally, we ended the evening with a campfire, weenie roast and s'mores (instead of the late-night luncheon), which was a huge hit!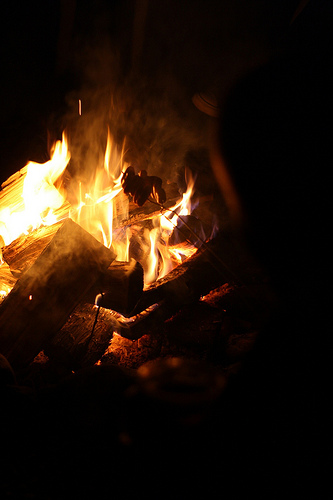 Some of our other ingenious service providers were Create Shade, for our tent and furniture rentals, and Potty Time Portables — who can pretty-up a portable toilet better than anyone! We hired Trinity Taxi out of Lindsay to provide shuttle bus services to Balsam Resort, where the majority of our guests stayed.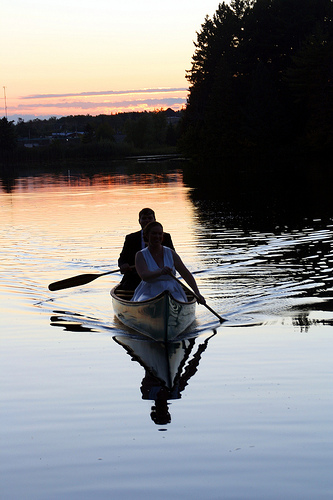 There are of course many, many more details. Like the unbelievable downpour that happened the Friday before, finally eroding my calm, relaxed demeanour (Uncle Val promised he had put in a word with the big guy for us and all would be well on Saturday — and he was right!). Or the perfect beer stein cufflinks Chris wore, a gift from my mom last Christmas. Or the impromptu wireless audio mics courtesy of Brad, our resident sound guy.  All in all I don't think we could have asked for a better day — the perfect start to a lifetime together.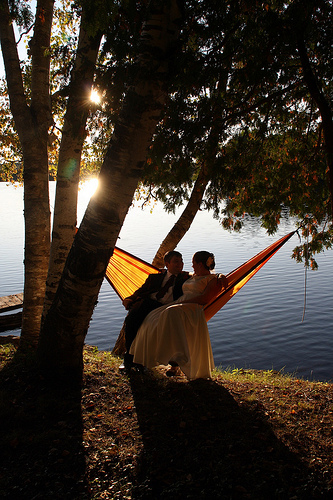 If you're up for it, here's the full slideshow of the best of the photos. Enjoy!