So far I'm on pretty good track with my Christmas knitting. I think Chris's Socks with Pints On will be late but he's cool with that. I haven't started those yet, but soon. I'm currently working on a beret and possibly a matching scarf for my Grama, and I just finished two stockings for April and my new baby niece Vaughn, to match the ones I made for my brother and my nephew Magnus, a couple years go.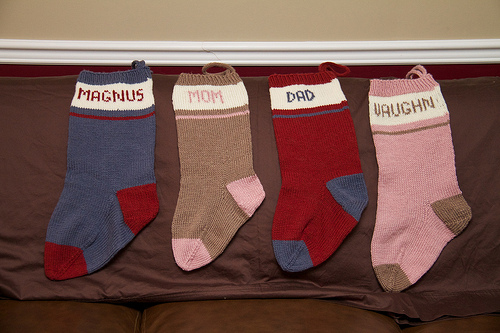 If there was something I'd change it would only be that I couldn't find the pink and tan colours in the original yarn I'd used that suited, so I had to use a different yarn and it is quite different in texture. I don't think that matters much to April but I'm picky that way!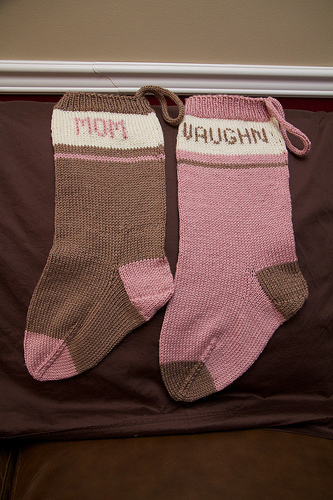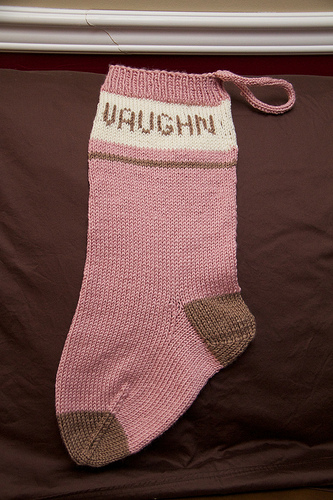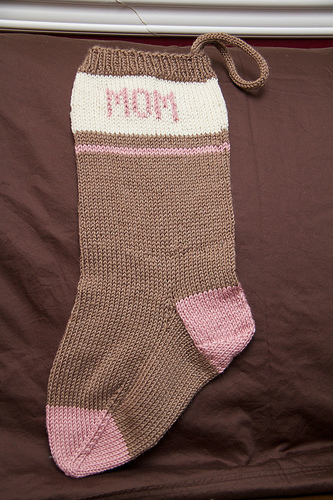 That sums it up though, for my holiday knitting. I'd like to do more but I'm not going to make myself crazy over it. I've basically been finished Christmas shopping for weeks aside from one or two small things. I ordered almost everything online, and spared Chris (and myself) the pain of roaming any malls. I'm happy to pay for shipping if it means I don't have to run around among the crazy people and fight for parking, etc.
As for decorations, I picked up some urns for the porch a couple weeks ago and I plan to get some greenery for them shortly from the farm. The urns were not cheap, so I held off on buying any pre-done holiday-themed inserts. We have a few lights I want to put up but since we don't have the porch railings or posts anymore the way we do them will change a bit. Usually I wrap lights around the railings and while it looks really nice, it's always a big pain in the bum. I haven't yet convinced Chris that we should put them along the roof line. I suggested that the other day and he looked at me like I'd just landed from Mars.
In general I'm looking forward to the holidays — I'm looking forward to doing some baking, and I really need a break from work; the crazy there will go on for at least another week and a half before things will settle down. We've decided to spend NYE in Boston, which should be fun, although I've never been there before. Anyone have suggestions of must-see places?