No I'm not talking about the puppy, although all those adjectives could be easily used to describe her too. I'm talking here about some gorgeous new yarn that arrived in the mail today, destined to become a birthday gift for a certain Ecoholic.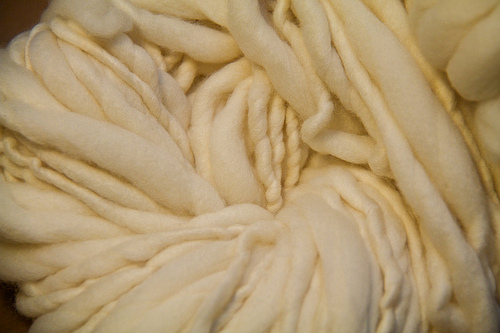 This handspun merino by Off the Hooks's Ashley Marcus in Alberta is destined to become a hat, although I haven't yet got a clue as to a pattern or needle size I'll use. This yarn is easily categorized as super bulky, so I'll have to think hard about it and do some more research. I only have a few weeks to figure it out but the yarn will no doubt knit up quickly so I'm sure it will come together. Suggestions are certainly welcome!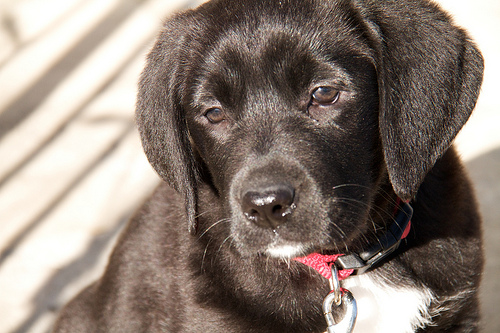 Puppydom is proving to be quite the challenge for all of us. While I've done the whole puppy thing before and had dogs all of my life, Chris hasn't, and Luna is a whole different challenge than puppy Zeus. I got off light with him. Luna requires constant supervision and super-human patience. Chris and I have both flown off the handle at each other a couple of times over the last week or so out of frustration, but I think I've found some help that will be useful for all us (thanks Interwebs! You've come a long way since I did this last).
First of all, I've found a Podcast called Creative Dog Training, which features dozens of episodes that start right from how to pick your puppy to how to start working with him or her from the moment you get home. The fundamentals are laid down in the Respect 101 series, which is exactly where we're having issues right now. There is a great episode about "puppy biting" that was music to my ears, and I'm sure will be for Chris too, as this is a major area of frustration for him. I've already picked up some tips that are in use now (eg. leaving a leash on while she's roaming about loose, to allow us to a.) catch her more easily when we need to, b.) correct her more effectively when she doesn't respond to commands or c.) wants to chase a certain very stressed out cat, not to mention many other no-nos. There is really helpful information on teaching the command gentle (which I did with Zeus but with limited effectiveness) and working to teach her to have a "soft mouth" (making high-pitched "ouch" responses to teeth on flesh, for example. Chris has taken this one up with gusto). All in all, it is all important information that will help us lay the ground work towards owning a well-adjusted and extraordinarily well-behaved dog, something we care very deeply about achieving.
The Podcasts are between 10 and 15 minutes on average, quite well edited, and very clear and easy to understand. Accompanying the Podcasts are some online resources, including a web-based class that costs only $10. Unfortunately that seems to be the only "class" they have posted so far. But they do have some trainer blogs, a discussion forum for asking questions, and they seem fairly active. The Podcast for sure is frequently updated. I think it will continue to be a helpful resource for us in this crazy new adventure.