Over the Christmas break I was finally able to really buckle down and finish breathing new life into this old cabinet, which I wrote about originally well over a year ago. It's been sitting in my basement in pieces waiting for some TLC, and now I can finally say it's pretty much done. Or at least done what I can do with it.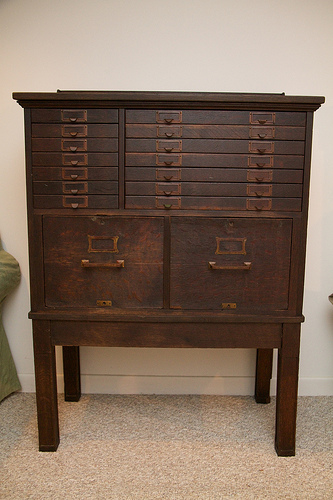 It's still a complete mystery what the original purpose of this piece of furniture was. It's got seven legal-size narrow drawers with two 3/4 inch holes on the front ends of each drawer's base. There are seven more of these drawers that are wider, that have removable dividers in them to make each of those hold two legal-sized pages, again with the two holes. While on the surface you might think it seems obvious that this cabinet was made to hold documents but it seems to me like a seriously inefficient way to hold documents, so if that is indeed what it was meant for, then perhaps it was something that turned over its contents frequently. There are two larger drawers that are obviously set up for holding files (they have curious gaps in the drawer bases, and each of them has a wooden divider piece that I can't for the life of me figure out how to put back inside).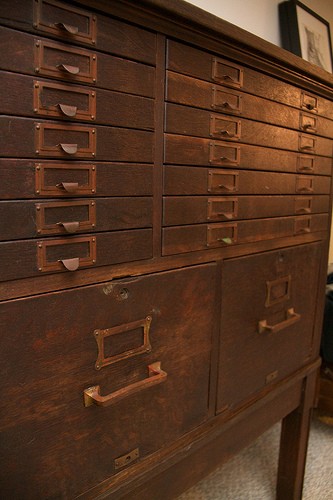 It reminds me of old cabinets I've seen that are designed to hold architect's blue prints, but the drawers in this cabinet are far too small for such a purpose. It also reminds me of old cabinets meant to hold type at a printing shop, but again, not the right size and missing the small compartments within the drawers for this. It also has a sloped top, as if for writing on, but no ledge at the front on which to rest papers, although there is a pencil rest groove cross the top and a flat section with a backing that perhaps would hold ink bottles or writing instruments. The label holders are all copper and many of them have a greenish patina on them.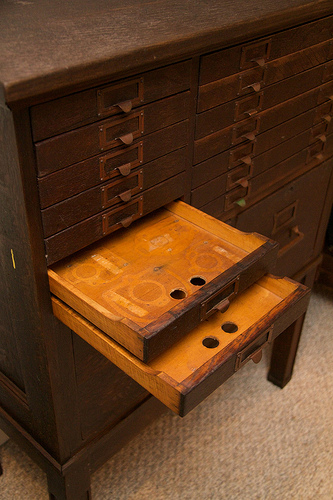 The cabinet came my way via Chris's parents, who had been storing it in an old barn. Prior to that it had been kept by a family friend in his shop, where it was being used to store tractor parts (hence the screw holes in some of the smallest drawers, with faded impressions on the base). Needless to say it was filthy when I started.
I cleaned it first quite extensively with Murphey's Oil Soap, which seemed to strip off a lot of old wax, underneath the grime. Then I used a product from Home Depot called Howard's Restor-A-Finish, which helps blend in old scratches and restores the piece's natural lustre. This does have a slight stain to it so be sure you choose one that more or less matches the original finish (in my case this was walnut). This product also requires you to work in a well-ventilated room so keep that in mind.
Finally I used Howard's Feed-N-Wax product (also from Home Depot) to restore some of the natural oils in the finish and to give it a nice shine. This product contains beeswax and orange oil and was a pleasure to work with. I can continue to use it periodically to brighten up the finish and hopefully extend the life of this rather abused piece.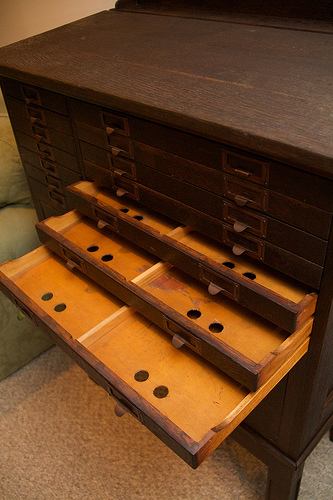 Unfortunately the legs and frame that make up the base of this piece are quite damaged. I had a heck of a time figuring out what screws I could use to put the piece back together, and it's a bit precarious (I of course misplaced the originals when I took the thing apart). The holes for the screws are pretty chewed up so I have to be careful the next time I move it. It is a piece that should stay put and not be moved often.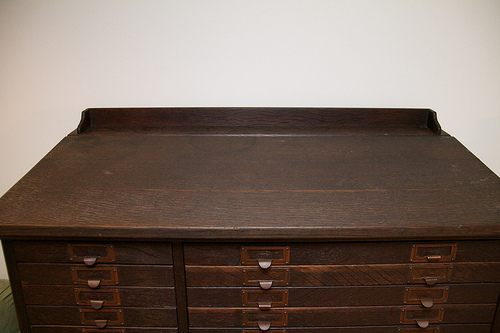 All in all I'm quite pleased with how it looks. Unfortunately I didn't have the presence of mind to take any photos before I took it apart. I still want to get some nice paper to line the drawers with, something acid free that won't further degrade the piece. This would allow me to use the drawers for stuff — maybe for holding sewing notions or knitting needles. There really isn't a lot more I can think that it would work for storing.
If anyone out there can shed some light on the original purpose of this unique piece, I'm all ears!