Well well well. It has been one heck of a week at la casa del Mulholland-Kebbel. And it's only Wednesday! Where do I start? It's kind of like we had a baby. A fury black one with razor sharp baby teeth and two speeds — full bore or all stop.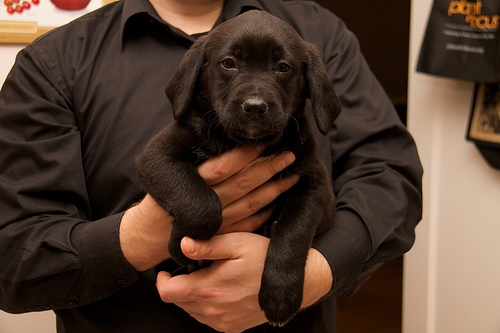 World, meet Luna. She's a Labrador Retriever / Saint Bernard mix, and she is just 7 weeks old. We brought her home on Friday, a little earlier than we expected but only because a course I was expecting to be in all weekend was canceled. So we brought her home the day we met her, figuring a whole weekend to settle her in was pretty valuable stuff. It's been a flurry of activity around here with some serious adjustment going on. Chris and I are both sleep deprived, but encouraged by how quickly Luna is learning the ropes. She's a smart little monkey.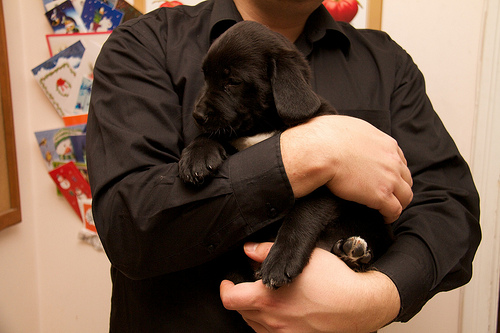 As you can see she's all black but has a white diamond on her chest, a few white splashes on her back toes and a few white hairs on her chin and her bum. She also has a naturally stumpy tail, and was the only one in the litter born this way (everyone else had long tails). We figure this mitigates future coffee table clearing incidents. Not to mention it's damn cute when she wiggles it.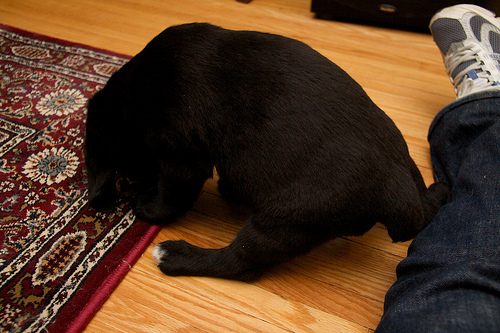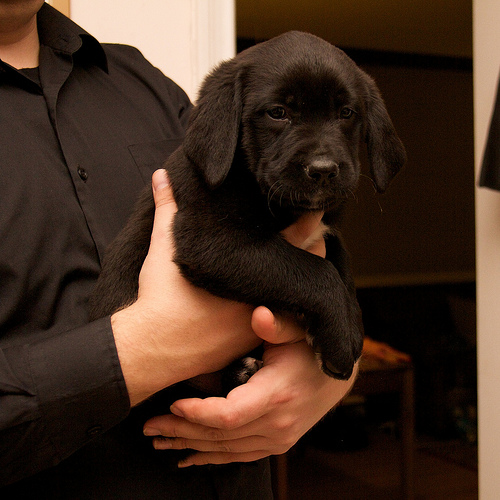 I've had a few emotional moments; it's really hard adjusting to this new world of puppyhood after having such a chilled out old dog like Zeus. We still miss him terribly, especially as we try to teach this munchkin what she is and isn't allowed to do, and boy is there a lot she isn't allowed to do (eat toes, bite chair legs, chew on shoes, jump at leather sofas, chase kitties, etc. etc.). Zeus himself was hardly at all a typical puppy; he was so big and floppy and generally slow moving overall — not at all dumb or "slow" mind you — just more casual, less devious.
We've had all of 5 nights together and we've already had two with no crying after being locked in the crate. We've even already gone from going out every two hours to every three. Today we had a dog walker come for puppy visits for the first time, which will allow Chris and I to normalize our work schedules and hopefully feel a little more like humans in the near future. Yay!
Today was Luna's first visit to the vet and she's charming everyone she meets (threats to thieve her away were uttered). We have a little work to do in the car but so far I don't think she's having the same reaction to it that Zeus had (thank goodness!). It was apparent right away that he was very uncomfortable in the car but I didn't know then what was going on, except that he was very unhappy and couldn't relax. We'll have to try some more tours to work at normalizing that experience for her.
As we get used to this little bundle of energy we're sure to think often of our old guy and continue to miss him very much. But at the same time this is a new adventure. And already my favourite part is how she absolutely must be at my feet when I'm at home.