Late on Wednesday night I got word that Hank was going to be running in the relay today, at 2:40 p.m. in Bradford, Ontario. That's only about 45 minutes away from Toronto so I decided to take the day off so I could go see him. I was so excited about it, not only at the chance to see someone I know doing something so momentous, but I also hoped to get some great photos I could share with family and friends, and some HD video with the new camera.
Also, last night was the big torch celebration in Nathan Phillips Square in Toronto. I kind of hoped I might be able to find Wendy and Hank there, but I didn't know for sure if they'd be there. It was bitterly cold and the torch was delayed by protesters on Yonge Street, so Chris and I ended up throwing in the towel early because we just couldn't feel our toes anymore. We also hadn't had any luck finding Hank and Wendy at the celebration.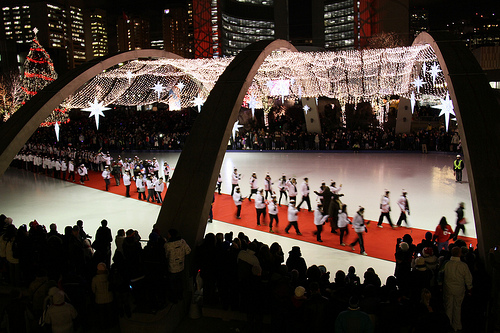 So I got all geared up, loaded up the car and headed north around 12:30. I got there fairly early, about 1:30, so I just puttered around walking down the street until I found the approximately location where Hank was expected. I went to Tim Horton's to get a hot chocolate, wait out the torch and checked my email, only to discover Hank's run had been changed, and not just changed but moved to another city (Newmarket) and happened earlier, at 1! By the time I'd found out, he'd already run! I was so incredibly disappointed. Had I known earlier I could have gotten there, but it was already too late.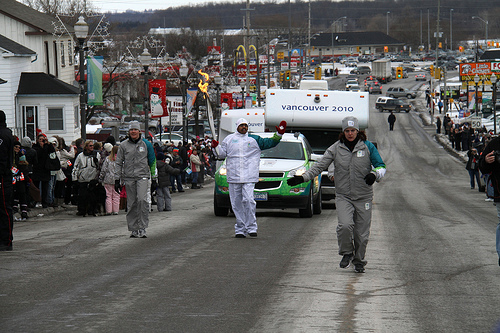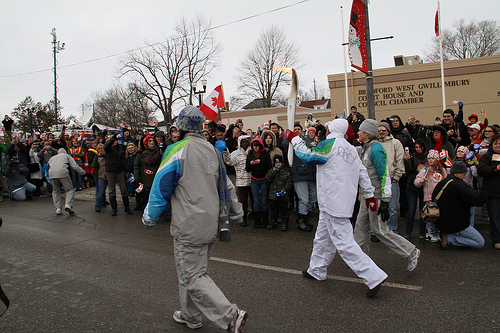 Not really knowing what else to do I decided to stay and at least see that damn torch come through town. Bradford's residents were so excited, and I was happy for them, but it was pretty anticlimactic for me. I hadn't even been to Bradford before so I wasn't really feeling like part of the communal vibe.
Such a bummer. I mean, I took the day off for goodness sake! I'm sure that most torchbearer's runs don't get switched around. I also know that the sponsors each get a number of torchbearer positions to assign, and that Hank's was likely one of those, and therefore flexible because of his association with the team and the fact that he's moving along with the crew. But still. What a let down. I wonder if I was the only one who went to see Hank but didn't?
I did take some video and Chris is working on it for me (filtering out my awesome shaky-cam and crunching it for web). I'll post it when it's ready to go.
I guess on the bright side, I started my holidays early, and got out of town for a few hours. Tomorrow, the holiday parties officially start.