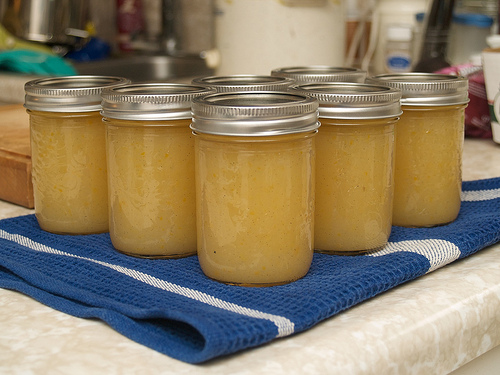 So now that I'm fully initiated into the iPhone cult, I can post to my blog while we drive to the cottage! No, I'm not doing the driving.
Ever since I had the vanilla pear butter with artisanal cheeses at the now dead-pooled restaurant Locavore, I've wanted to make my own version. I hated pears as a kid; I couldn't stand their often mealy texture. Even now they aren't a fruit I'd eat right off the tree, but I have a new love for them as baked, stewed and now, as butter.
I picked up a couple baskets of Ontario Bartlett pears and made two batches this week. The first batch I based on a recipe and the second one I improvised. The first on has a bit more citrus than I really wanted, though it is still delish.
Vanilla Pear Butter
About 15 medium Bartlett pears, peeled, cored and roughly chopped
1/2 cup water or apple juice
1 tsp ascorbic acid (Fruit Fresh) to prevent browning
2 cups sugar
1 vanilla bean
In a large saucepan combine pears, water or juice and ascorbic acid. Over medium heat cook pears about 20 minutes, until they begin to break up. Remove from heat and using a hand held blender, purée the mixture until totally smooth.
Add sugar and vanilla bean innards and return to heat. Cook on low, stirring often, until butter has reached desired consistency, or mounds on a spoon.
Fill 250ml sterilized jars, and process in a boiling water canner for 10 minutes. Makes 5 to 7 jars.
Variation: substitute 1 cup of the sugar with a 1/2 cup of brown sugar and a 1/2 cup of maple syrup for a Maple Pear Butter.