Well, it's definitely flu season. Cause if it's going around, I'll get it. This week I've been laid up with some kinda bug that had me in bed for about 20 hrs straight and feverish. I'm still feeling like crap and stuffed up with a nasty sore throat. Boo.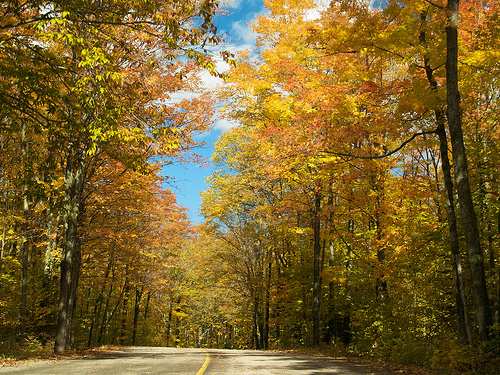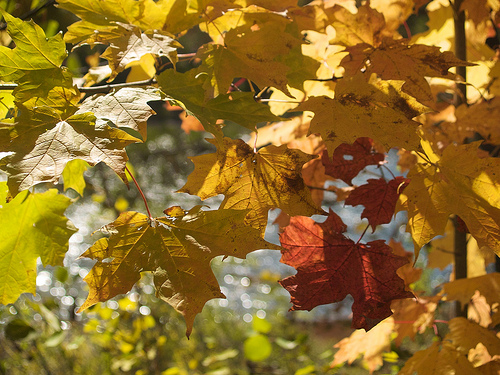 We enjoyed a little tour around the Haliburton Highlands on Saturday while we were at the cottage. The colours were fantastic. It got a little cold though — it actually snowed on Sunday and down to -1 on Sunday night. Brrr!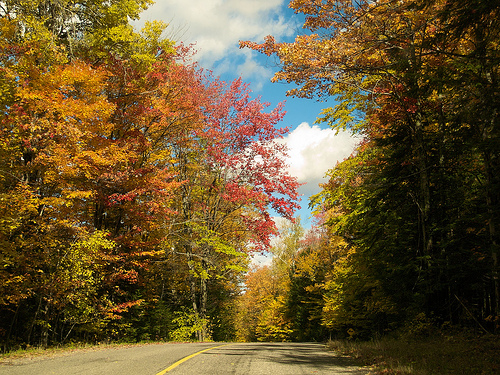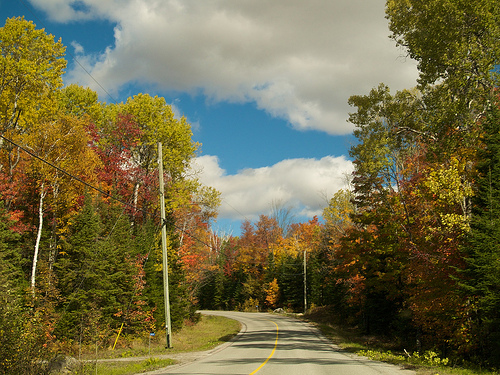 My big thing lately has been apple tarts. So quick and easy and simple. I premixed up the dough, minus the butter and water, and put it in a baggy to take up with us, along with 4 or 5 apples. Then it was just a matter of mixing it up and baking it. The crappy old oven we have up there is no good for accurate temperatures so it got a little toasted, but it tasted great all the same.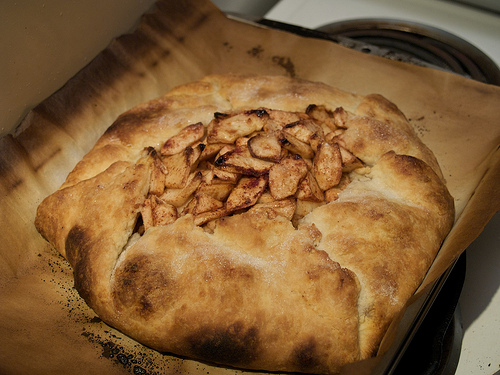 Quick and Easy Apple Tart
1 cup flour, plus more for rolling out dough
2 tbsp sugar
1/4 tsp salt
1/4 tsp baking powder
1 stick of unsalted butter
2-3 tbsp cold water
4-5 McIntosh apples
1 tsp cinnamon
3 tbsp brown sugar
In a bowl combine flour, sugar, salt and baking powder. Add cold butter, diced, then cut in with a pastry cutter until mixture is coarsely blended.
Add cold water, one tablespoon at a time, until dough just holds together. Knead a couple of times if needed to have it hold its shape, but minimize how much mixing you do; the less blended it is, a flakier crust results. Refrigerate for 15 to 20 minutes.
Preheat oven to 425 degrees F.
While dough is chilling, peel, core and slice apples. Mix with cinnamon and brown sugar.
Roll out dough into a rough circle, about 12 to 14 inches across. Can also make into smaller single-serving tarts by dividing dough in half or quarters. Lay onto a parchment lined baking sheet.
Pile apples in centre of dough, leaving about 3 inches space from the edges of the dough (less if you're making smaller tarts). Try to keep the apples in a uniform thickness.
Wrap the dough up around the apples all the way around, folding the edges over each other. If desired, sprinkle a bit more sugar over the tart and the exposed apples.
Bake for about 20 to 25 minutes, until crust is golden and flaky and apples are looking cooked.