Well I think fall has officially arrived, with all this cool, windy, wet weather. I'm not really complaining — we actually did need a good rain. But I had hoped we'd get a little more warm weather and sun to help me ripen off the last of the tomatoes. I'm leaving them out there for a little longer and crossing my fingers that the squirrels will leave them alone. I've lost a few fruits to them so far but I've also harvested a lot so I can't really complain.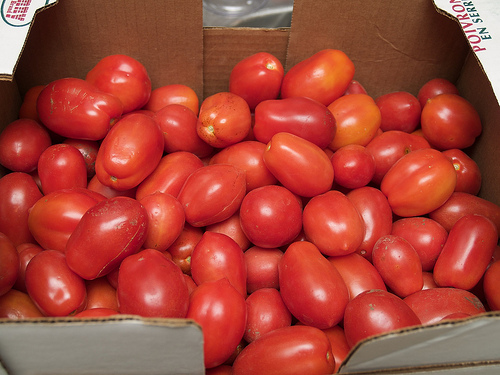 A couple weeks ago I was at the farm for the weekend to visit, and my mom and I hit up the Stratford Farmers' Market. I'd been there in the spring and it was pretty quiet, but this time of year it was full of people selling everything. I bought this half bushel of roma tomatoes from a really nice Jamaican guy, and turned them into tomato sauce as soon as I got back to the city. It was the perfect opportunity to try out my new tomato processor.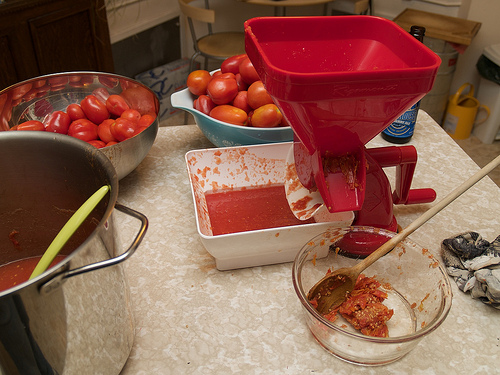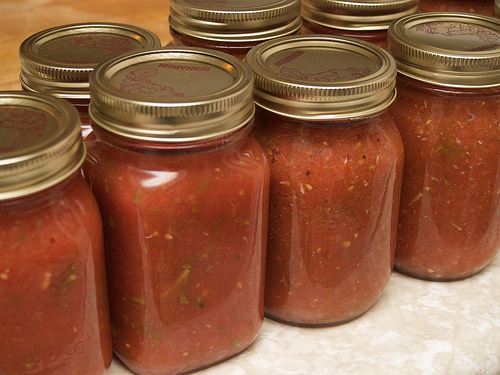 It was a good experiment because I wasn't really sure what a half bushel would turn into. Turns out it makes nearly 12 500 ml jars of sauce. I kept the sauces pretty simple; one is tomato, garlic and basil, the other was the same with some added chili flakes, pepper and oregano. I think the sauce is a bit runnier than I'd like but that can be adjusted in cooking with it.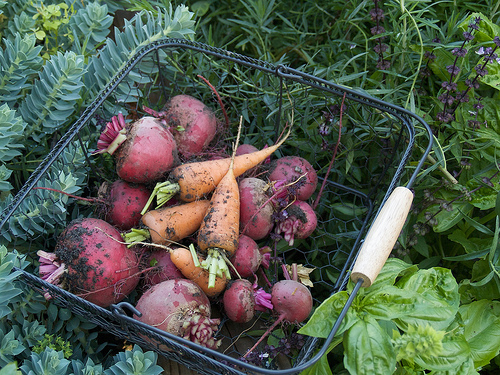 In addition to the tomatoes, I've been using up the ones in the garden making batches of salsa. I turned the Yellow Pear and Goldie tomatoes into a golden salsa, and the latest batch used up a bagful of chilis I bought at the Stratford market, which I roasted on the grill first.
Next was to use up the beets. I only had Chioggia beets, which are not deep purple pink like the regular ones. I wanted to pickle some regular ones in addition to these so I bought some at the market in Nathan Philips Square. So now I have a good stock of pickled beets.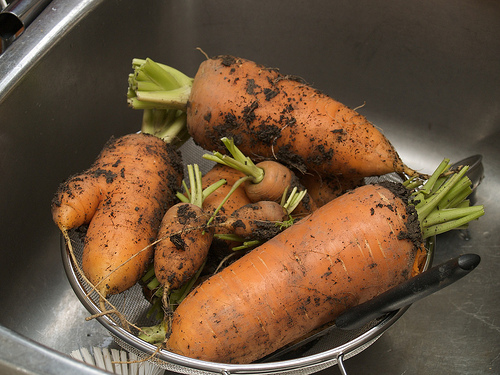 I had left a large number of carrots still in the garden but the squirrels were starting to find those attractive, so I pulled them this weekend, scrubbed them all and put them in the fridge. I turned a few into Vietnamese Pickled Carrots and Radish (not canned), which we've been munching on all week.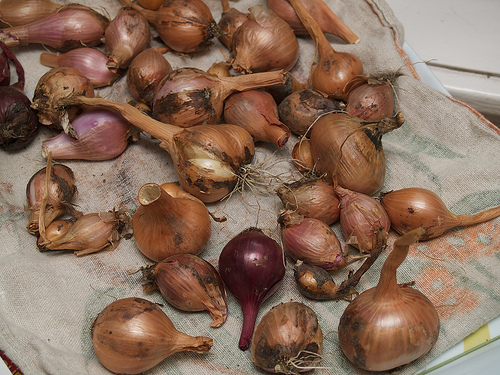 Finally, a few weeks ago I pulled the onions and have been letting them dry for the last little while. I'm hoping they'll store well. I don't have a great deal of luck storing garlic or onions for long. Our basement is cool but damp, and well, fridges are not good places to store these either. I'm pretty happy with how the shallots grew, but the onions are quite small. I don't know why I can't seem to get full sized onions. Maybe I'm not getting them in the ground early enough? Maybe it wasn't a great onion year? I don't know.
A couple weeks ago I planted some spinach, kale, chard and some lettuce. Unfortunately I think the lettuce isn't going to make it, but the other stuff is doing well, not minding the cold at all. I may have got it in the ground too late (I meant to plant these before I went on vacation) but we'll see what happens. There are also still parsnips in the ground which will do just fine until we get some good frosts. There is also still some celery that I need to harvest. Soon I'll have to pull up the tomatoes and prepare for winter!