As we worked our way through the final stretch of our Cape Breton tour, we passed through the town of Mabou, where I began to notice signs for Bellemeade Farm, selling hand spun yarn, sheepskins, hand knits, etc. I got really excited because while we had seen many places selling hand knit mittens and socks everywhere we'd been, especially in Newfoundland, I was a bit disappointed that I hadn't come across a lot of people selling artisan, hand spun yarn. We started following the signs to a gorgeous, sprawling farm, with a long, winding lane. There weren't a lot of signs at the road so we felt a bit strange driving in until we saw the sign on the barn for the Bellemeade Farm Shoppe. Off to the right of the barn were sheep grazing, chickens and sunflowers. I picked up some lovely skeins 100% wool hand dyed yarn (pics coming soon), and a bar of goat milk soap with a felted cover.  The owner told us the wool all comes from the farm and is spun in a local mill, although she is working on her spinning techniques. I highly recommend checking out the shop if you're in the area.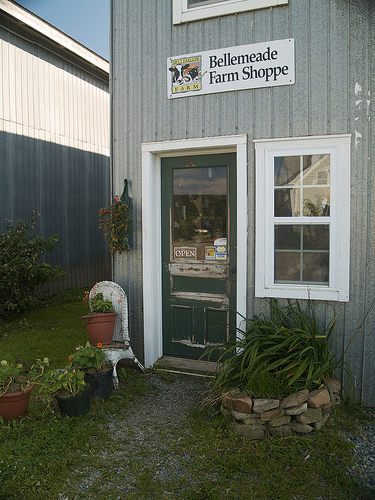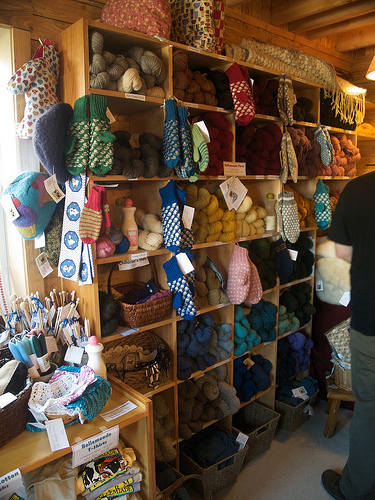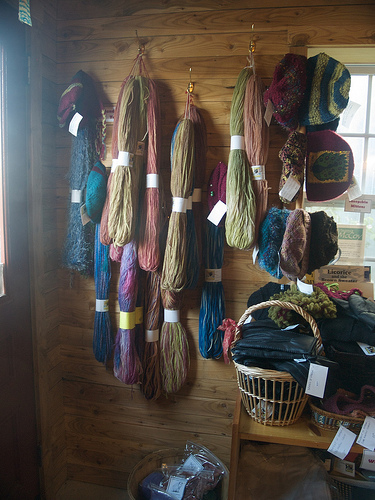 This was our last stop before we made tracks for Moncton. We had decided that since we'd made such good time through Cape Breton, we should get as far as reasonably possible that day, since the next day would be a long drive to Quebec City.
And it was. We stopped at the New Brunswick liquor store to load up on east coast microbrews to bring home (who knew Picaroon's made so many kinds of beer?!). We literally had a trunk load of beer, 80% of which was Picaroon's.
We arrived in Quebec City around 4 p.m. the next day and checked into our B&B, the Castel d'Amérique Française, which is just inside the walls of the old city. This place was gorgeous, and we highly recommend it. We had the Samuel de Champlain room, which had its own balcony.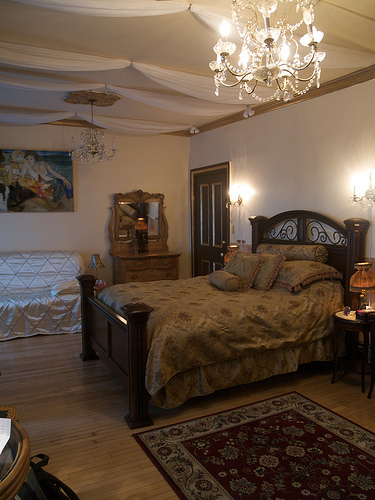 That night we went out to explore the city a bit. On our way out of the old city, walking down a set of stairs that take you down the wall of the old city, we could see bright, colourful lights and hear music coming from a highway overpass a few blocks away. A couple on the way up the stairs were really excited and told us that it was a free Cirque du Soleil show, and that it happened every evening, Wednesday through Sunday, all summer long, but that that evening's show would be over in about 5 minutes. We hoofed it over to the site, and just as we arrived the show ended. We were intrigued though, and vowed to go over the next evening to check it out. Then we headed over to La Barbarie brew pub, and had a pint. The beer was so-so, but the pub, which I guess has recently been renovated, was hopping, and had a nice vibe.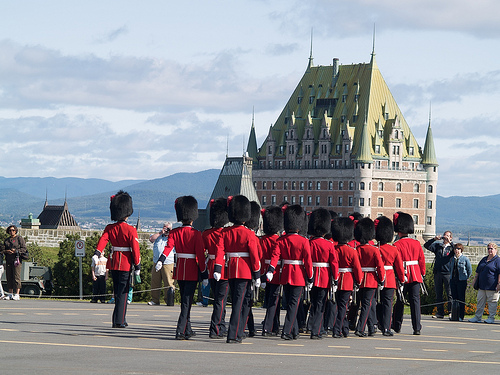 The next morning we headed over to the Citadelle. I have only been to Quebec City once before, when I was in grade 8, and I don't remember visiting the Citadelle, although we must have. The Citadelle is a national historic site, but also still an active military garrison housing the Royal 22e Régiment, so you can't just go in and wander around. There are guided tours, and you can watch the Changing of the Guard Ceremony, which takes place every day during the summer at 10 a.m. The day we happened to go seemed to be extra special, with a film crew and photographers documenting the event. Later we found out that the military band was visiting from Belgium, because of the International Festival of Military Bands, happening that week in the city.
We also didn't know this, but the Citadelle is also one of two official residences of the Governor General of Canada. You can tour the residence, which is gorgeous and houses one of the most incredible collections of Canadian art I've ever seen.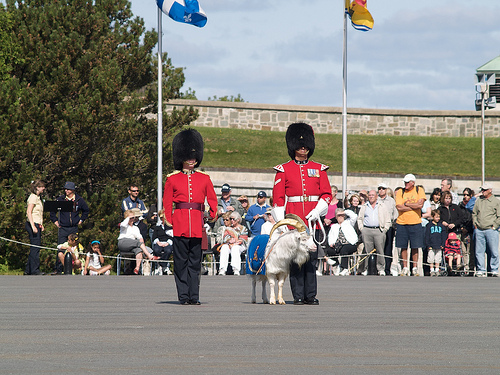 Curiously, the Royal 22e Régiment's mascot is a Tibetan goat, descended from Batisse I, gifted to the Régiment by the Queen of England in 1955. Our guide told us that he wasn't sure if it would be Batisse X or Batisse XI who would be participating in the ceremony. Apparently the older one tends to be a bit grumpy. Whichever one it was, he was a musky fellow (we were at least 40 or 50 yards away and could smell him).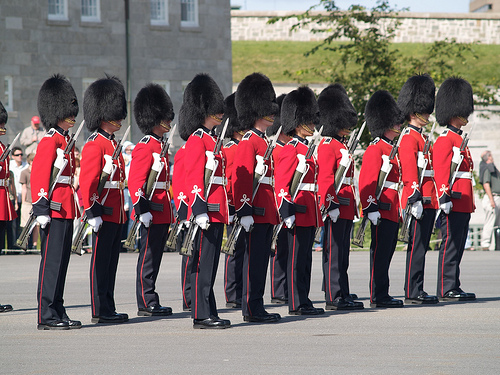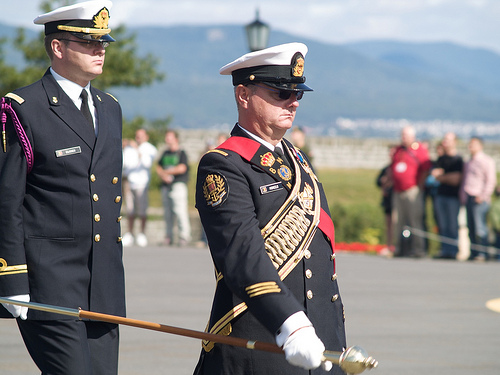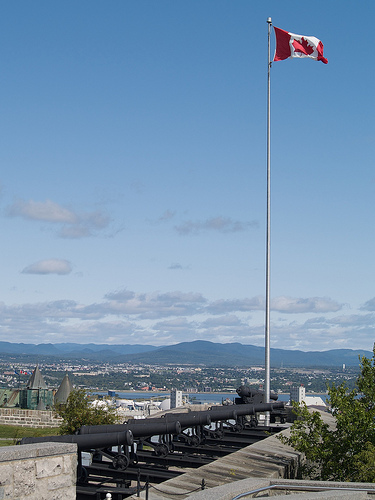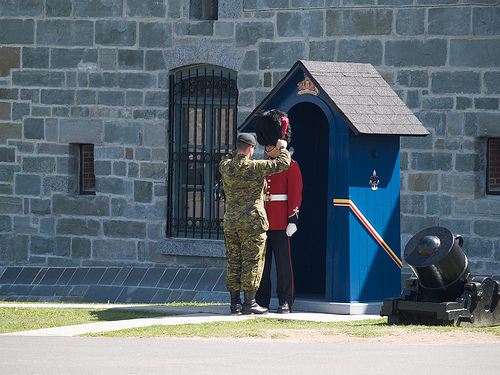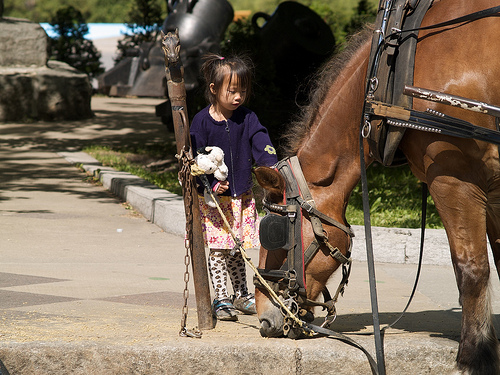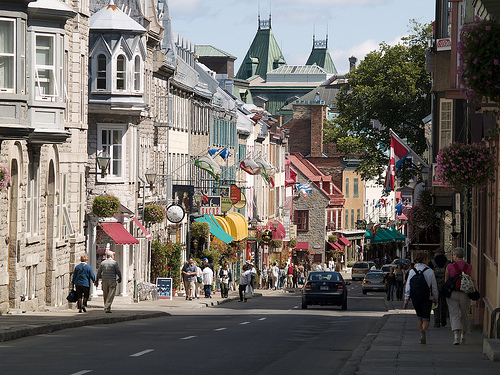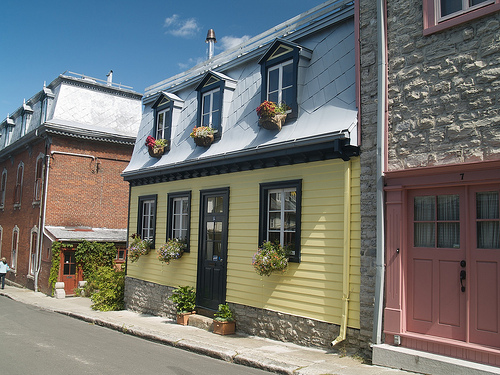 After some lunch, we were on a mission to find L'inox, the other brew pub we knew of in the city. Unfortunately for my feet, it turned out the place had moved since anyone we knew had last been there. We criss-crossed the city several times before we found it. By the time we did, my feet were killing me. But on the plus side, we'd seen most of the city, and they had excellent beer.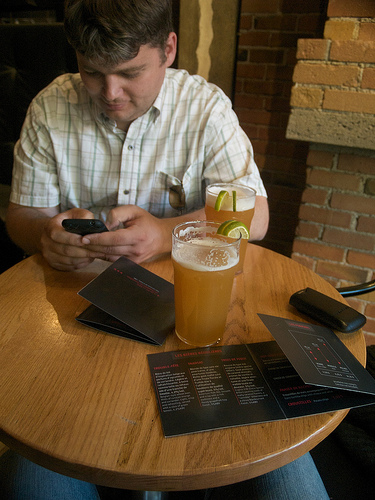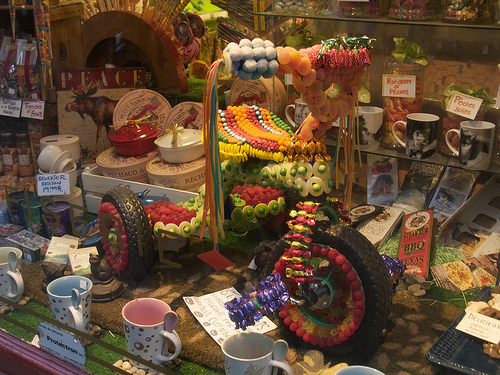 We made our way back down to the spot where the Cirque du Soleil show would take place, that evening. The free show was called Les Chemins invisibles, and I think it was part of the 25th anniversary celebrations of Cirque du Soleil, and a continuation of celebrations for Quebec City's 400th anniversary, which was last year. The show began with three "tribes" of performers descending down three streets to converge near the main stage, which was set up in a normally neglected patch of ground under several highway overpasses. The show was magical and a spectacular use of the space.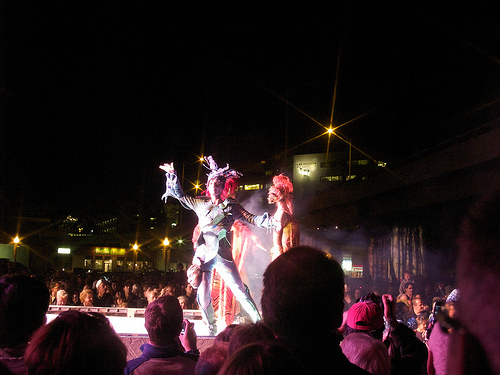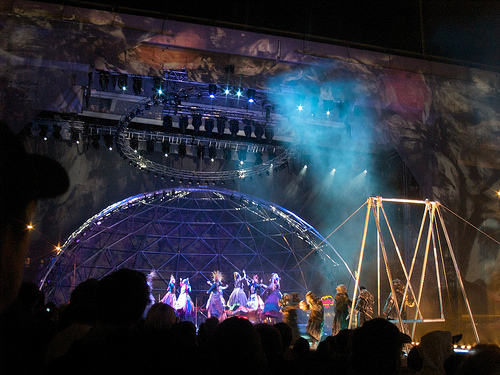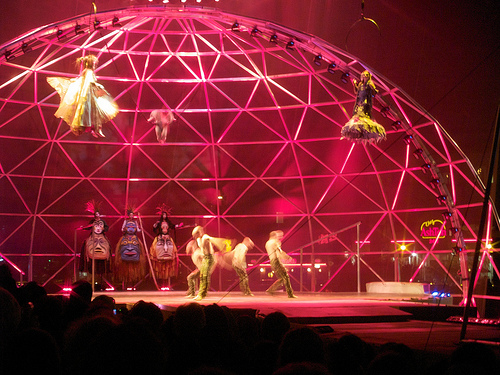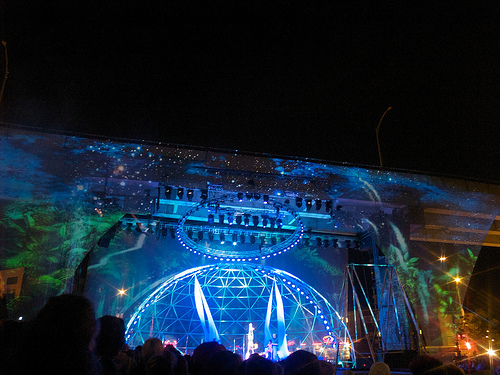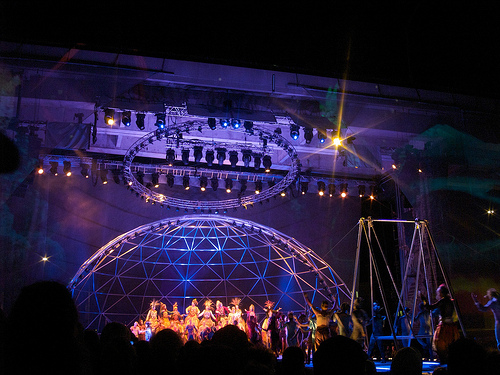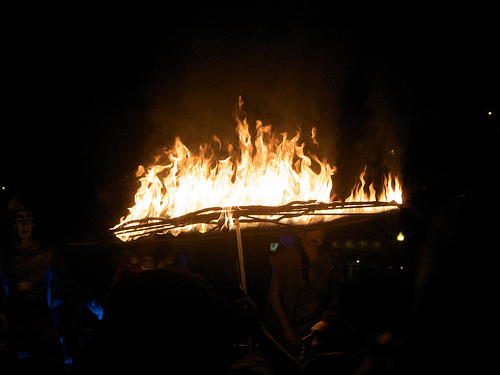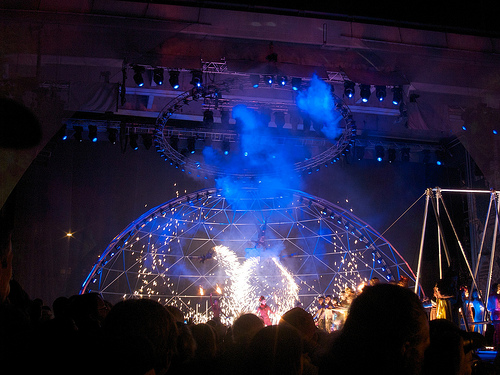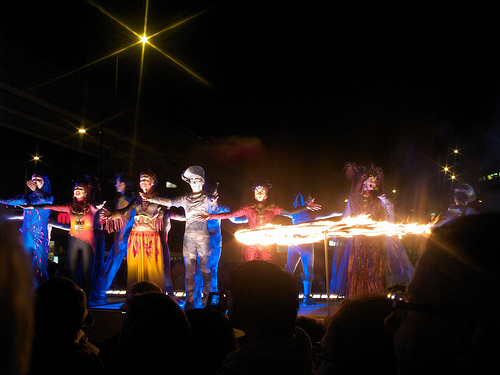 The 90 minute show left us totally wowed. Afterward we made our way back up the mountain into the city in search of dinner. We stumbled upon the finale performance of the International Festival of Military Bands, and so we stopped to watch for a few minutes, and then… fireworks!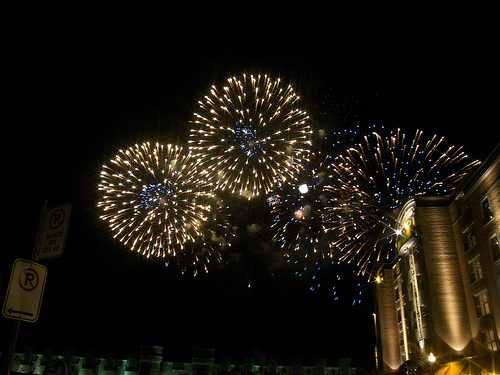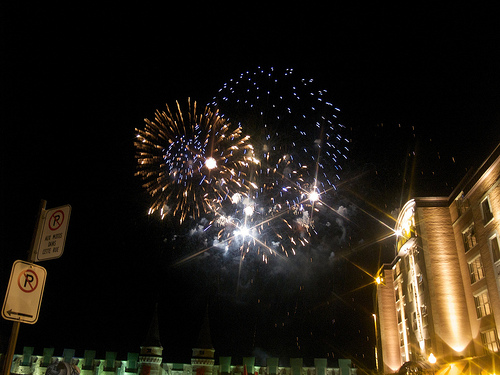 All I could think was, if this is Quebec City on a Thursday night, what happens on the weekend?! It was a fabulous way to close out our vacation, and the icing on the cake was the next morning's sunrise, to which we had a perfect view from our B&B room: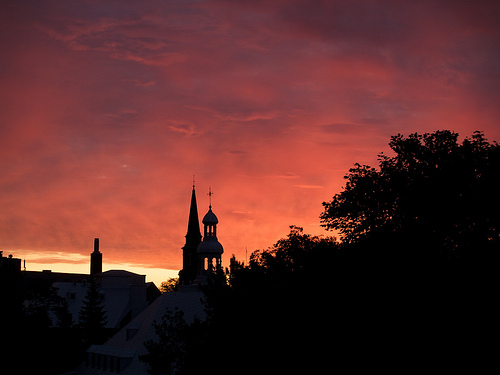 To watch a slide show of all my photos from our trip, please visit my East Coast Trip set on Flickr.