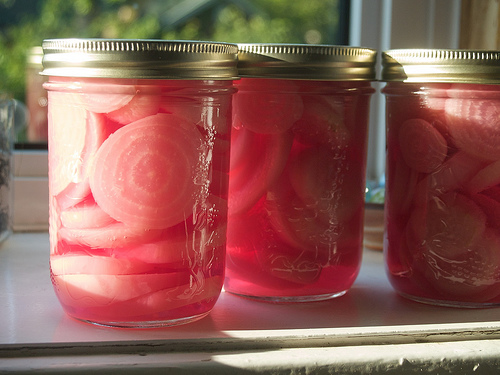 It's the time of year when there is a distinct lag between when I do something and when I can actually get it posted to this site. There is a lot of maintenance now on the garden. Every year about now I begin to second guess if I could handle more veggie gardens, despite how badly I crave having fields of my own fresh produce. There is often more than we can eat, and almost more than I can preserve. Thankfully I can always find people willing to take home grown produce off my hands, and in fact, giving a bit of it away tends to inspire others, and makes me feel great.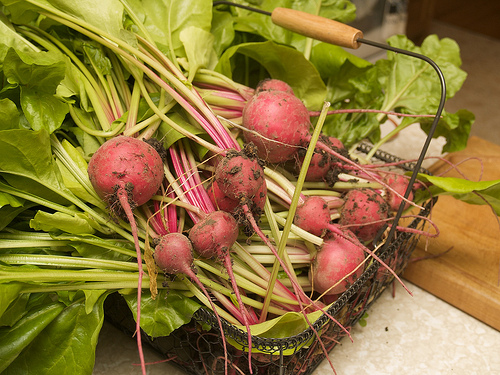 My Chioggia heirloom beets have lived up to their promise of a bountiful, early crop. While they seemed to get a bit of a slow start, they are now nearly all ready to be harvested, and some of them are throwing up flower shoots, so last week I had to get busy. This year I wanted to make pickled beets for the first time.
The traditional red beet is usually used for pickling, but I haven't (yet) grown any of those this year. I might put a few seeds in this week to see if I can't get a few before the frost. The beets I planted are ridiculously pretty, with their concentric pink and white rings. Pickling them in a way doesn't really take advantage of their lovely colour, but I'm thoroughly pleased with the glowing pink jars I have on my counter, of this, of one of my favourite kinds of pickles.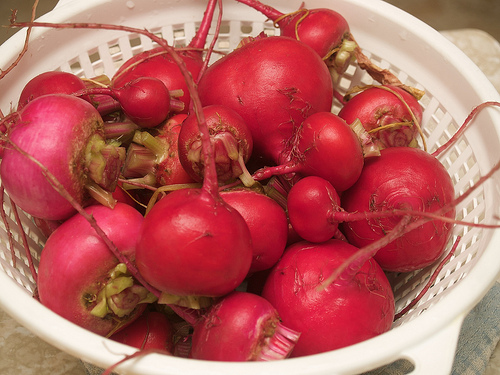 I still have a few in the beds. I'd like to try shaving them in really thin chips to have in a salad, to try them out raw and to take advantage of that lovely colour and texture. I think they could take the place of radishes in a mid-summer salad.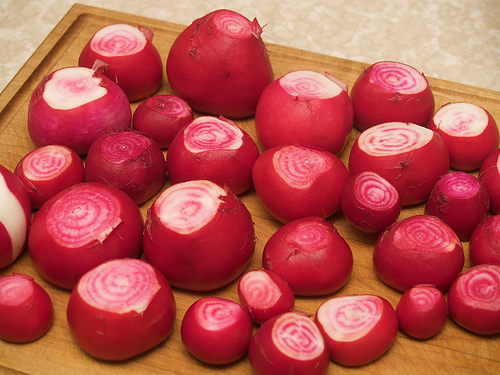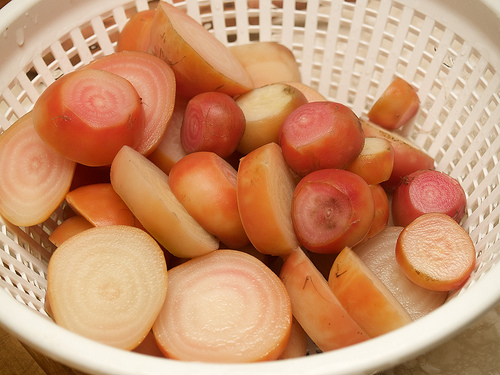 Pickled Beets
prepared beets, about 10 cups
2 1/2 cups white vinegar
1 cup water
1 cup granulated sugar
2 tbsp pickling salt
3 tbsp pickling spices (you can buy these premixed or make your own combination. Typically the spices include mustard seed, coriander seed, bay leaves, dill seed, fenugreek, cinnamon, ginger, allspice, red or black peppercorns and cloves – but there are really no limits).
Wash and trim beets. Small, baby beets can be cooked whole, boiled in salted water, but larger beets should be halved or quartered. Chioggia beets cooked relatively quickly, simmered for about 20 minutes, but I find beets really vary in cooking times. They're done when you can easily pierce with a fork or a skewer. To remove peels, immediately chill in an ice bath after cooking for about 5 minutes. The skins should slip off easily. Further slice your beets as you prefer — I decided to slice mine in rounds but they're also great in larger pieces.
Tie pickling spices in a square of cheesecloth. Place remaining ingredients and the spice pouch into a large saucepan. Bring to a boil and boil gently for about 15 minutes.
Meanwhile, pack beets into sterilized canning jars. Leave 1/2 an inch space from the rim.
Carefully pour hot pickling brine (minus the spice pouch) into jars to just cover beets, leaving a 1/2 to 1/4 inch space from the rim of the jars.
Place hot snap lids on jars, gently place ring on until just barely tightened.
Process in hot water canning bath for 30 minutes (500 ml jars). Allow to cool. Snap lids should pop down to indicate they are sealed. Any that don't should be stored in the refrigerator. Sealed jars can be stored in a cool, dark place. Allow at least a week for the beets to develop their full flavour.
Yield: about 6 500 ml jars.