Last night Chris and I finally got to go pick up our new car, a Volkswagen Jetta TDI Wagon, in silver. We've only been waiting 2 months for it to come from the factory.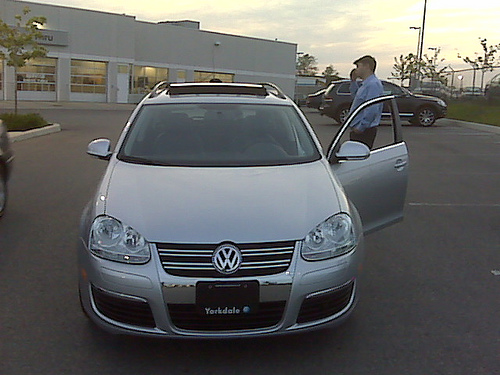 We've been planning to get rid of our very unnecessary two cars for quite some time, and probably would have done it sooner, but for the fact that we needed my car for taking Zeus anywhere (he wouldn't fit into Chris's car) and Chris's car was simply more powerful and pleasurable to drive. Since we said goodbye to Zeus in April, it has been even more ridiculous that we've had two cars. Chris's old car was a 1999 Mercury Cougar and mine was a 2002 Kia Rio 5-door.
We'd been considering a hybrid vs. the Jetta TDI (ultra-clean diesel) for some time, but hands down, the Jetta TDI is an amazing car, getting a fuel economy of 10.7L/100 km (city) and 7L/100 km (highway) with our manual transmission. It has the power we need for driving outside the city (the majority of our usage), which is simply not yet available in a hybrid car. Chris would certainly be the first in line to buy a purely electric car if such a thing were yet readily available in the marketplace, and comparable to the Jetta.
We went for the highline, which comes with all the bells and whistles, including a fantastic sunroof. This is by far the most luxurious car either one of us has ever owned and we are ecstatic. Yes, yes, it is a car, cars are evil, blah blah blah. But before the purists out there raise all hell, please know that as far as cars go, this is possibly the most efficient model out there. It won the 2009 Green Car of the Year Award. And keep in mind, we went from owning two far less fuel efficient cars to one, which is definitely a step in the right direction for reducing our carbon footprint. We rarely drive to work, preferring to stick to public transit. I've even recently re-instated my bicycle, which has been sitting derelict in the garage for the last couple of years. I'm now using it to get to the subway station in lieu of the ever-so-frustratingly slow and inconsistent 52 Lawrence TTC bus.
So, while it was kind of sad to say goodbye to my Zeus-mobile, and for Chris to say goodbye to the Coug, we're both loving the Jetta so far, for the all of about 13 hours we've owned it.
Coming soon(?): Backyard Chickens
In other news, I'm also ecstatic to report that the City of Toronto's Parks & Environment Committee, chaired by Councillor Paula Fletcher, is considering a pilot project to allow residents to keep backyard chickens! I'm throwing my wholehearted support behind this initiative. I will be one of the first to get a couple hens if this goes ahead. The unfortunate thing is that if you read the comments of the CBC story, you can see just how many ignorant people there are in this world, and that this initiative has a lot of resistance attached to it. We have some educating to do folks!