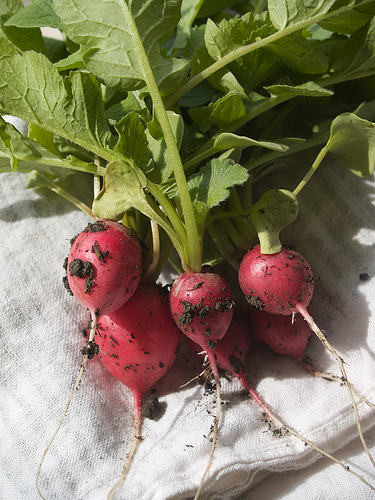 Just the other day I was thinking, "Gee, I probably should have thinned out those radishes a couple weeks ago…" Then my elderly neighbour said, "Just thin them by harvesting them!"  Like, duh. I didn't even realize they were ready yet!
All weekend we've been munching fresh juicy radishes from the garden, spring onions, as well as a few spinach leaves thrown into a salad. There isn't quite enough spinach on its own for a salad yet, but a we got a few leaves to augment lettuce from the store (locally grown, too by the way). The little red globes of spicy radish goodness are so much better than the ones from the store.
As of last night I've nearly got it all in. I planted up the less hardy salad greens (red oak leaf heirloom lettuce and arugula) and over seeded my spinach and green leaf lettuce which had come up a bit thin. I also had some Chinese cabbage seeds to get into the ground and some parsnip seeds to put in (the package directions on those left a bit to be desired when it came to suggested planting times). I also finally found my nasturtiums, which will add pretty colour to my rather utilitarian beds, at Sheridan Nurseries yesterday. That place was a nuthouse, complete with its own traffic cop and 15 minutes of waiting for a parking spot. NEVER AGAIN ON A SUNDAY IN MAY.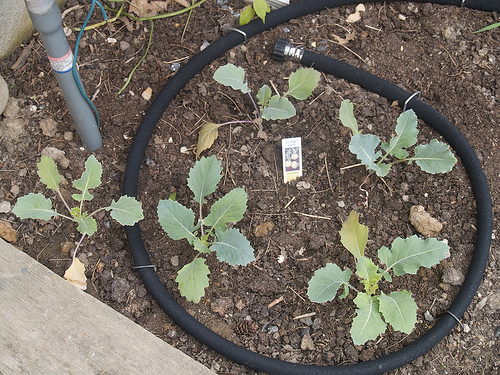 New this year to all my sun-soaked gardens are soaker hoses, glorious soaker hoses. I'm so tired of sprinklers and their difficult to control spray patterns, and sending half the water down the street into the sewer. Not to mention watering all the patio stones and encouraging weeds to poke up through the cracks.
I bought four 50′ hoses, one for each raised bed and one for each bed on either side of the porch. I still have to run each of them separately, but it's now simply a matter of snapping in to the connector (hooray Gardena for those fantastic little "Quick Connect" doohickies), and I can likely rotate them and do two of the beds each night, rather than all four every night, during hot periods. On a side note, if you're going to buy soaker hoses, I recommend the WaterWorks brand carried by Home Depot; the Yardworks product (carried by Canadian Tire) kinked really easily as I unwound them. The Gardena ones were just too expensive.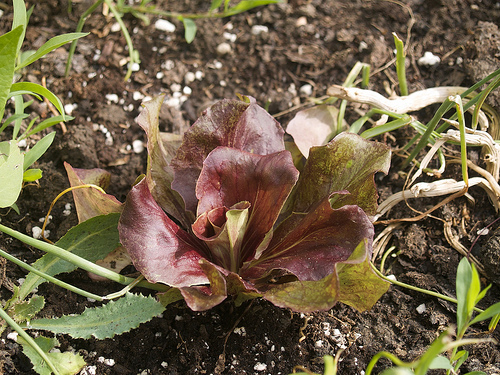 Of course I tempted myself a few weeks ago at the Fortino's Garden Centre, were they had a huge array of interesting vegetable seedlings, and I had to find places to stuff in some radicchio and kohlrabi. I don't even think I've eaten kohlrabi before, but hey, I'm always up for a challenge. And yes, that's a little sow thistle up there beside the radicchio, who met a timely death just after the photo was taken.
Finally, I'm always looking for interesting new herbs to try, and I have a gorgeous purple sage which is as much good looking as it is tasty. It contrasts nicely with the lemon thyme, above, so I wanted to get some golden sage for another section of the garden. I also found some lemon grass and sorrel at Sheridan, making the insanity of the place a little more worthwhile.