I've been knitting up a storm the last couple of weeks, and I think a lot of it has to do with a sudden infatuation with hats. They make for nearly instant gratification projects, since they can be completed in as little as one weekend. I have to thank Michelle for this sudden spurt of hat-making, since it pretty much started with her "another green hat."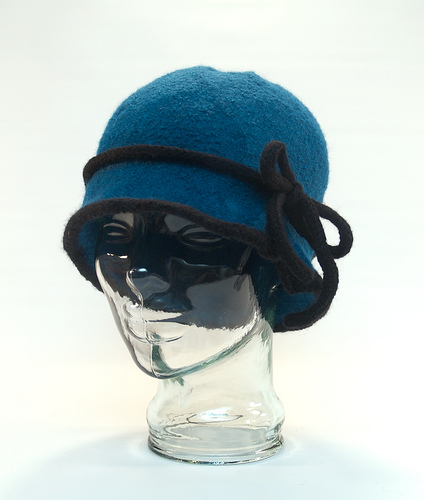 Technically, this hat actually started some time ago, after I saw the film Changeling (I just adore the clothing of the 1920s, even though the style would not flatter my curves one bit). I had a stash of Patons Classic Wool Merino on hand that I was purposefully saving to try out on a felting project. The St. Vincent Cloche by Fawn Pea was the perfect match.
It's a super simple knit; the only reason it took me a few months was because I had to put it on hold and order more yarn in the peacock blue because I was sure I didn't have enough (the unfelted version of the hat was huge). In the end I actually only needed a few yards of the new ball – I probably could have gotten away without it.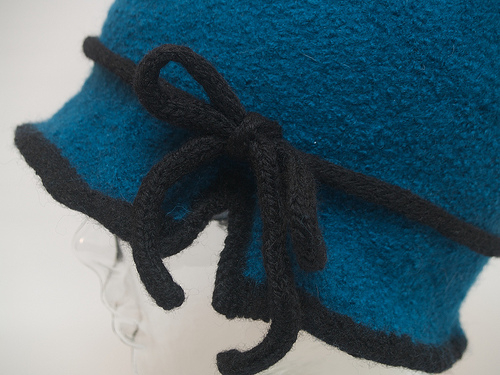 This was the first time I had tried felting using our front load washing machine. I'd heard that it can take more runs through these types of machines to make it work. I tried the first round on a normal setting with hot water, and the hat only felted a small amount. So the next round I put the washer on the "sanitary" setting, for extra heat, and holy smokes – it almost came out too small! In the end the hat just fits!
There are some creases I need to figure out how to smooth out, and I'm not sure how to fix those. I'm also not certain how I should fasten the hat band to the hat itself, but I think I need to, so that it doesn't shift all over the place. But overall, as a first felted project in my current machine: it turned out pretty sweet!
Currently on the needles: you guessed it — another hat! Foliage, from Knitty Fall 2007, to be exact!