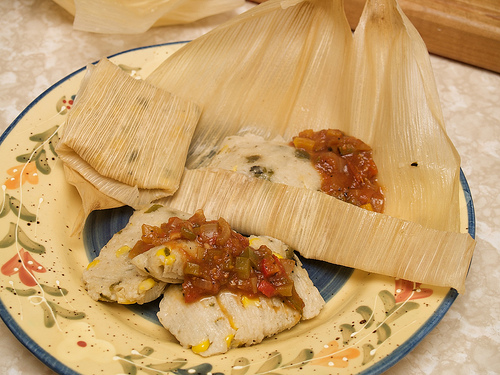 Lately all my cooking has focused on big one-pot meals like soups and stews, chili and casseroles. On the weekends I've been making big batches of food to freeze for those insane work night evenings when I'm positively exhausted and if unprepared, I'll just resort to ordering pizza. We're trying to save some money, and eat at home more (which naturally means more healthily, since cooking your own food is just plain better). The epiphany came when a couple weeks ago we thawed a chicken pot pie I had made and froze, one of two that came from a single recipe. Chris and I both were astonished to find that the reheated version tasted better than the first one did the night I made it. I can only attribute it to some kind of melding of the flavours that happened while it was frozen.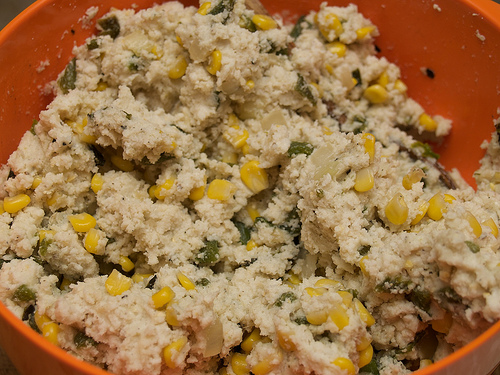 One of the most comforting dishes you can order at a Mexican restaurant on a cold winter day (and boy, have we had our share of those lately!) is a tamale. If you've never had one, you simply must. They've been high on my list of must-try-to-make recipes, and I found a recipe on Epicurious that included cook's notes on freezing and reheating, which really was my biggest question about what to do when you have lots of them (most recipes will yield anywhere from 20 to 30 tamales).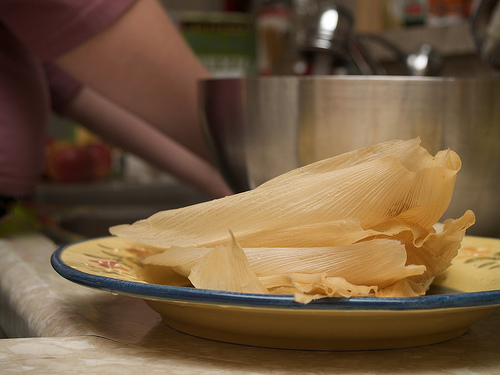 The recipe I chose was perhaps a bit labour-intensive, involving roasting, seeding, deviening and peeling five poblano chiles, but you can just as easily make them with some leftover cooked chicken or shredded pork. But poblanos are so tasty I just had to try them out.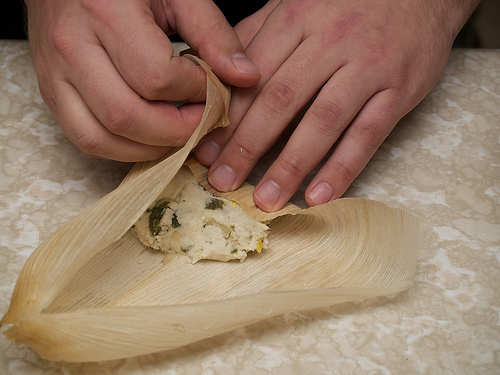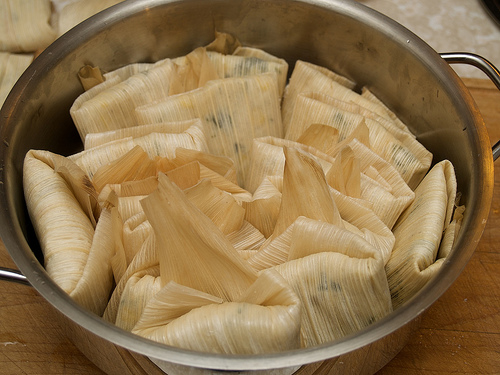 The recipe I used called for grilling them but there was NO WAY I was going to dig out the barbeque on Saturday night, my friends. I'll happily just eat these lovely steamed babies right out of the husk, with a little roasted tomato salsa.
We ate about 11 between us in one meal (Chris regretted pigging out on them afterwards, they are extremely filling and probably three is enough to eat in one sitting). The rest we packed into a Ziploc and put into the freezer, to be resteamed for another meal, another day.
Tamales with poblano chiles and corn niblets
(adapted from "Grilled Tamales with Poblanos And Fresh Corn", on Epicurious.com)
about 30 dried corn husks (you can get these at most Latin groceries, I got mine at Perolas in Kensington Market)
5 poblano chiles
4 cups of Maseca Tamales Mix (also bought at Perolas – but there are directions for making your own mix at the above link)
3 cups of water
1 cup of lard plus 1 tbsp (1/2 pound), melted and cooled
1 medium onion
1/2 cups of frozen corn
1/2 tsp salt
salsa or hot sauce for serving
Separate dried corn husks and remove any that are damaged to overly small. Soak in a large bowl of hot water, using an inverted plate to keep submerged.
Roast poblano chiles over a flame or under a broiler, until skin is blackened and blistered. Allow to cool. Core, seed and scrape away blackened skin, chop.
In a large bowl, combine tamale mix with water until consistent in texture. Add one cup of melted and cooled lard and mix well. Set aside until ready to use.
In a skillet, heat 1 tbsp of lard to saute onions until softened. Add chiles and corn and heat through. Allow to cool, then combine with tamale dough.
Individually rinse corn husks and remove any remaining corn silk or debris. Keep them damp, if necessary, by covering with a damp kitchen towel.
Lay one husk in front of you with pointed side facing away from you. Place about 1/3 cup of dough in the middle of the husk. Fold the bottom up and then the sides, and finally the pointed end to make a nice neat package. No need to tie closed, as you will need to open them to test doneness. Continue with remaining dough and husks.
Place tamales into a steamer, stacking upright but not too tight. If necessary, steam in batches or have multiple pots and steamers going to save time. I'm assuming you, like me, do not have a multi-layer tamale steamer! You can use a collapsible steamer but you may want to put a rack below it to raise the tamales up in the pot so you can add more water – tamales will steam for an hour, so be sure you have a big enough pot that you won't run dry too quickly. One tip I read was putting a dime in the bottom of the pot, so it will clatter when the pot starts to get dry.
Steam tamales for an hour. To test for doneness, open one tamale. If it separates easily from the husk, it's done. If not, put it back on for 10 minutes or so.
Serve with hot sauce or salsa! You can also grill them on the barby for some extra flavour. Freeze leftover tamales. To reheat, allow to thaw and then re-steam for a few minutes, or microwave covered with a bit of water in a dish.
Makes about 20 to 30 tamales, depending on how big you make them.
Note: I've also seen them made with banana leaves instead of corn husks. While I haven't tried it yet, you can simply roast banana leaves by passing them over a gas flame or a barbeque grill, and then cut to a size for wrapping. Steam as per instructions above.