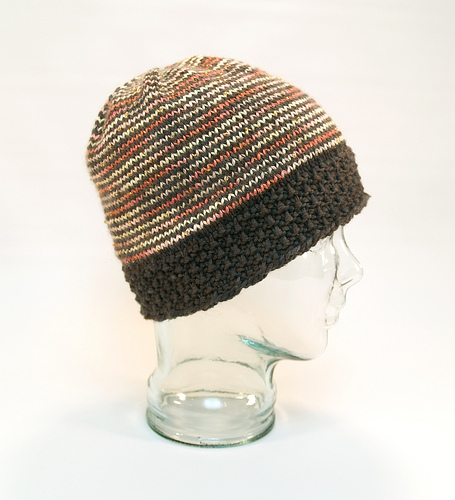 I've been jonesing for an instant-gratification project JUST FOR ME for some time, and this weekend I finally found it. Every where I go I'm seeing people bundled in their oh-so-cute Peruvian woolly ear flap hats (a.k.a. Chullos), coveting them but knowing it would be a shame to buy one when I could knit something  just as cute if not better (and you just know that the people making those hats are likely not earning a fair wage for them). Not to mention I have a copious stash of luxurious yarns to choose from.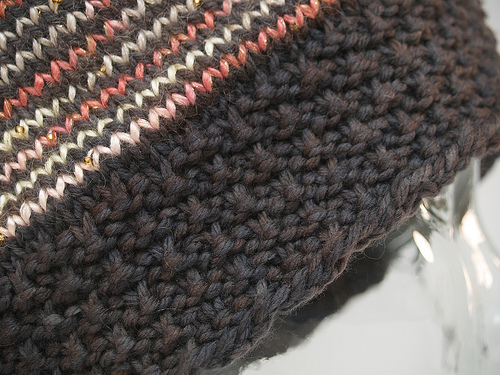 As it turns out, what resulted in my search for the perfect project looks nothing at all like those ubiquitous hats, but I am totally alright with that. Because who wants to look like everyone else?
I was inspired by Not an Artist's "Another Green Hat" in which she (Michelle) used up a super sexy but tiny quantity of Artyarns Beaded Silk she had gotten at the very first Knitty Yarn Roundtable (a.k.a Yarn Tasting). I too had gone home from that event with some Beaded Silk, but in a peachy-mauve-greenish colourway, with gold beads and gold thread. Like Not an Artist's, its also been sitting in my stash forever. I had originally envisioned it to become Perdita from Knitty, but as it turns out, I had quite a bit of this yarn – much more than I would have needed for Perdita. And a hat is so much more showy!!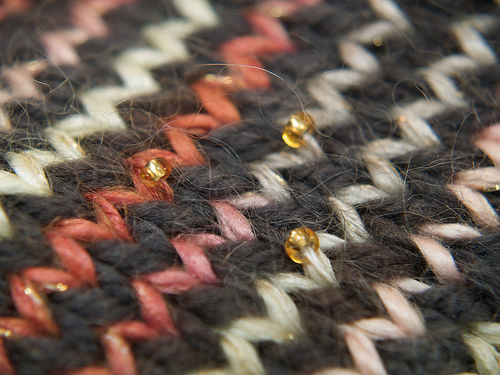 I started off expecting to follow Mintyfresh's design for her Roman Earflap Hat, but making use of the spirally yarn design by Not an Artist. Instead of the needle-size/guage in Mintyfresh's design I opted to work on 4 mm needles and cast on only 108 stitches, like Michelle's hat. The textured brim is worked with a double strand of yarn in a stitch pattern from Barbara Walker's first stitch treasury (a series of books I really need to get my hands on), and then worked for the body and crown of the hat in a single strand of yarn. I had some leftover Dream in Color Classy in Cocoa Kiss from the Baby Yoda Sweater — a perfect colourway to set off the varied colours of the Beaded Silk.
I fully intended to do the earflaps and pom pom but as soon as I tried it on I knew it was perfect without them. And I've had nothing but compliments since I started wearing it!