Despite my lack of posts this week I assure you, I've been crazy busy, but mostly with work. This week was one of our biggest fundraising events of the year — one that runs over a series of days and is made up of a few events. I'm hoping that now that it's over, life will settle into a manageable pace again.
So it's even more important to keep myself knitting, to keep me sane, and to keep me feeling like amongst all the work commitments I'm still doing a little something for me. Or rather, to satisfy me. Because I'm actually working on something for someone else, but it's lots of fun.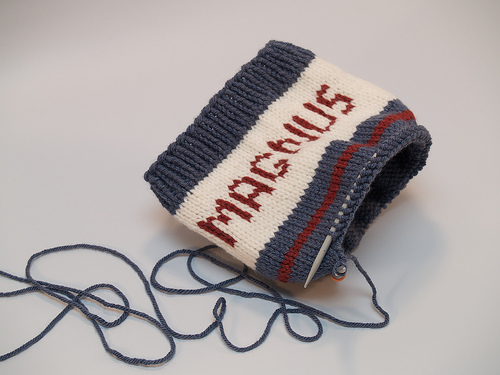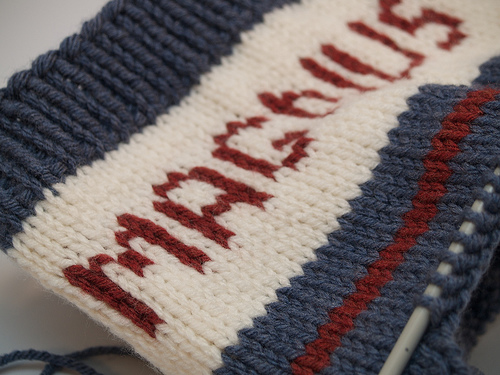 About a month ago my sister-in-law asked me if I would make a stocking for my nephew's first Christmas. We looked at various patterns on Ravelry and she chose stocking #5 from Diane Soucy's Easy Christmas Stocking #277. However, to put my hands on the pattern I had to order it by phone from a tiny yarn shop in Nova Scotia, and wait for it in the post.
After some charting and a few false starts I'm now well into the upper part of the stocking. I used the alphabet chart on the Knitting Pure & Simple website to chart out Magnus's name, with one stitch between letters, but I soon discovered that if I wanted to knit in the letters, rather than embroider them on later as the website suggests, I needed to make the stocking a bit bigger, to accommodate for space between the beginning and ending of each name (I made the stocking double sided to allow me to work it in the round). "Magnus" takes up 30 stitches and the full stocking calls to cast on 60 stitches, so I added 12 stitches which creates a break of 6 stitches in between each side. I'll have to compensate later in the heel and toe, but I think it should be straightforward.
I've also been asked to make one for my brother, but we'll have to see how much time is left before Christmas arrives, to see if I can get both done with time to spare!