I have to give credit to my pals Adria and Brad for this one, but its so damn good I can't not share.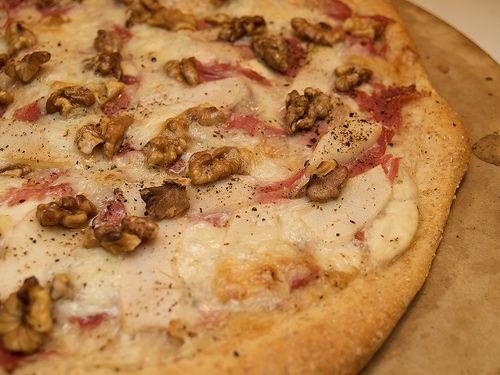 First of all, I have a bread machine and I love to use it to make pizza dough. I'm not going to give a recipe because bread machines all differ in their capacities and I think most machines come with suggested recipes. Mine uses beer for the liquid, and I find a good strong porter or stout makes a really flavourful crust. The downside of this kind of crust is that I find it turns out less crispy on the bottom, even when I use my stone baking sheets. But I have also found store-bought crusts are just as good, and you can put them directly on the oven rack, without a pan, for a nice crispy crust.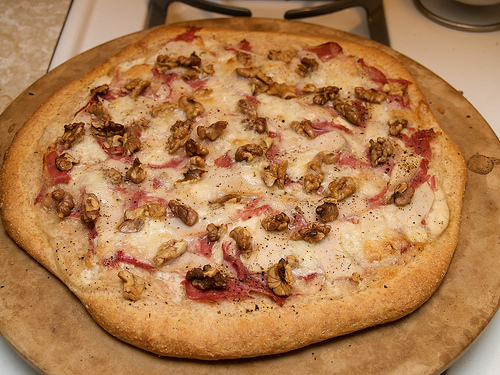 And because pizzas are so easy to create, I'm not going to bother giving you quantities because really you can just wing it.
Prosciutto, walnut, blue cheese and pear pizza
one pizza crust, either store-bought or made from scratch
alfredo sauce (store-bought)
prosciutto, tore into bite-size pieces
slices of pear (or you can use apple)
blue cheese, crumbled (you can use cambozola or borgonzola for a milder flavour if you wish)
walnut pieces
olive oil for drizzling
fresh ground pepper
Assemble the pizza, using the alfredo sauce as the base. Drizzle on the olive oil and season with pepper. Bake according to dough recipe or crust package directions. Allow to rest several minutes before slicing. EAT!