Whenever I'm looking for a gift to mark an important occasion in someone's life, like a wedding for example, I head over to The Guild Shop in Yorkville. Besides the odd trip to Whole Foods, its pretty much the only place I shop at in Yorkville. The Guild Shop carries work by hundreds of Canadian fine craft artists, working in wood, ceramics, glass, jewellery (oh man, the jewellery!), textiles and they're also very respected as one of Toronto's oldest dealers of Inuit artwork.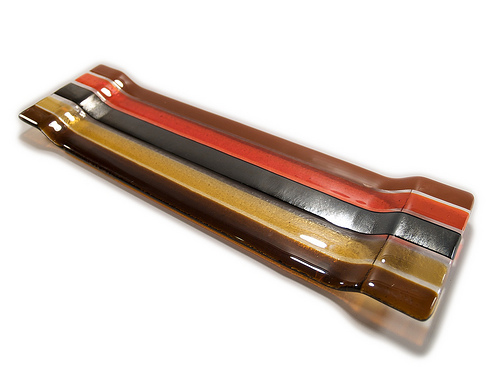 I picked up this gorgeous sushi platter by Kitchener-Waterloo based glass artist Renato Foti, of Trio Design Glassware as a wedding gift for my friends Michelle and Adam, who got married yesterday. This technique of glass artistry involves fusing glass together in a kiln, and then "slump" forming the glass, over a mould, to give it it's shape. I picked up some beautiful chopsticks to go with it and voila, a beautiful, one-of-a-kind gift, made locally by a talented artist. And there's plenty more where that came from.
Best of all The Guild Shop is a non-profit store, an arm of the Ontario Crafts Council, which supports craft artists by providing programming and services to help advance their artistic careers. In these troubled economic times, I think I'll invest my cash locally, in the cultural sector. Hear that Mr. Harper?