That's right folks, its the Day of the Dead! Not An Artist and her fiance are gettin' hitched today and I found the perfect little gift topper for them yesterday. I don't know if they know much about Dia De Los Muertos or (the Mexican celebration of the Day of the Dead) but I still think they'll find this hilarious. I went on a hunt yesterday to try to find something in Chinatown and I thought since I was so close to Kensington Market, why not try my luck at finding some calacas, the little skeleton figures, possibly a bride and groom, that would symbolize today, for the to-be-weds.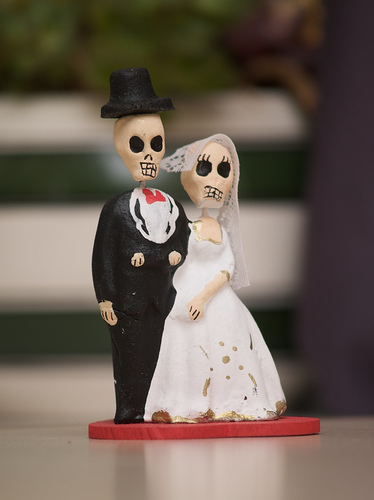 I've been fascinated by these funny little figures since I first learned about them in art school during a course on the art of Mexico. They became hugely popular due to cartoons and prints produced in the late 1800s by lithographer and political cartoonist José Guadalupe Posada, who's calavera depictions, especially "La Calavera de la Catrina" ("calavera of the female dandy"), satirized the Mexican upper class.
I had to hunt around a bit but I found my bride and groom figures exactly where I suspected I would, at Courage My Love, a fantasticly eclectic shop filled with unusual treasures, in Kensington. Now I've been going to Courage since I moved to Toronto over a decade ago, when my first apartment was located just up the street. I adore the place, but I have to say, not once have the people who work there impressed me. Everyone has this attitude – 'holier than thou' or something. When I found the bride and groom I was ecstatic about it – so excited and happy. But the staff were nonchalant, despite my buoyancy. I've never really understood their indifference, in that place. Maybe I'm alone in my experience shopping there, maybe I'm not "cool enough" for them or something, but I don't think I know of another store where I could say I experienced such attitude.  Most independant (non-chain) shop keepers and their staff are thrilled to provide products and services that are one-of-a-kind. They take pride in that. But Courage, remains a mystery to me.
Regardless, I'm looking forward to the wedding tonight. Time for me to go get my girly on!