The sixth season of Rick Bayless's cooking show Mexico, One Plate at a Time was airing on PBS this summer and one of the episodes featured several different kinds of ice cream. One of the recipes was for Mexican Chocolate Chile Ice Cream (Helado de Chocolate y Chile Pasilla) and I was smitten. It looked fantastic. Chocolate + Chili = two of my favorite things!

The recipe calls for pasillo negro chilies, which I was able to pick up at Perola in Kensington Market. They're  a medium-hot chili with hints of berry flavour, and these, along with Ancho and Guajillo chilies are considered the "Holy Trinity" of Mexican cooking.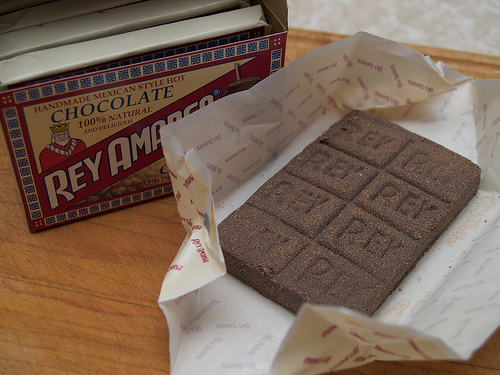 I used this Mexican Hot Chocolate, which comes as solid bars, for the chocolate, but I'm not entirely sure its the right thing. Regardless, it tasted good!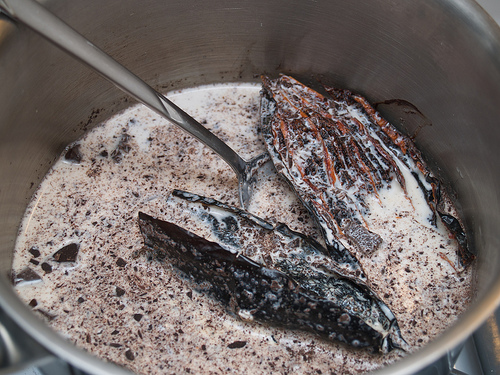 Before I even got down to making the ice cream though, I had to get myself an ice cream maker. We had one when I was a kid, a cheesy hand-crank one, so I was keen to get something that works well. I did some research online and the Cuisinart Pure Indulgence™ 2 Qt. machine was the most positively reviewed. Not exactly an inexpensive machine, I was able to get a display model at Linen and Things for 20% off.

This recipe was definitely a fairly complicated one for my first time making ice cream from scratch. It required several steps, including making the chili and chocolate infusion, then making the custard base, cooling everything and then adding the cream at the end before freezing it in the machine.
This is definitely one of the richest ice creams I've ever had. But the flavour is marvelous – completely unique. If I make it again though, I think I'll use just half-and-half cream, and not the heavy cream. But it could be the custardy base (FOUR EGG YOLKS) that add to the rich creamy texture.