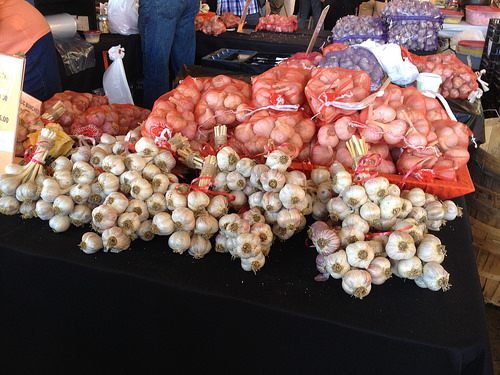 A couple weeks ago we hit up the incredibly popular Toronto Garlic Festival, held at the Brickworks, which is right around the corner from my house. We went last year as well — and it was just as busy.
Last year I was looking to beef up my garlic seed. I have been growing garlic for years, but in July 2013 I had to rush my harvest because we had to be out of the old house by July 8. Most of the crop was fine but my Korean garlic, the first year I'd grown it, was a later variety and it just wasn't mature enough. I did try planting it last fall but this year's harvest was poor at best, likely because the cloves I planted last fall were sad, immature things.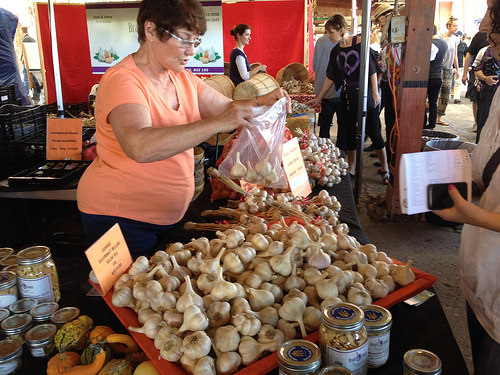 Since I didn't have a garden (or even a livable house yet) last fall, I planted my garlic crop at the farm (thanks Mom!). I planted around 300 cloves of garlic last year in 6 varieties: Music, Leningrad, Siberian, Hungarian, Purple Glazer and Korean. Besides the Korean's poor performance, most of the others did very well. In a future post I'll discuss my harvest in more detail.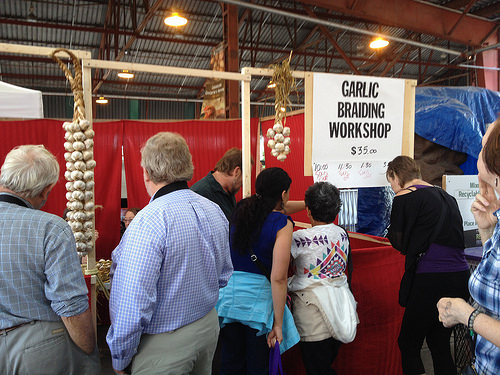 So this year I didn't really need to buy any new garlic… although of course I did. I picked up some Persian and Ukrainian (which are both on the very spicy end of the scale), as well as some Russian Red and a fresh bunch of Korean (or so I thought). More to come.