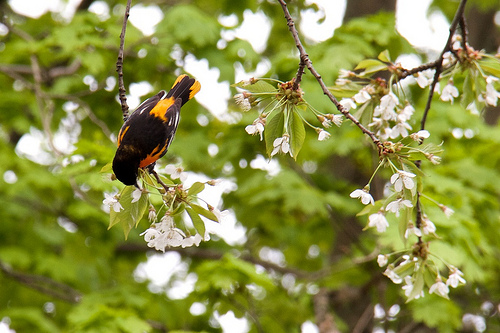 Spring has sprung here on the ravine, and we have been doing what we can to enjoy it, despite the fact that we're still waiting for the City to grant us our permit to build the deck. We've been caught up in the City's extra sharp due diligence, ever since our neighbours down the street to game the City's permitting process. So while the trees leaf out, the weather grows incrementally warmer, the racoon families grow and the deer secretly pass through in the shadows of the brush, we wait. My beautiful new patio doors still go to nowhere. Hopefully this will be remedied sooner than later.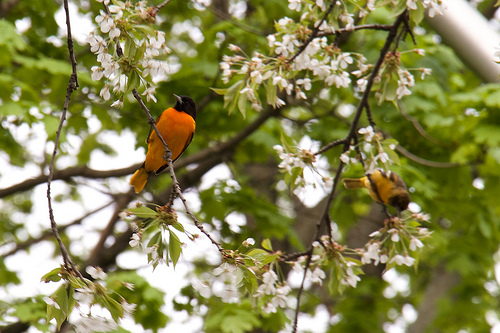 For about four days earlier this month we enjoyed watching three pairs of orioles having a party in the cherry tree next door, frantically feeding on the blossoms. The tree has since completed it's glorious blooming performance and is now busy growing tiny green baby cherries. I'd like to approach my neighbours about letting me pick some, but they have told me the cherries are not edible. I think this is potentially a cultural misunderstanding — they are Chinese, and I'm 90% certain the tree produces sour cherries, which makes them perfectly edible when cooked properly, but they may not realize it… so we shall see. The challenge is that the tree is fairly tall and picking will need to be done with a ladder, so permission would absolutely be needed — no covert fruit harvesting will be possible.
Perhaps if I promise them some pie, or some jam, they can be convinced to entertain my proposal. This means I need to bring canning supplies back from storage at the farm, so I better get my ducks in order!