OMG. A food post? Yup. Finally. I've had some time to settle into my awesome new kitchen and then, well, then I got sick. I've contracted a scratchy sore throat that's quite probably evolving its way into being a full blown nasty sinus cold.
So as I sit here taking it easy, letting my body do what it needs to do, I got hungry. And I wanted chicken soup.
My usual chicken soup consists of veggies, including a can of diced tomatoes, some chicken breast and some thin, well-seasoned broth. But this time I felt like giving my soup a bit of a kick in the butt.
This soup riffs off a chicken fricassée recipe that I have fallen completely in love with. As far as your basic chicken soup typically goes, it only requires a few extra steps and uses things most of us have in the larder, and the pay off is astounding. You could omit the parsnips if you wanted although I think it adds interest and complexity, as well as a hint of sweetness. One of the key ingredients you don't want to skip out on however, is tarragon.
Tarragon is a bit of a mysterious herb to me. I've tried growing it a few times with little success, and I've always found it to have a surprisingly powerful flavour that I didn't quite know what to do with. It has a pinch of anise flavour in there that can be challenging to pair. Of course it's pretty standard in French cuisine. But I've recently discovered for myself the "when" for making tarragon shine — with creaminess. I had it served to me added to hollandaise sauce, offering a vibrant kick of flavour to brighten up Eggs Benedict. And it's an essential finishing ingredient in a fricassée. I've cooked with it fresh or dried, and as with virtually all herbs, fresh is best, but if dried is all you have handy, it'll do the trick.
I hope you'll love this soup as much as I do.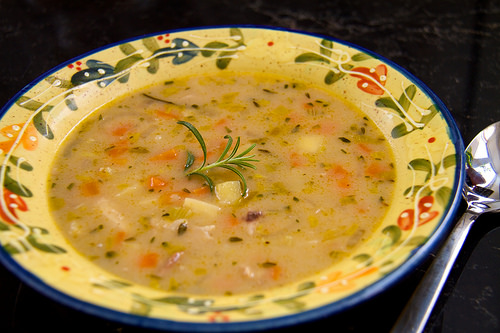 Recipe: Creamy Chicken Soup
Ingredients
1 tbsp unsalted butter
1 tbsp olive oil
4 to 6 chicken pieces, bone in and skin on
salt and pepper to season chicken
1 onion, diced
2-3 celery stalks, diced
2 large carrots, diced
1 large parsnip or 2 small, diced
2 cloves garlic, crushed
1/3 cup all purpose flour
4 cups chicken stock
4 cups water
1/4 sherry
2 stalks of fresh thyme (or 1/2 tsp dried)
a few fresh sage leaves (or 1/2 tsp dried)
1 small stock of fresh rosemary (or 1/2 tsp dried)
2 bay leaves
1/4 cup cream (whipping or half & half if you prefer)
1 tbsp fresh chopped tarragon (or 1 tsp dried)
1 tbsp lemon juice
Instructions
In a large (6 quart) Dutch oven or soup pot, heat butter and oil over medium-high heat.
Generously season chicken pieces with salt and pepper. Brown chicken, beginning skin side down, until golden, about 2-3 minutes per side. Remove from pot and set aside. If cooking 6 chicken pieces, do in two batches (do not crowd the pot). If you have a lot of fat accumulated in the pot, drain some off but leave about 2 tbsp behind.
Lower heat slightly and add onion, celery, carrot and parsnip to the pot and sauté until softened, about 7 minutes. Add crushed garlic, and then flour. Cook mixture for about 2-3 minutes until vegetables are fully coated and flour absorbs the liquids from the pot.
Add stock, water and sherry, stirring to combine. Increase heat to medium-high and bring mixture to a boil. As the soup begins to come together it will thicken slightly.
Add thyme, sage, rosemary and bay leaves. Return chicken pieces to the pot. Lower heat to a gentle simmer, cooking for about an hour.
Remove cooked chicken from the soup and place on a plate to cool until you can separate the meat from the bones, about 5-10 minutes. If you wish, remove the skin as well. As the chicken is cooling, add the cream, tarragon and lemon juice to the soup and stir to combine. Once cool enough to handle, tear or cut the chicken into bite size pieces, then return to the pot before serving.
Preparation time: 30 minute(s)
Cooking time: 1 hour(s) 15 minute(s)
Number of servings (yield): 6-8
Note: I did try freezing this soup, with mixed results. The texture changed a little as the broth separated somewhat, but it still tastes great.