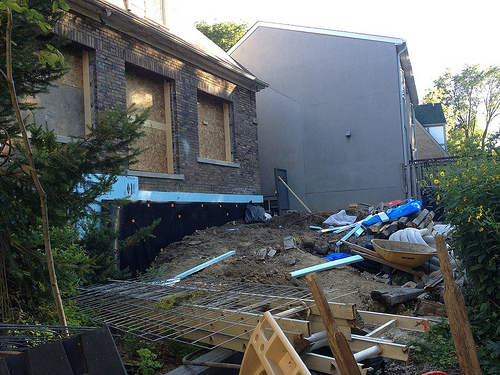 On our way home from the cottage last weekend we stopped into the new house and low and behold the deck, she was gone! The exterior waterproofing is underway and going very quickly. We were sad to see the awesome huge deck go, but it was a necessary evil, and we'll be able to build something better and stronger in it's place. It was due anyway (the previous owners had given it a nice paint job but that only disguised its age and many problems).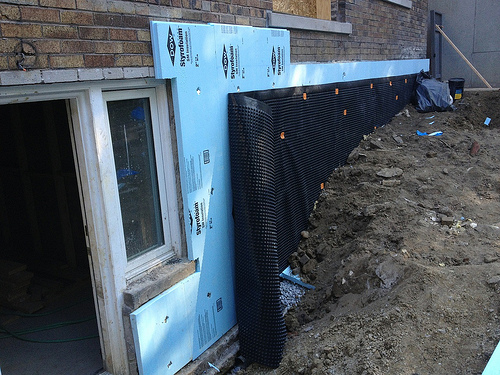 Our contractor thought we were going to need to do some underpinning under the basement walk-out but discovered the concrete goes down much farther than we originally thought. Yay! Dollars saved!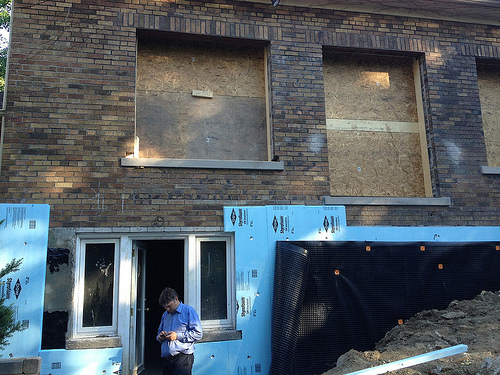 The masons are done and you can now get a really good sense of where the nice big windows and double doors looking out onto the ravine are. Can't wait to get a new deck up there again.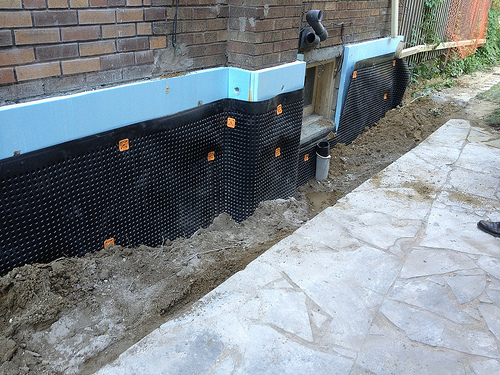 We've been busy reviewing and refining the kitchen design, and choosing our cabinet styles. We're going with Ikea Lidingö white cabinetry for the main kitchen area although the island will be customized and will incorporate Chris's keg fridge. Despite my love of time spent in the kitchen and my Virgo personality (read: hyper organized, detail-oriented), I've discovered it's very easy to forget what kind of space you need where in the kitchen design process. Maybe it's because I don't really have a kitchen at the moment, but I keep thinking of things I've forgotten. Such as where the microwave should go. Or that we need a spot for the trash and recycling to live. Hopefully I remember all the essentials before we invest in the materials.
We've also worked out some details on our porch replacement, and a nice awning design, as well as the laundry room layout. I'm getting much more into the project now that we're starting to look at interior layout and finishings. Chris is really into the building envelope and mechanical infrastructure details, so I think we make a good team that way. Soon I'll need to consider paint colours. The main floor is one big room, and Chris and I differ in opinion on the colours for the living room cabinetry (I think we should stick with white to match the trim and kitchen for a nice clean, cohesive look, but he wants something darker).
Our floors will be wide plank white oak, FSC certified engineered hardwood from the Nadurra Rustic Neue collection in the Volga colourway, which is a nice golden-red with lots of natural grain and texture. We originally considered bamboo but changed our minds when we considered texture/grip for the dog, and when we saw the Rustic Neue we fell in love. I think the oak is more period-appropriate for the home too. Bamboo seems like it would fit better with a more contemporary style, and we're more into a sort of country-cottage-rustic style. Wall space will be minimal so I'm imagining a brighter paint colour, something in a warmer cream or beige or maybe a warm grey, so that all the cabinetry and trim will pop a little, but the furnishings and floor will really dictate the main colour palette. I should add I'm leaning towards a simple white subway tile for the kitchen back splash, but maybe in a herringbone layout for a bit of luxury and interest.
It's all very exciting! On a side note, our creatures have adapted much better than I could have hoped to the temporary and rather snug living arrangements with our friends Dave and Linda. I think our hosts are very much enjoying having a dog around again, and Smokey is apparently changing some previously held opinions about cats (in a good way). I think a contributor to both Luna and Smokey's ease of settling in is that Dave and Linda, being retirees, are around a lot, so they were rarely left alone in the strange house in the beginning. Now if they're left, they seem totally comfortable, which is such a load off for me — I was stressing about that quite a lot.