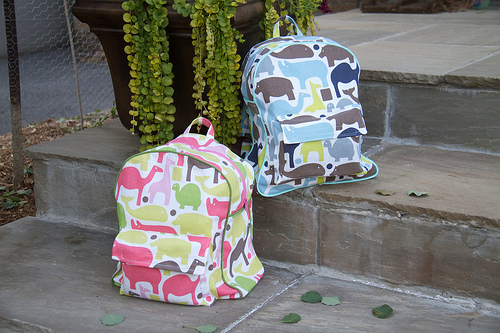 This is a bit of a late post — I kind of forgot about posting this project until I came across the photos while doing some photo housekeeping.
I made these two backpacks for my niece and nephew's birthdays, which are usually celebrated on the same day at one big party because their dates are so close. My nephew Magnus was about to start school, so this was mainly something he needed, but since I could get the fabric in boy and girl colours, I thought why not make them a matching pair?
The fabric is called "Zoo Pals" by Dwell Studio, in blue and pink (purchased from the good people at Tonic Living), and I chose it because the packs hold their shape better when constructed out of a canvas. This is 100% duck cotton, 7.75 oz per yard. I used Made by Rae's Toddler Backpack pattern, however I enlarged it by about 30% on a photocopier, and I made a small modification in that I added the front pouch using a simple velcro enclosure. I kind of felt that the backpack, at the larger size, was a bit plain on the front and could use the extra detail.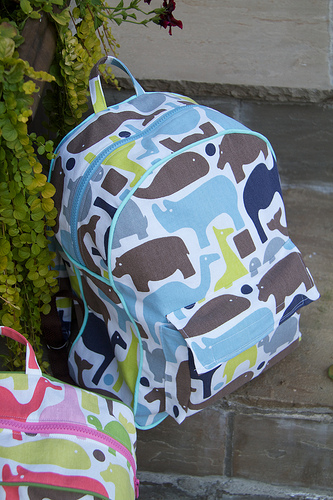 I needed to make the pack larger because Magnus needed one that could carry a certain number of items laid out by the school, and because my other friend who I'd made one for said her child had to stop using his because his school said it was too small. So I wanted to make sure it was big enough for everything — his lunch, a sweater, a book I think was the list. Maybe also shoes. I can't remember exactly. But it seems to be big enough and Magnus exclaimed, "It's Perfect!" when he opened his birthday present. You gotta love when a four-year-old says something like that!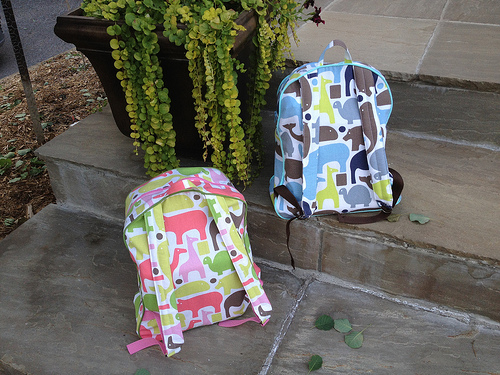 Miss Vu, as we call my niece, isn't really talking a ton yet, at 2 years old, but she put hers on and trucked around wearing it with a giant grin on her face. Adorables!