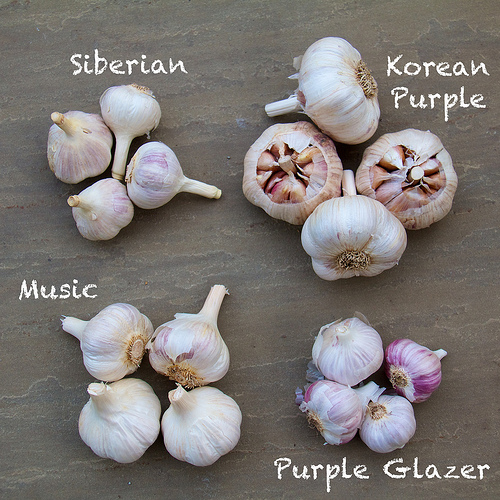 I was so pleased with my garlic this year that I've decided to plant more than twice the amount for next year. In fact, by next spring, I may regret how little space I have left in my garden for anything else!
As the years go by and I gain more experience growing veggies, I've found that there's certain varieties of plants that I like to grow, and others that aren't worth the hassle, whether it be because of unpredictable yields, space considerations or whatever. I love to grow tomatoes but I often end up with way too many cherry varieties (and/or yield), so next year I plan to be very strict with myself stick to one cherry type and a couple of slicers (I usually buy my romas for canning because you just can't beat $15 for a local bushel at my nearby grocery store). I also like to grow one particular variety of chiles (name unknown) and they are seriously prolific, and do best in pots. Sweet peppers are grown year round here in greenhouses, and I find they need a very long season, so they're often not worth the effort when you can get such good fresh local ones at the market. Salad greens are always rewarding of course.
But garlic! Good quality local garlic is rather pricey, but I prefer it over the nasty, often old stuff that's shipped over from China and sold in the grocery store. And sometimes there are localish varieties of garlic available at the grocery store (i.e. American), but I tried some once and while it was very fresh, it had an awful musty flavour that made food inedible (who knew there's such a thing as badly flavoured garlic!). It's a shame that more grocers don't engage in contracts with local garlic growers more often — we have really great garlic available right here!
The garlic I harvested this summer yielded about 45 bulbs, in two varieties: Music and Purple Glazer, both available through Richters. We're already almost finished eating all the Purple Glazer, so obviously I could do with a lot more to get me through the winter. Since seed garlic is quite pricey, I used a bit of this year's harvest to plant for next year, but also I ordered some Siberian garlic from Richters to try, and some Korean Purple from the Salt Spring Seed Company. I'm particularly excited about the Korean Purple — the heads are HUGE!
For anyone thinking of trying growing garlic for the first time, the time to plant is now. If you haven't ordered your seed garlic, get on that right away because suppliers often sell out. For tips on growing garlic, my go-to resource is Boundary Garlic Farm's awesome site.