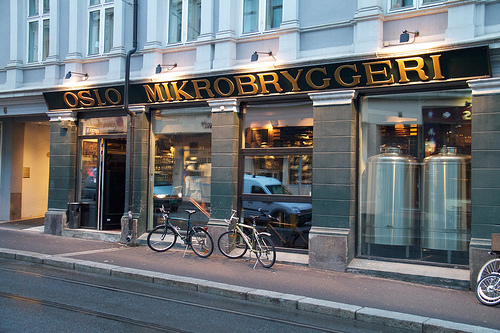 The next stop for us in Norway was Oslo. We'd been warned by other travellers that the prices in Oslo were astronomical, which we thought was curious, since we already felt that the rest of Norway was insanely pricey. I mean, how much worse could it get? And really, it was no different than the other cities we'd been to. My theory is that most of the people we spoke to probably entered the country via Oslo and were still shell shocked over the prices compared to from whence they came. We'd already had about a week to get used to it so Oslo was really not any different from our perspective.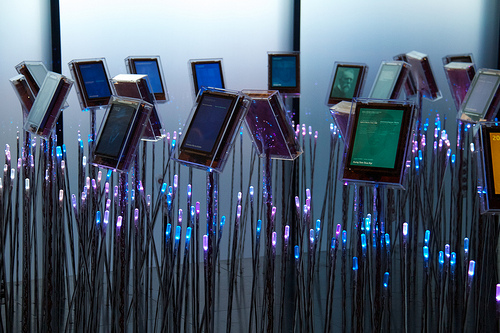 After a long day on the train and a bus (all trains to Oslo were completely shut down during our visit for construction — something that's hard to ever fathom being acceptable to citizens of a city like Toronto) and locating our abode, the Saga Hotel Oslo (a beautifully designed little boutique hotel — probably the nicest place we stayed), we went off in search of a meal. Chris had us situated quickly by finding the nearest brew pub of course, which happened to be the Oslo Mikrobryggeri. Not bad, but nothing too exciting. More interesting looking from the street than inside. But we had a great Mexican meal across the street from the pub, and was given a lot of great advice from our server, who took our map and pointed out neighbourhoods to see and suggested other places for meals. Very nice fellow indeed.
However it was at the gorgeous and very popular Amundsen Bryggeri where we situated ourselves for a good chunk of the next day, which was rather wet with sometimes heavy downpours. It was here that Chris caught up on Norwegian beer and we had a couple meals at least. We took time outs to wander about and check out attractions such as the Nobel Peace Centre.
The Centre was hugely disappointing and an odd tourist-trap. Their gift shop was selling every manner of wacky trinket — including wallpaper for instance — depicting Nobel laureates, and not always in the most respectful way. "Hey there! Take home an Aung San Suu Kyi mask for the kids! Or how about one of Yasser Arafat?" We found it extremely bizarre, and that it detracted from the point of the place. It was like the Centre was trying too hard to make it seem interesting and attractive, like a human rights amusement park. Aside from the ground floor photography exhibitions about US soldiers in Afghanistan, and Afghani women (which were very compelling and moving exhibits), the Centre left us feeling pretty grossed out.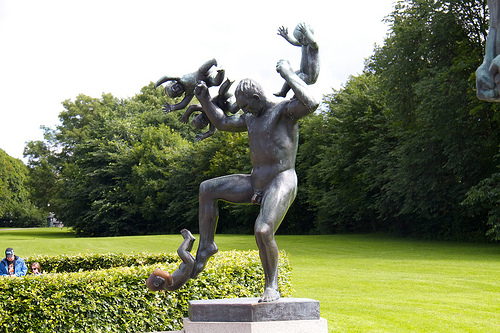 The next day was much more pleasant weather-wise so we decided to make our way to Bygdøy Peninsula via the Vigeland Sculpture Park. The park is the world's largest sculpture park, and contains more than 200 works by Gustav Vigeland, who also happens to have been the designer of the Nobel Peace Prize medal.
The works are very accomplished, most of them created in granite or bronze. There's a huge monolith and an impressive fountain. But I found the works often strangely alienating, like the artist was focused mainly only on depicting the human form, putting together figures almost just to see how they appear together. The photo above for instance, of the man seeming to be flinging babies away from himself. There's definitely emotion in the work, maybe its a look at one of the many psychological impacts of fatherhood or something. Others write about Vigeland's interest in depicting the human life cycle, or the diversity of humankind. And yes, I can see that in the works, but they also appeared cold, often very masculine, and analytical. The park is definitely impressive in concept and execution — I've never seen anything like it.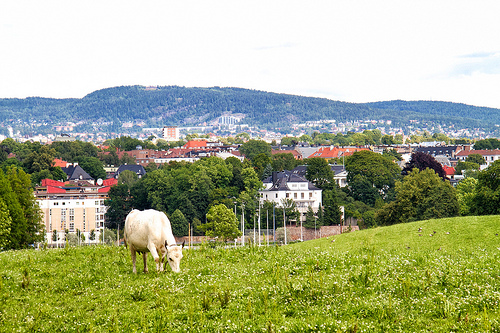 The Bygdøy Peninsula is where many of the city's major cultural museums are located, including the Norsk Folkemuseum (Norwegian Cultural History Museum), the Viking Ship Museum, the Kon-Tiki Museum and the Fram Museum. It's also home to the Royal Farm (pictured above).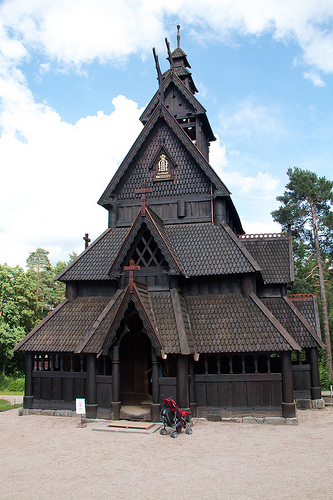 We had an Oslo Card, which gave us entry to most of these museums but with limited time, we had to spend about an hour or so only in each one. We could probably have enjoyed a whole afternoon in the Norsk Folkemuseum, but my main goal was to see the stave church.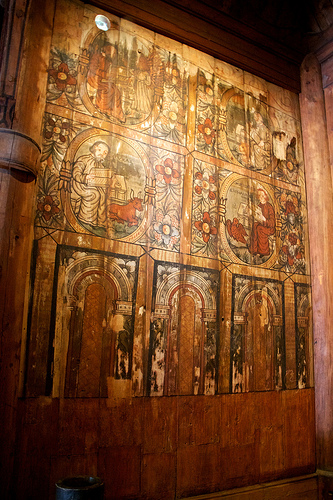 This medieval church dates from about 1212, and was collected by King Oscar II (who apparently had the foresight to protect many of the country's ancient buildings by having them moved to his very own open air museum. The site which eventually became the Norsk Folkemuseum. The church was originally from a town called Gol, who decided to destroy it to erect something more modern in the late 1800s, but the church was saved, thank goodness. It's a stunning little piece of architecture, with intricate paintings on its very dark interior, beautifully carved walls, doorways, and windows.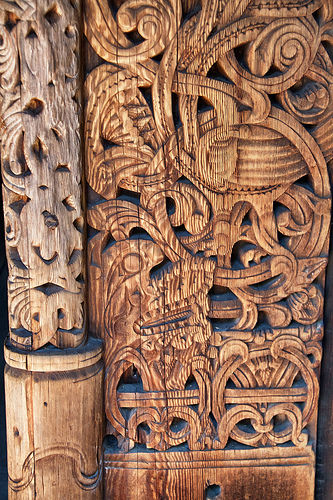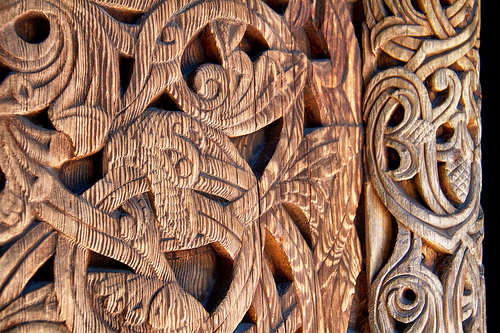 I took a lot of photos of the church, but I'm most in love with these shots of the carved doorway. Their texture was fascinating — glossy smooth with wear and age, and yet so much detail still so visible. I just couldn't believe I was running my hands over 800-year old wood carvings.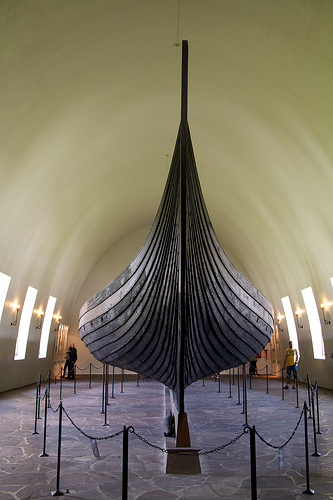 Our next stop was the Viking Ship Museum. How appropriate for our honeymoon, given that we got engaged at the site of the Viking village in Newfoundland.
This was one of my favourite attractions of the trip. The museum is home to three burial ships, one of which — the Oseberg Ship — was found near my friend Guro's town of Tønsberg (more on this later, as Tønsberg has recreated and sailed an exact replica of this beautiful vessel).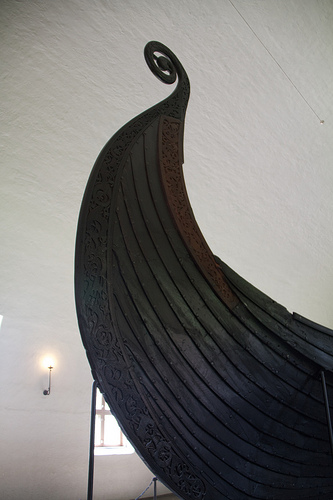 The Oseberg Ship is a beautifully crafted "luxury cruise" ship that archaeologists believe was crafted for a noble woman, who was found buried with the ship.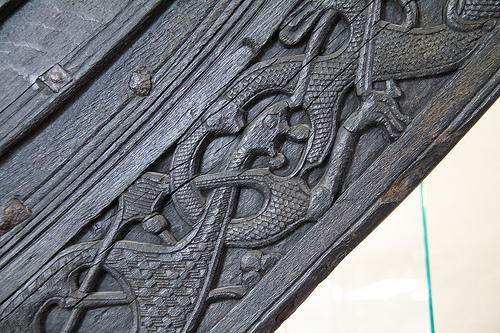 If you get a chance to see this museum, don't miss it. It's not a very big place but I could easily have spent another hour reading and exploring. There were fascinating, well-preserved textiles that demonstrate Norwegian weaving techniques — we're talking nearly 8-900 years old! Amazing that they still exist at all. Even the fact that these ships were able to be reconstructed from the state they were discovered in is incredible — there are plenty of old photos showing what they looked like while still in the ground.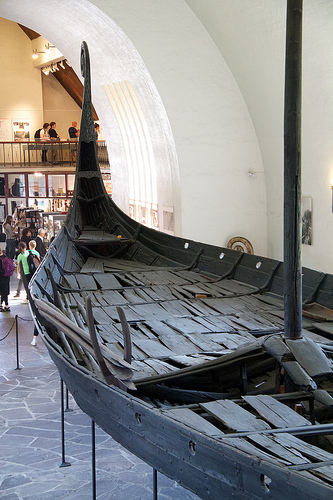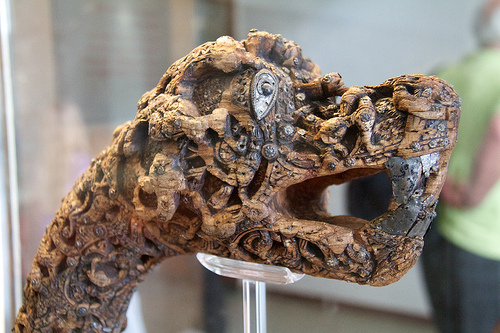 Among the ships are small wagons, smaller boats, sleds, buckets and other amenities to carry the burial passengers into the afterlife. Their detail is spectacular and you can see them quite up close.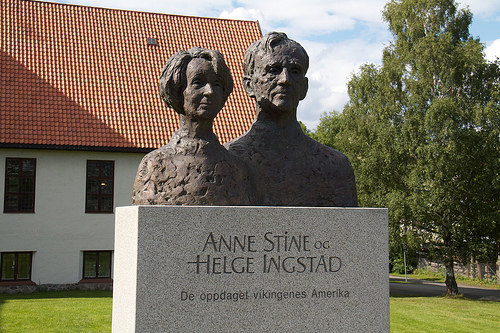 Visiting the Viking Ship Museum brought our last year into a perfect full circle from the moment we got engaged last summer, at the only known viking-age settlement in North America, L'Anse aux Meadows, in Newfoundland. In fact, the Norwegian museum has the very same bronze statue we saw in Newfoundland of explorer couple Helge Ingstad and Anne Stine, discoverers of the North American site. Of course I couldn't read the plaque at the Norwegian site, but I recognized it from our trip last year. Funny… I hadn't really considered the link to our last vacation until I saw this sculpture.
There are yet a couple more posts to come… to see a full slide show of our photos from Oslo, visit my Flickr page.