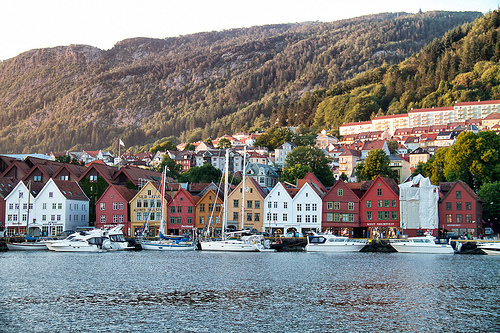 Besides the opportunity to see my friend Guro (to come in a future edition of this series) I think Bergen was my favourite place we visited in Norway. The city is gorgeous, steeped in history, with innumerable nooks and crannies to explore. It's intimate enough to be able to walk virtually everywhere in less than 20 minutes. I wish we'd had more time to climb some of the mountain trails nearby to see the city from other vantage points, but even over our nearly three full days there, we managed to cover a lot of ground, not to mention we experienced best of the rare nice weather (locals say it rains 99% of the time in Bergen, we only had a slight drizzle on departure day).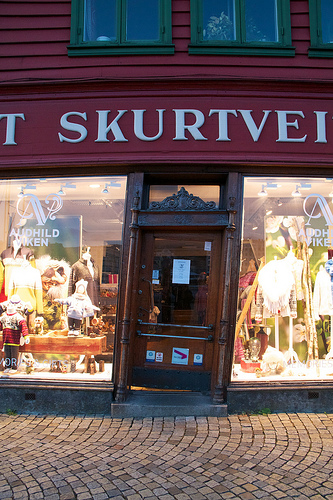 The photo ops in Bergen are endless, and of course one of the most amazing parts of the city is Bryggen (pictured above and below), a UNESCO World Heritage Site comprised of crooked wooden commercial buildings that were once used for storing all kinds of merchant wares, including fish, grains and other trade goods.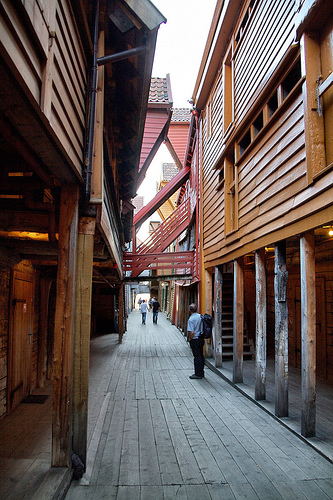 The buildings sit on a wharf that dates back to the Hanseatic period, which ranged from the 1300s to 1700s. The buildings left standing today were built in the 1700s. Earlier structures have all been destroyed by fires over the years, including the massive explosion of a German commandeered Dutch fishing vessel, which had broken down and was in the harbour for repairs when the 124,000 kg of explosives on board ignited and leveled much of the city (1944, during the occupation of Norway in World War II). Underneath the buildings is a rich archaeological history that has been preserved by the anaerobic water environment that penetrates it. In fact I read that the city has gone to great effort to set up monitoring stations to measure the oxygenation of the water in the area, because the infiltration of oxygenated freshwater is causing the building footings to deteriorate at a faster rate.
Today the buildings are slowly being restored with traditional building techniques. The façades of the buildings are only a fraction of their story; exploring these warehouses leads to the discovery of a vivid community of artisans, as well as the offices of architects and designers. If you ever get a chance to see Bryggen, don't let the touristy shops along the façade stop you from exploring the crooked, tightly spaced wooden alleys — because that's where the character of the place really shines.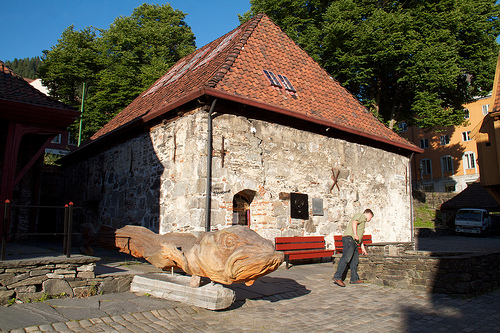 We were lucky enough to get to stay in the Radisson Blue Royal, which is nestled in behind and among the historic Bryggen buildings, making it seem like you're staying inside the buildings themselves. We had a fabulous hotel room in business class, thanks to an upgrade through a local connection. This is a gorgeous hotel if you get a chance to stay there, and it puts you smack in the middle of all the most interesting sites of the city.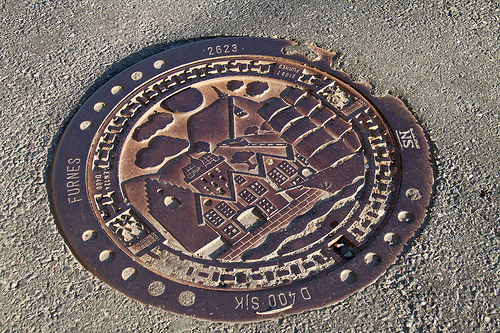 We spent our first evening just walking about the city and orienting ourselves. Even though we had left the land of the midnight sun, sunset in Bergen in July is a long time coming. Sunset was around 11:30, with real darkness not really coming on until well after midnight. And then it's up again by around 4 a.m. As a result, there's quite a bit of night life, especially on the patios, around the Bergen wharf.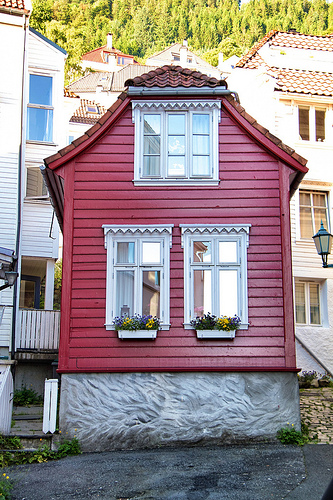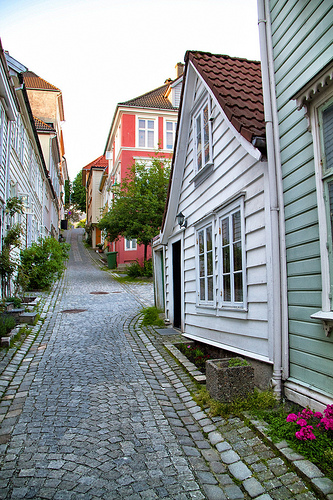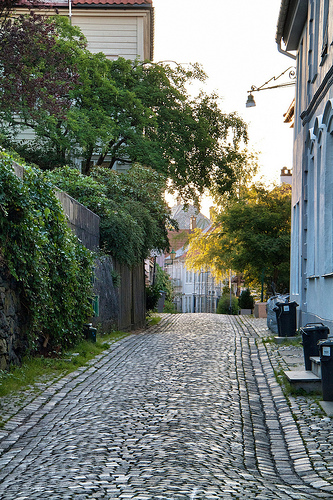 On our first full day we opted to try to catch the early outing of the White Lady Fjord Tour of Osterfjorden, but we had a bit of an incident before we managed to get out of our hotel room, namely, Chris gouging his head open on the pointy window in our room. He did a real number on himself, and the next 1/2  hour was spent by me trying to get him and his bleeding head over the bathtub before he destroyed the bedsheets, and then trying to take pictures of his head so I could show the nurse (him) how bad it was and try to determine if he needed stitches. In the end he didn't, but head wounds bleed a lot, and I'm sure we left the cleaning woman wondering what the hell went on in our room that morning.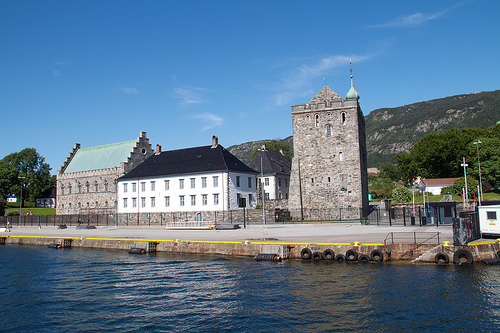 The whole bloody mess caused us to miss the morning departure of the boat tour, so we instead explored nearby Haaken's Hall and Rosenkrantz Tower, which together make up Bergenhus Fortress. Some of the buildings on the site date back to 1240. It was so cool to climb up the tiny, tight, ancient stair passages, and pop out into some seriously old rooms, each with explanations of their original and more recent functions.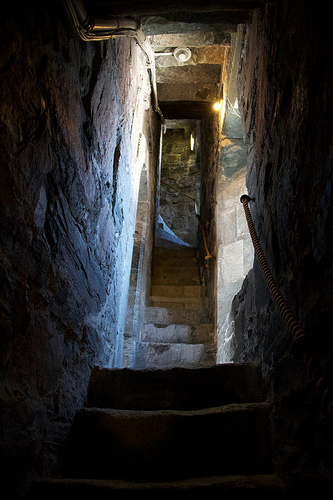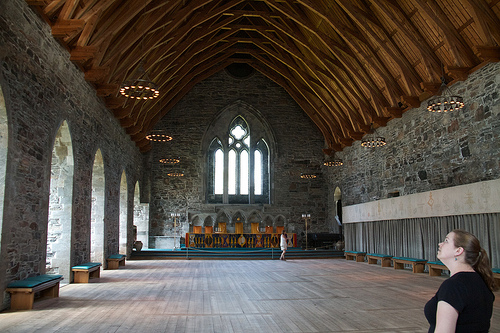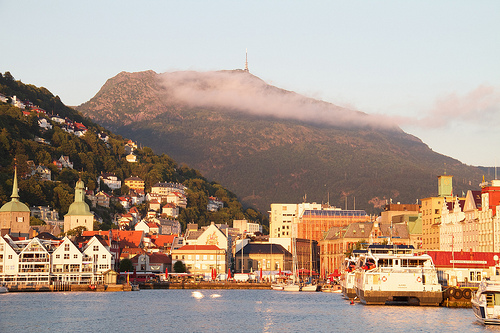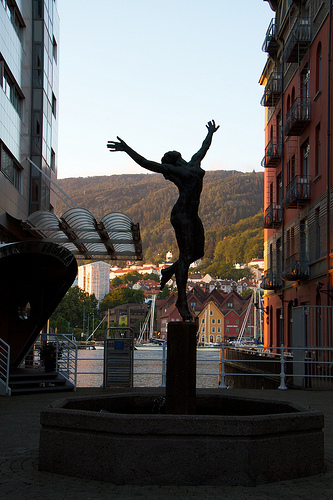 We caught the afternoon departure of the White Lady and took off to soak up the beautiful scenery of the fjords around Bergen, specifically Osterfjorden. Later in our trip we experienced fjords that were even more spectacular, but this was a great trip all the same, and we enjoyed seeing a bit further abroad from Bergen.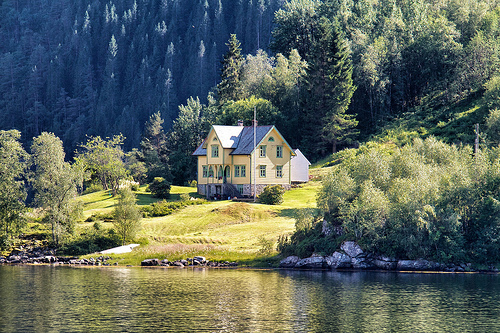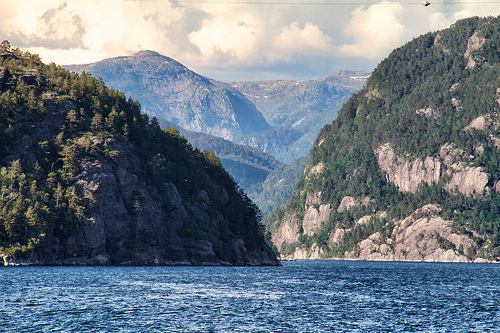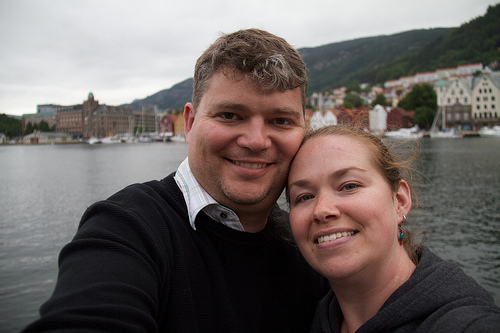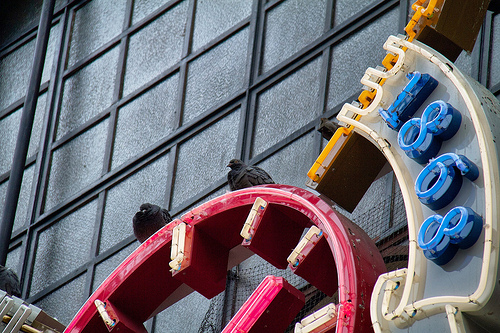 A major highlight for us in Bergen was to splurge (and I mean splurge!!) on a fancy meal at Hanne på Høyden, a restaurant specializing in organic, traditional Norwegian food from local producers (an English description of the restaurant can be found here). The site has had several iterations over its 120 year history, including as a venerable local bakery, and is named for owner and award winning chef Hanne Frosta.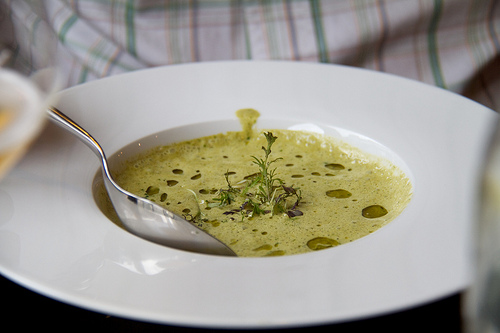 Chris found this place in his searches for the best places to find micro beers in Bergen, and this place did not disappoint. When we inquired with our original server about the beers however, she seemed perplexed, and the manager came over to speak with us. Once she understood our desire to try local beers, but our lack of knowledge of the brands or types, she made it her personal mission to match our courses with appropriate Norwegian craft beers.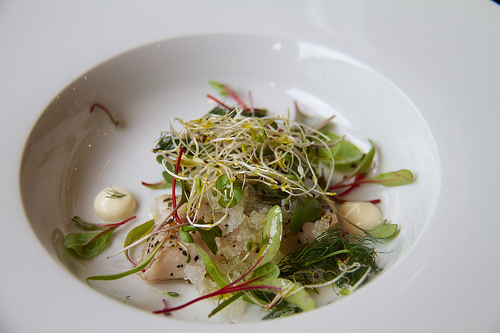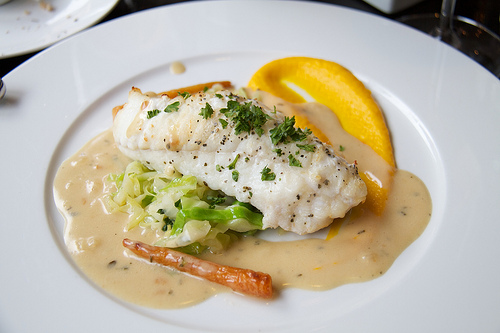 The food was incredible, and so was most of the beer, but the real show stopper of our meal was the gorgeous Skumring Dubbel by Ægir Brewery. The manager explained that the brewery had recently renovated and expanded their brewery in Flåm (incidentally, a future destination of our trip), and this beer had been contract brewed in Belgium during the renovations. The restaurant didn't like the Belgian-brewed version, and so had stopped carrying it. This bottle was one of the first to be brewed back home in Flåm.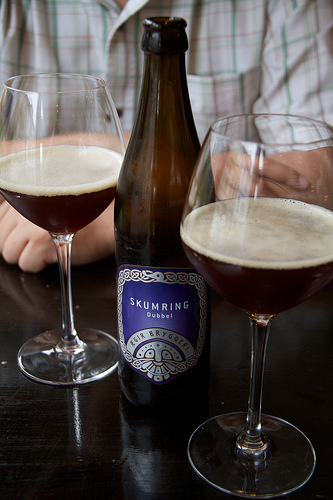 It's a Belgian Trappist-style beer, and I'd be hard pressed to describe it to you now (I should have taken some notes). It was rich and complex, and it was perfectly paired with the beef dish we had. It was one of the most unusual and intriguing beers I've ever tried. "Skumring" is the Norwegian word for dawn. We tried in vein throughout the rest of our trip to obtain a bottle to bring home, but none could be found.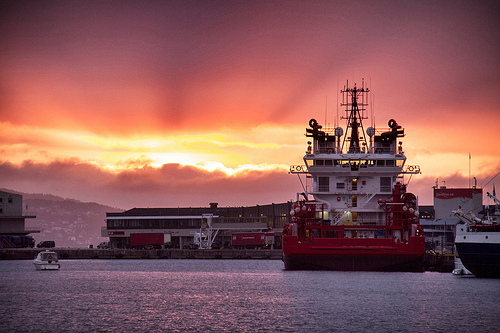 Bergen is by itself a worthy destination for anyone wanting to travel to Norway. I could have enjoyed many more hours just walking about exploring. I did a wee bit of shopping here too, picking up some Norwegian yarns from Husfliden and Modellstrikk. At Modellstrikk I also picked up a set of Prym Knit Pro square DPN needles, something I've never seen before and are supposed to be good for repetitive strain problems. There is no shortage of shopping in Bergen, although for the most part Chris and I kept this to a minimum due to Norway's outrageous prices.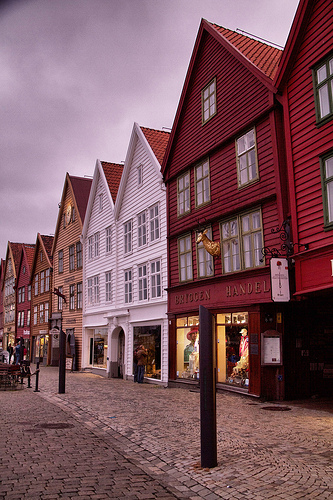 Next up… our Norway in a Nutshell tour experience, staying in Flåm and eventually, Oslo. To see a slideshow with many more photos from Bergen, visit my Bergen Flickr set.