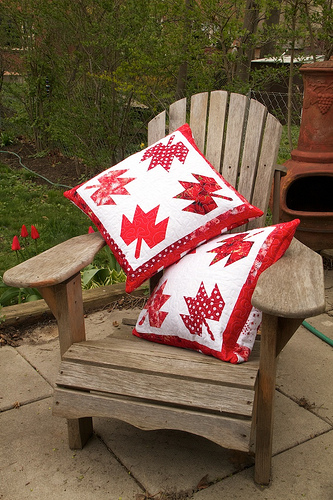 As we geared up for our trip to Norway for both our official honeymoon and to finally visit an old friend that I made in high school twenty (ahem! …TWENTY!!) years ago (I am so old), I was trying to think of a compact gift I could make that would travel well.
My friend Guro is my "big Sis." She was an exchange student whose original host family didn't work out, and we met when my family responded to an ad in the paper looking for a new host family she could spend the remainder of her time in Canada with. My parents had been considering the idea of hosting an exchange student — it would be a great opportunity for me and my brother, and given that we had a huge farmhouse and a varied farm, we thought we could give an exchange student a great Canadian experience. From the moment we met during the family interview, I felt like I'd known Guro forever.
Last year my parents made this trip, intending to visit her finally in her home country now that she's got two kids old enough to remember the visit. I don't have to tell you how pricey it is to travel to and in Norway, so even though Guro has been back to Canada twice since her original stay, it was pretty cost prohibitive for me to make the trip to see her.
But here we are! I'm finally crossing the pond to see her. And with me are these two very patriotic pillow cases, based on the maple leaf block available from Canadian Living magazine.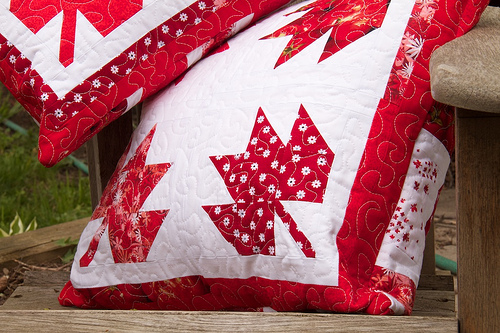 The fabric is a mixture and I'd be hard pressed to identify it all. There are definitely some Kona cotton solids, in white and tomato red. I looked around at my usual online fabric haunts for good reds for this project but in the end I found the best selection at Fabricland (if not necessarily the best quality, which is an unfortunately trade off). I made four blocks for each pillow using four red prints, and the backs are done with the mosaic piecing technique from Elizabeth Hartman. The pillow construction, including the envelope-style closure, is also based on her pattern, although modified to fit 19″ pillow forms.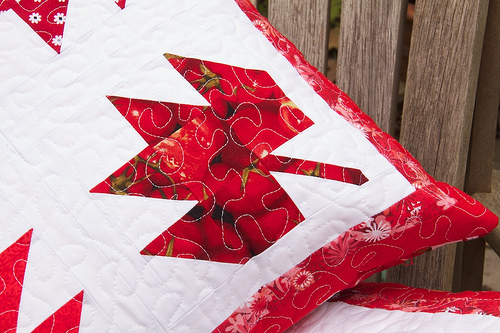 I'm super thrilled with how these turned out. I was even able to work in a cheesy Canadiana print in the mosaic without the end product looking cheesy at all. This was good practice making blocks that used diagonal shaped pieces, as this was new to me and posed some interesting design and assembly challenges (as in avoiding sewing off your leaf points accidentally when seaming the blocks). I hope once we get to Oslo we can find an Ikea and buy the pillow forms to complete the gift, as for travelling we've just taken the pillow cases.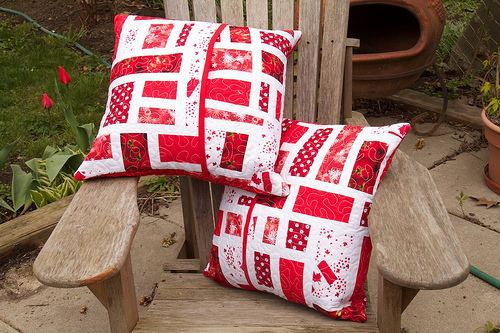 They turned out so well I think I'd like to make more of these, perhaps in autumn colours, as Christmas gifts. And the smaller quilt projects like pillows are super easy to manage on my small machine. These are quite bright in their red and white colours, but to me they also seem to exhibit some of that Scandinavian boldness that you see in so many traditional craft designs. Hopefully Guro and her family love them!