I'm trying to come up with a portable, not too complex and not too big knitting project to take with me to Norway.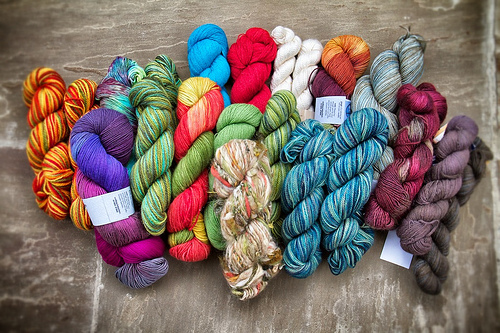 I have an enormous stash of beautiful, gorgeous yarn to choose from (what's pictured above is but a teensy sampling), but lately I just don't know what to do with any of it.
One of the great ironies of my impressive yarn collection is that I've bought most of it while vacationing (I like to drive my travel partners nuts with my insistence on visiting local yarn shops — known in knitster lingo as the LYS). That means that I buy a skein here, a skein there, maybe two, and that results in not a necessarily enough yarn to use for most projects.
For example, I've always wanted to make Clapotis by Kate Gilbert (Knitty, 2004)but it requires 820 yards, which is quite a bit. I also really like Colour Affection by Veera Välimäki, and it looks like you might be able to use say, three different colour ways that work well together, but I can't be sure without buying the pattern first. All I can find out from the description is that it requires 1155 to 1200 yards, total.
Izhitsa by Patusha looks lovely but the pattern isn't available in English yet, and the yardage needed is unknown. The Weekend Shawl by Anne Kuo Lukito is also lovely; it needs between 598 and 750 yards depending on what yarn weight you use and what size you make.
Any suggestions? I suspect some form of lace is in order but I don't want anything overly complicated for this trip. I could make socks, the ultimate, portable knitting project, but I don't often wear handmade socks, and I definitely want to make something for myself. Hmmm…