I'm a little tardy in relaying this news via my blog but I've been trying to enjoy what's left of my vacation buzz, and of course transitioning a very resistant brain to being back at the office.
We spent the last week of May exploring the northern peninsula of Newfoundland and the southern coast of Labrador, and as always, this was an amazing trip. Our third time back in as many years, The Rock did not disappoint. The highlight of the trip most certainly was Chris's proposal during a ridiculously gorgeous sunset on the northern shore, in front of an iceberg. No seriously — redonkulously gorgeous: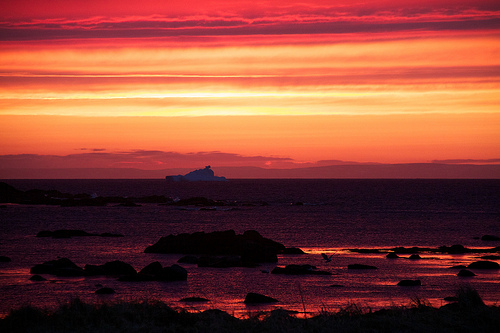 Apparently Chris's plan involved getting the proposal out right away on the first day of our trip, while we were back in Trout River in Gros Morne, a spot we'd fallen in love with three summers ago on our first visit to the island. At the time, we'd discovered a small hiking trail that started with a set of stairs built into a hillside that lead up to a lovely coastal hike along cliffs. It was sunset, and getting dark, and we hadn't been able to finish the trail. Both of us vowed we wanted to go back, so we did. But this time the weather was cold, the wind was high and it was drizzling rain. We hiked the trail anyway, Chris hauling a tripod, the 7D and a microphone, and after the first 15 mins or so we both thought, "this kind of sucks!" But we pressed on, and apparently Chris had decided he would do the deed around the bend where there was a bit more of a sheltered spot, out of the wind. And we rounded the corner, only to discover a dead sheep. Yup. The carcass was just laying there, with wool all over the hillside. Took us a few to figure out what it was even. And obviously while I was inspecting the thing, trying to figure out what it was, Chris was panicking and thinking "abort!!! abort!!!"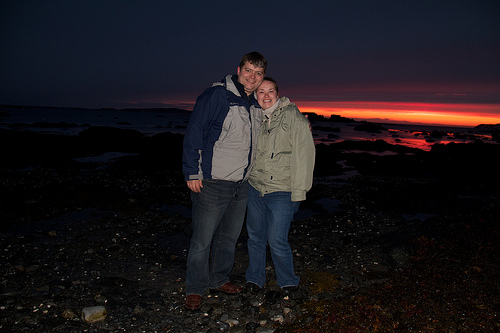 Our vacation continued with pretty great weather until the Friday, when we had hoped to take a boat tour of icebergs out from St. Anthony. The tour didn't run, and so we spent the day driving all around the coastal towns in the area, eventually making our way back to L'Anse aux Meadows where our B&B was. Along the way however, our rental car up and died; we figure the transmission went on it somehow, since we had lots of power and the engine was running, but the thing would not flip into gear to go anywhere.
After a bit of a stressful afternoon wrestling with Avis's (ineffective) roadside assistance program ("are you sure you're in Canada?"), we eventually got the local (as in 6 hours away local) rental office to help us out. Again, we were struck by the kindness of Newfoundlanders — the friendliest strangers you will ever meet. A local garage owner lent us his car overnight (not having our names or credit card info at all) and we went off to enjoy a fabulous meal at a diamond in the rough of a restaurant in L'Anse aux Meadows (were there are like 6 houses). The Norseman had just opened for the season, and we were the only table for the first hour or so of the evening. Eventually a few more tables arrived, and a local musician came to perform. We watched the above iceberg float across our coastal view during dinner, and as we came back to our B&B to settle in for the night, the sun appeared over the horizon and set the sky ablaze. It had been pouring rain all afternoon, and we even had a dash of snow as we watched the sunset. I convinced Chris we had to jump into the borrowed car and drive the 5 mins to shore because this was just too fabulous not to capture from there, and voila! Now I'm engaged. Chris's plans worked out after all!
I have yet to download and process all our photos from the trip due to a very very full hard drive, and so hopefully in a week or two I can post photos and highlights from the trip (besides this one). And of course we're now planning a wedding. Lots to keep us busy, for sure. Stay tuned!