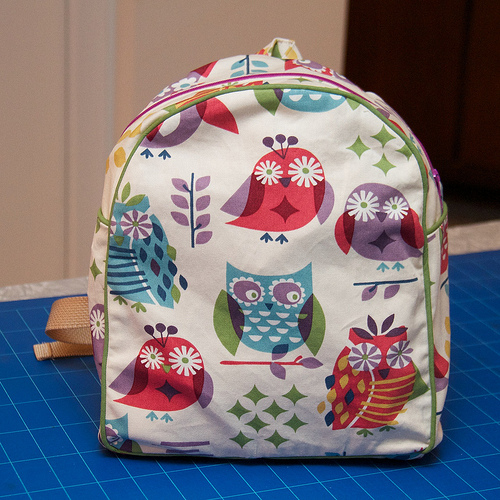 Here I sit, at 4 a.m., when all other reasonable people and creatures (at least in my household) are sawing logs (rather loudly). This has been an extraordinary week at the ol' day job, and as a result of the insane number of balls in the air, my brain just can't let go. Even though all the crazy (or most of it) culminated in a big bash last night celebrating OCAD University graduates; even though the end is in sight. Even though by mid-day tomorrow (Friday) I'll finally be able to relax. Sleep alludes. I realized about a half hour ago (at 3:30 a.m.) that I was hungry. And then… oh yeah! I didn't get dinner last night! Sigh.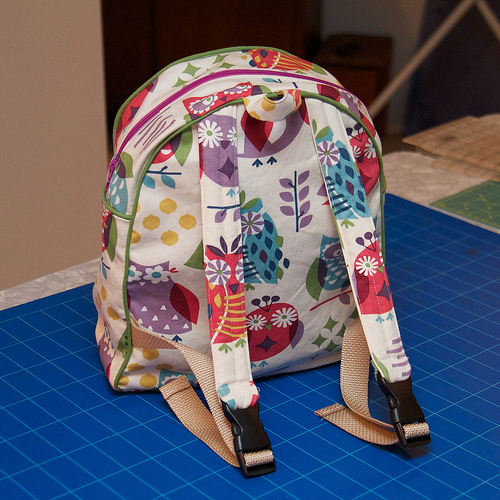 Up until this week I've actually gotten quite a bit of sewing and a little bit of knitting done. I'm prepping some gifts for overseas that my parents will take to a friend and her family in Norway. I made the toddler backpack above for my coworker's little girl, too. I simply adore this fabric. I think my friend Alice's infatuation with owls has rubbed off! And there is just so much great owl-themed ephemera out there these days. This fabric is called "It's a Hoot, Jewel" by P Kaufman, and I picked it up via Tonic Living. Isn't it adorable?
I've also continued on with my bread experiments using the methods in the book Tartine Bread. The first batch of loaves turned out not so edible (a post to come soon) but the second batch was really fabulous. This week hasn't been a good bread week but I intend to get right back on the bandwagon this weekend. I think I can safely say that I now have a really good grasp on the properties and procedures to making great artisan sourdough breads.
Anyway, time for me to try my hand at courting the Sandman again.