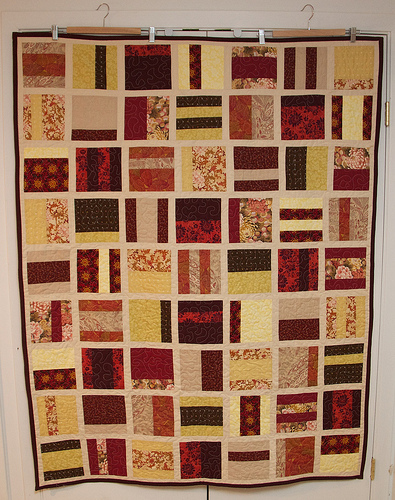 For my fourth quilt, I've finally made one for me! This one is designed to go with the colours of our living room. Our leather sofas are brown, the walls are red and beige, and the crown moulding is a dark brown.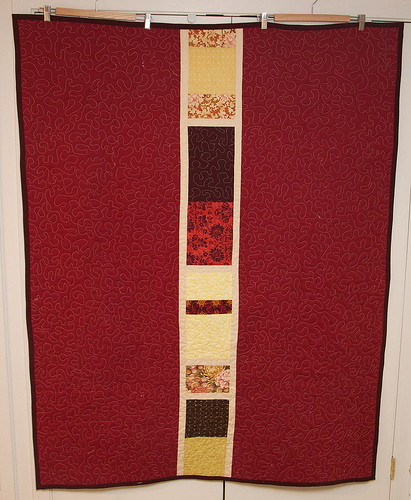 This is by far the biggest quilt I've made yet. All the others have been baby sized. This one measures 48 by 63 inches. It was also the first time I've done a pieced backing. I've been working on this off and on for a couple months, and this weekend, decided to take advantage of the crap weather to get it done. I'm so happy with it. You can see in the photo there are some little snags and spots where I started and stopped quilting are a bit obvious, but so be it. Not a big deal in my books.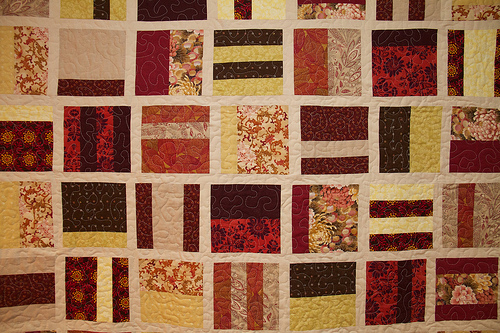 I learned that sewing long strips of sashing and keeping it straight is not easy. I also learned that I should read the pattern really well before I cut (my sashing was supposed to be 2 inches wide for this quilt but I misread and cut 1.5 inch strips). I also learned how to number my rows with sticky notes to ensure I assemble them in the right order. I also learned it's really really hard to sandwich quilt layers that are bigger than your work surface. Oh, and that Fabricland sells shitty-quality overpriced solids (their cotton is really 'sticky' and attracts any piece of lint or pet hair within 3 feet).
This is another pattern by Elizabeth Hartman of Oh, Fransson!, called Mix Tape II. This pattern is fabulous because it is written with three variations of layouts, each with three size options, although all this variation is how I misread my sashing sizes (I can't fault Elizabeth for that though!). This is the Party Mix Lap Quilt version, with, uh… my own mods. That's right… I did it on purpose.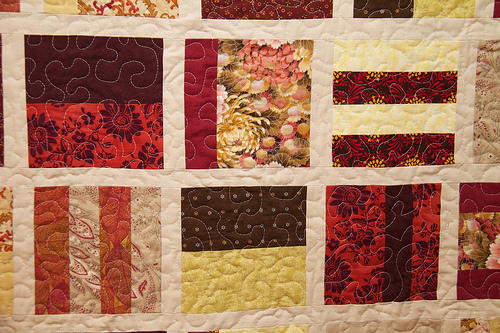 All the lessons learned are good ones. Despite the crappy Fabricland cotton, I love how it turned out (pretty damn amazing for my fourth quilt). Now the only thing I have to figure out is how to keep the cat off it.
Oh and in case you're asking, I'd have to sit down and try to figure out all the fabrics — there are 14 different ones used in the blocks, plus the sashing (the backing and binding are also used in the blocks). It may be impossible to say what they all are — some of these I ordered, some of them came in my monthly stash building subscription from Sew Sisters, and some are even from Michael's of all places.