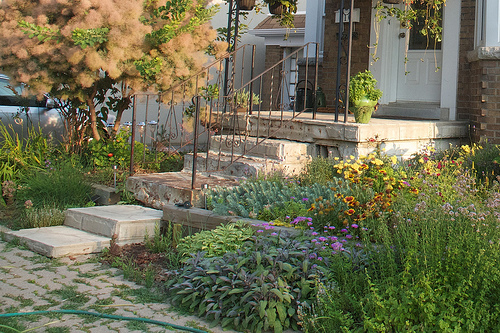 So… after trying half a dozen contractors over the spring and summer to give us quotes, and only a couple of them actually showing up to give a quote, and both of those coming in at figures hovering around $8,000 to $9,000, we finally found a reliable contractor who came in at a very reasonable price, nearly half of the others.
Finally, after 3 years of dealing with a horribly ghetto set of stairs and porch we can finally be proud of our walk up! The stairs have been widened to the full width of the porch, and instead of being a hodgepodge assemblage of differently sized stairs, these are all evenly sized and spaced. And now I can decorate with potted plants, or maybe more seasonal this time of year, pumpkins!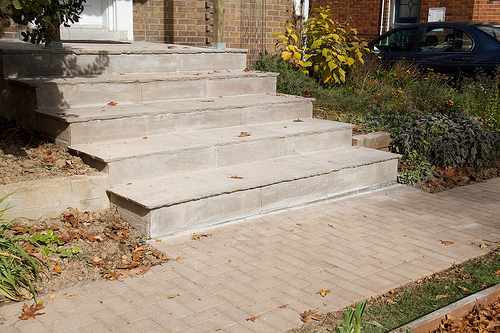 We also had new interlock laid down. You can see from the first photo that the interlock was terribly heaved and overgrown with weeds we just could not get rid of. They needed to fill in an area where there previously was no interlock, and they don't make the old stone we had anymore, so we got new stone, in a very nice warm beige colour that goes well with the brick of the house.
I lost a small amount of my herb garden but I don't mind that. The whole front garden needs an overhaul as it is. I want to dig up the day lilies in the lower left corner; they are a pain to maintain, they get in the way of the walk itself when they get tall, and I could really use that space for other herbs. I need to replace the chives and thyme that were lost in the reno.
We also replaced the old-school aluminum posts and replaced them with 4×4″ wooden ones. I need to paint them still; at this rate it will likely get done in the spring.
Between this work and painting the very badly chipped and peeling garage door, our house is finally looking loved again. We've done a lot of work this year, including new eaves with better downspouts. Next spring we need to improve the drainage around the front foundation, as we're experiencing some water penetration there. We're doubtful there is proper drainage at the base of the foundation on the outside, or if there is, it would be clay tiles that are likely cracked or completely disintegrated. For now, we've decided not to dig up the foundation in full; instead we want to simply improve the grade at the front.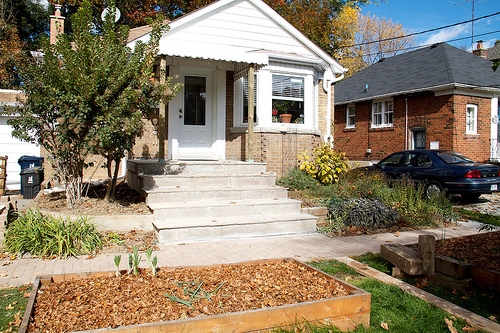 All in all it's really gratifying to have this done. It's been a long time coming and the crumbling porch we had was becoming something of a safety concern, above and beyond the aesthetic issues I had with it.