Nuit Blanche Toronto 2010 from Sarah Mulholland on Vimeo.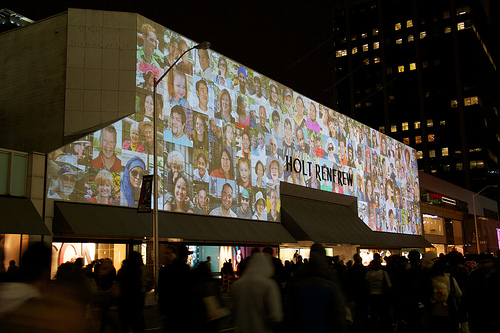 Last night Toronto celebrated five years of white nights, and for the first time in the history of Scotiabank Nuit Blanche I was not obligated to be at work for at least part of it. Usually I'm at least partially involved in helping get set up at OCAD, but this year their set up was largely technology and projection, so not so many hands needed on deck. Chris was away for Oktoberfest at Beau's near Ottawa, so I tagged along with my friends Ariella, Adria and Brad for a fabulous evening on the town.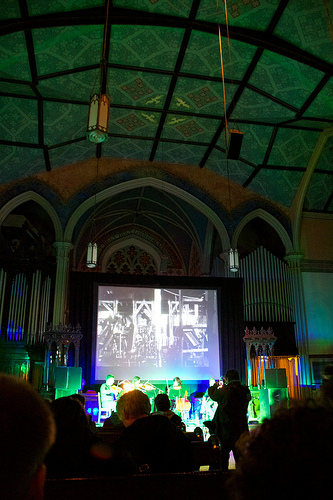 Usually I get out and about to see something. Last year I even made it so far as Liberty Village. But usually I'm so utterly exhausted before I even begin my expedition, I don't last long. I've usually been on my feet for so many hours that I can hardly walk by midnight. But last night we started out with a leisurely late dinner at the Boulevard Cafe on Harbord St., and then meandered up to Bloor Street. I had hoped to see Philip Beesley's Aurora at the Royal Conservatory of Music, but when we got there a line all the way to Bloor and University Avenue indicated at least a few hours wait to get in. So much for that. I hope it was good for all those who waited.
We made our way up to Yorkville through the massive hoards of people on Bloor Street to try to catch Iskootāo (Cree for 'woman's heart') by Kent Monkman and Gisèle Gordon, only to find that it was fairly quiet. I had expected some performance aspect from Monkman as his alter ego Miss Chief Eagle Testickle. The work itself was the giant rock that is part of Cumberland Park lit up and with sound like a large beating heart (the beating heart of a woman exists in Yorkville?). It was quite subtle and clever, but didn't hold people's attention for long. I wonder if there were indeed any performative aspects, and if so, how they were.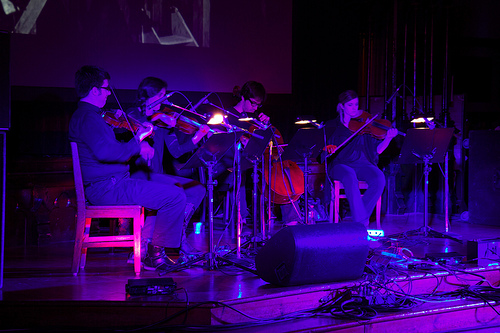 We then walked to Yonge and down Yonge, stopped at the Brownstone Bistro for a pee and beer break. That place had a weird vibe going on — like they were trying way too hard. Call me an art snob but that place was like another world. We sucked back our brews and moved on as fast as possible.
There was almost nothing along Yonge except crazy huge masses of people. We started to feel like we were never going to encounter an installation. Eventually we hit Yonge Dundas Square, but there was basically nothing there. Crossed the street and headed through the Eaton's Centre to discover that the Church of the Holy Trinity, tucked between Eaton's and the Marriott hotel, was a little undiscovered oasis. The church itself I had never been inside, and it is a real gem. The piece going on inside, The Blinking Eyes of Everything, included some projection and a few cellists playing a single note that would change only after a few minutes. It was quite beautiful.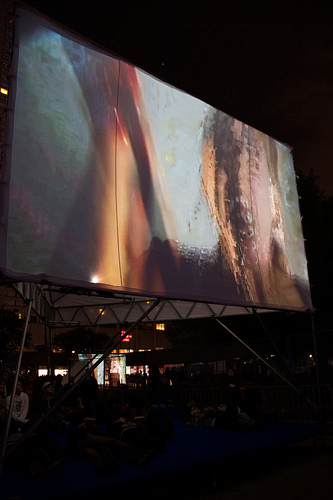 One of the other impressive installations/performances was Daniel Lanois's Later that Night at the Drive-In. When we were there, creepy horror films like The Shining were playing on a series of screens all over Nathan Phillips Square, but all swirly and distorted, reminding me of some historic evenings spent under various influences I won't name here. Coupled with some seriously intense music, it was equally fascinating and disturbing.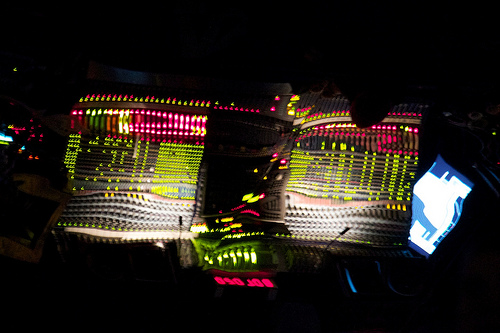 We then made our way towards OCAD, coming across some heavy duty marketing by Chevrolet for their new Cruze car. It was ridiculous. Entirely legal, but really aggravating.  We saw numerous unscrupulous marketers working the night,  taking advantage of the crowds, and while I know the City has little recourse to control it (I'm thinking perhaps some permits could be denied?) it really pisses me off. The night is supposed to be about art, not just another venue to sell shit to the masses. I was left with an impression that there were far more marketing ventures than art installations, and we covered significant ground considering we were on foot the entire time.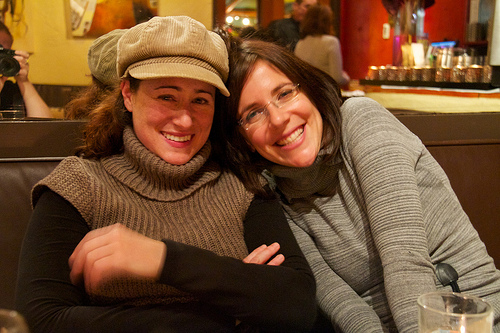 That said I had a great time. We caught last call at Sin & Redemption, and then I jumped on the rocket to get home. I had to catch a cab at Bathurst and St. Clair to get all the way home (another small aggravation is that the TTC doesn't run the whole line all night, leaving us northerners out in the cold) and I was in my door by 4 a.m., not feeling too worse for wear. In fact, I was probably still a bit wired, and could have gone longer, but I'm glad I didn't overdo it because I could still be productive today.
Anyway, thanks to my sistas Ariella and Adria, and my brotha Brad for a wicked time. Hugs y'all.