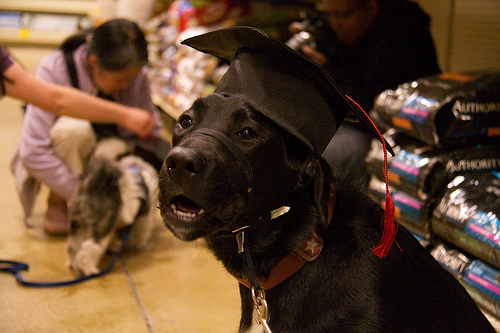 Our Luna-Tuna graduated from puppy class last night! She got her very own certificate AND she got to wear a grad cap! She was so thrilled about that part especially.
Having worked in the pet industry quite a bit in my youth, I was a bit skeptical of the quality of the training offered at a place like PetSmart, given that it's a chain, big-box store. I probably have a bit too much loyalty to the Pet Valu chain too, given that I worked at a couple of them for a few years (they don't offer training). We signed up for lessons there because we were starting to feel desperate; it was back when Luna was especially full of beans and very bitey, and we were really getting concerned about finding opportunities for her to socialize with other dogs and to gain experiences that would make her a good canine citizen. We'd checked out another rather serious place that specialized in training security and scenting dogs (but also offered general obedience training) and were totally turned off by them. In other words we were feeling kind of desperate.
At my vet one day around the same time another client had mentioned that Julian at the Eglinton/Laird PetSmart was fabulous, and it just so happened that our classes were going to be with him. As it turned out, he is awesome. Maybe a little eccentric (owns far too many critters, but I remember a time when I had far too many critters too — it's what happens when you work in the industry), but he's an excellent trainer, and he's PetSmart's lead trainer for across Canada, so we totally lucked out.
I should also add that our worries about socialization and getting her used to meeting other dogs were probably quite unfounded; practically all in one weekend we had signed her up for puppy lessons, finally found the awesome local dog park, and found a great dog daycare. All of these things, combined with our dog walker introducing her to group walks, have massively rounded out her personality and I can now say with confidence she is cool with most situations, loves meeting people and other dogs and behaves fabulously in situations as stimulating as going to a giant box-store full of people, dogs and food! In fact, I'd now argue there's no better place to work on training a dog — it's the perfect distraction-filled place to build focus and teach good behaviour in all situations.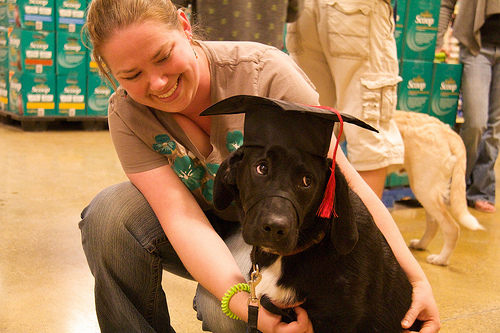 Luna now knows all sorts of good stuff, from sit, down, stay, leave it, drop; tricks like paw, other paw, both paws, over, roll over and speak. She needs to practice come when called though. We've already signed her up for the intermediate class where they'll teach heel, on her bed (she already knows this to a certain extent and that it refers to her crate, but this will be a bed out in the open, and learning to stay there until we say she can get up); extended stay, stand, and all sorts of "advanced" stuff. Even though we missed a class Julian will make them up with you through a 1/2 hr private lesson at no extra charge. He's totally committed and incredibly helpful.
Anyway, I'm a convert. Those PetSmart people have got a good gig going there. Every time we're there we spend at least $30 before we leave! Oh and I should add that I do love the fact that PetSmart (at least in Toronto) doesn't sell puppies and kittens from mills; they work with local shelters to adopt out animals rather than fuel that industry. This was how we came to own Spud actually; in fact, he came from that very same store.