Chris and I took Friday off so that we could do up a big Family Day / Valentine's Day weekend at the cottage. It's the first time we've been able to get there this winter, and of course this time we had the added challenge of taking Luna on her first big weekend road trip.
We'd tried taking her on a couple brief car trips a week ago (our failed attempts to introduce her to other dogs at the local off-leash park; I guess it was just too cold for the neighbourhood pooches/owners because no one was ever there). She was definitely anxious about the car but not totally freaked out. She just didn't quite know what this driving around thing was all about.
For the two-hour cottage drive I opted to ride in the back seat with her, keeping her on leash so I could correct her for things like jumping up on the doors or the seat backs. The car ride for Zeus was such a traumatic experience that I'm anxious to make sure she is totally cool with it. Not that training (or lack there of) had anything to do with Zeus's take on the car; his anxiety was involuntary and not of my making.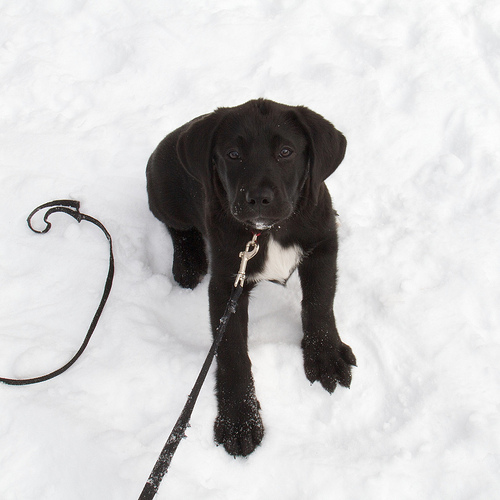 She was a bit anxious for the first 25-30 minutes or so in the car, but not in a panting-let-me-out-of-here-claustrophobia kind of anxiety. She was just looking around, trying to get comfortable, investigating what Chris was doing up there in the front seat. Eventually she just kept trying to find the best place to snuggle up and go to sleep.
I had set up the back seat in the standard way that I'd come to prep the car for Zeus and his slobbery panting dirtiness. I draped a heavy blanket over the seats, using a nylon tie-back to secure it to each headrest so it wouldn't slip down. We have leather seats now, instead of the fabric of my old car, so I'm especially concerned about scratching. Eventually we want her to ride in the cargo area but we'll cross that bridge when we get there.
On a trip to the Lindsay, Ontario Canadian Tire store however, we discovered a whole line of dog travel products, under the Kurgo brand, and picked up a very nifty pet car hammock, designed to strap around the head rests of both the front seats and the back seats. The whole thing is waterproof and very thick so it should hold up well over time. You can even unzip it so that a passenger can use the seat without removing it from the car. We had been looking for a barrier for the cargo area of our car but opted for this instead, which was only $60. Kurgo also makes a line of safety harnesses designed for safely restraining your pet in the car. We'll probably pick one of these things up too, since the next step with Luna is traveling to my parents' farm when I'll be driving alone, so restraint will be especially important. Where were all these amazing products when I had a giant, 150lb slobbery, claustrophobic Saint Bernard?!
Because we're still quite concerned about keeping her off the insides of the doors, we might commission a family friend to sew special snap-in panels that we can put inside the doors to keep her from scratching them. This was an area of the car that Zeus made totally filthy, but that was largely due to his constant panting and drooling, which so far doesn't appear to be a problem we're going to have with Luna. On the way home today, I sat in the front of the car, and she was snoozing within about 15 minutes on the road. Knock on wood, but so far this seems to be going as well as the crate training, becoming less and less of a concern for her with each try.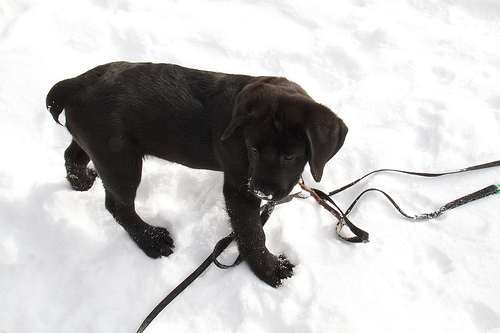 As far as my apprehension of how she was going to take to visiting a new house, well that was entirely a waste of worry. She took to the new locale without the slightest of issue. She didn't care at all that the crate was different (smaller), or that she had to learn to pee and poop in a new place. No biggy as far as she was concerned. She even learned how to take flights of stairs on her own this weekend, a new trick she wanted to practice at every moment, because there were towels to be stolen from the bathroom, and garbages to get into, and oh! the possibilities!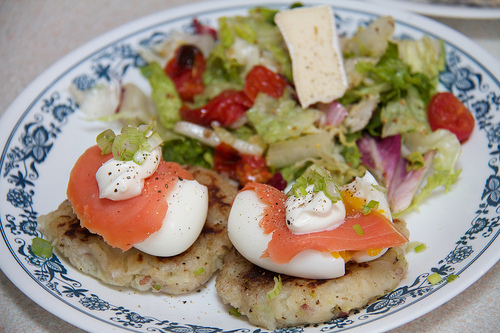 As far as what us humans did this weekend… We had a lovely dinner out on Saturday night at the diamond-in-the-rough local (Lindsay) resto Little Schnitzel House. It came up with top reviews online, so we thought why the heck not? So what that every other guest in the 30-seat place was over 60? Our host, possibly at first quite skeptical of us, no doubt far outside their usual demographic, warmed up to our utterly sincere appreciation of their home-cooked authentic German fare. Chris grew up eating this kind of food after all, being of Lithuanian-cum-German background, so it all reminded him of his Oma's cooking. Don't let the kitschy decor fool you; the Little Schnitzel House may not have the glitz and glam of a polished fine-dining joint, but you won't care once you tuck in.
They started us with a complimentary onion tart, served in a puff pastry with adorable tiny cookie-cutter shaped pickled carrots. I think this may have been my favourite dish of the meal because it was so unexpected and so delicious. Chris had the goulash soup and I had the onion, both lovely. Chris ordered the house platter, which came with sauerkraut, red cabbage, fried potatoes, spaetzle (a kind of noodle-like starch, made with flour, eggs and salt), bratwurst, ham and schnitzel. I had the jaeger schnitzel, served with mushrooms in a cream sauce, and pan-fried potatoes. Needless to say we were totally stuffed afterward.
My treat for Chris on Valentine's Day itself was to make Jamie Oliver's potato cakes with soft boiled eggs and smoked salmon for brunch. They turned out amazing. Potato cakes take a bit of prep time but they are so worth it in the end. Mine were perhaps a bit soft but it doesn't really matter. Do I know the way to my honey's heart, or what?