Mr. Magoo got an early Christmas present from me this weekend while I was visiting at the farm. His mama was looking for a fun new hat for him and of course the viking hats are super cute and super popular, so I made one special for him that was a bit bigger than the pattern instructs for, and with seed-stitched ear flaps and strings for tying, cause he likes to pull off hats. Not that the strings will stop him, but they might slow him down.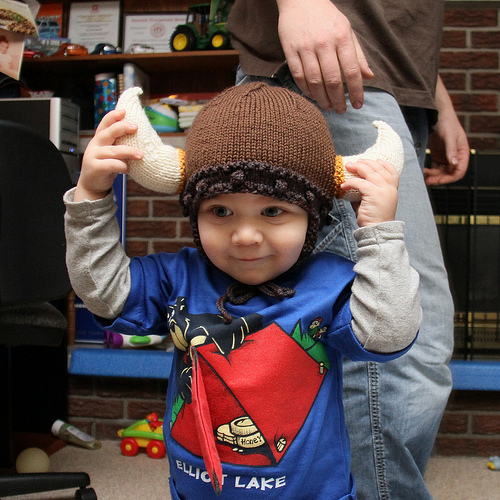 As you can see I'm getting a bit more of a hang with this camera. It's a lot heavier than the Olympus and that's taking some getting used to. While I was out at the farm and hoping to take more photos, the weather was pretty crap and everything is just brown and muddy anyway. Better weather for indoor photos I guess.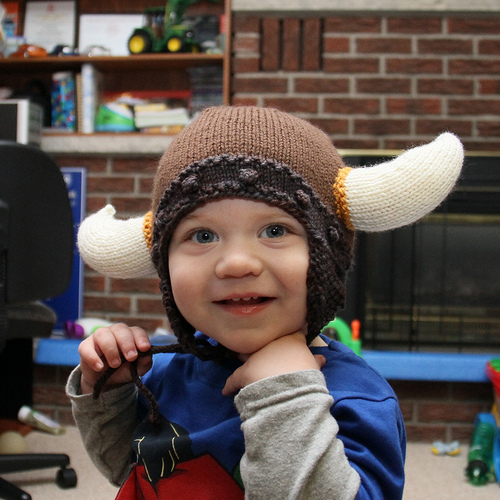 I've been trying to squeeze in some more learnin' with the camera, as well as trying to figure out what to do about Aperture while I wait for a RAW update to come out for the 7D. I think instead of using Canon's software, and have photos being stored in different libraries with different software, I'm just going to shoot in JPG for now. I'm just figuring this all out, anyway. I found some good stuff from Canon's learning and resources pages, like  iPhone videos, to help me learn how to operate the different features of the camera. Now that I'm getting to know the anatomy of the thing I think watching the videos will help a lot.
I found out that our friends Wendy and Hank have been keeping a travel blog about their torch relay adventure. Now I have a better idea of what they're doing exactly. They leapfrog with another team from city to city, where they do these "celebrations" nearly every day. They're driving "eco trucks" — big rigs outfitted with solar panels and wind turbines, and they generate enough power to run the trailer portions (which have expanding sides) and tents and sound systems for each event. These trucks are part of the RBC sponsorship of the relay, and are meant to be educational vehicles about renewable energy. You can follow what they're doing on their blog here (scroll down to see their most recent entry). I was really excited to find out that the torch relay and a celebration will be in Stratford on December 27, exactly when we'll be at the farm with a free day, during the holidays! We're going to go cheer them on and hopefully get some great photos of the relay, and the celebration, and hopefully get a chance to see Wendy and Hank and give them a big cheer.